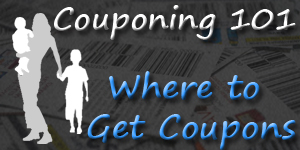 If you missed it, last week I discussed Coupon Organization. But where do you get all those coupons? This week I am going to review the different places you can find coupons.
Note: There are many different sites and newsletters which require you to sign up for coupons. Before you start signing up for all of them, I recommend creating a 'coupon/sample' email account you only use when you sign up for newsletters, samples, coupons, etc. I do this so my personal email doesn't become overran by these emails.
Sunday Paper – This is the main way people get coupons and a good start for those new to couponing. There are 100's of dollars worth of coupons every week in the inserts. Also make sure you look at all the store circulars in the paper. These tend to have coupons in them that don't always have to be used at that specific store. Different ways you can obtain the paper besides purchasing a ton of copies every week:
– Ask friends / family: My family gives me their inserts after they clips the coupons they wants
– Dumpster Dive: Some extreme couponers go to their local recycling dumpsters and search for coupon inserts
Printable Coupons – There are coupon sites that you can print coupons from. Nearly all the sites only allow 2 prints per computer per coupon. Most coupons have a print limit (or coupons available for print), so if you see a good coupon, it is best to print it right away. The high value coupons tend to 'disappear' fast. Never photocopy a coupon. This is considered fraud. Here are some sites the print your coupons from:
– Coupons.com
– Smartsource.com
– Redplum.com
– Coolsavings.com
– Clipngocoupons.com
– CouponNetwork.com
– Allyou.com
– WomanFreebies.com
Company Websites – Many companies offer coupons on their website or when you sign up for their newsletter. Some also have a mailing list you sign up for to get coupons mailed to you. If there is a brand that you really like, it doesn't hurt to visit their website to see if they offer any coupons. A few companies that offer coupons:
– Kellogg's
– Unilever
– Dove
– General Mills
– Proctor & Gamble
Facebook – Along with checking out a company's website, be sure to 'like' them on Facebook as well.  A lot of companies have coupons and sample available exclusively to their Facebook fans. Some recent ones include Tide, Downy, Swiffer, Suave, Gillette, and Gerber.
Store Coupons – Some stores offer store coupons. Many times, these coupons can be stacked with manufacturers' coupons. Some stores provide coupon booklets (Walgreens has a monthly savings booklet) that can be found in-store. Target and Walgreens both offer printable store coupons.

Magazines – If you read magazines, always glance at the advertisements to see if there are any coupons. A good magazine to subscribe to is All You. It normally has over $75 worth of coupons in each issue. It is also available at Wal-Mart.
Samples – When you request a sample online, it is very common to receive at least one high value coupon in the mail with the sample.
Coupon Clipping Services – If you really want to get your hands on a great coupon, or 20 of them, there are clipping services where you pay a clipping fee per coupon you want. A few clipping services are MyCouponHunter.com and CouponDeDe.com.
As you can see, there are a lot of places to get coupons and it can be overwhelming. If you are just getting started, don't overdo yourself. Just take it slow. I try to post new and hot coupons as soon as they are available as well as where you can use the coupon for a great deal. To make sure you don't miss a post, be sure to follow me:
– Facebook
– Twitter
– RSS Feed
– Email
Next week's installment of Couponing 101 is Shopping With Coupons (finding the best deals).