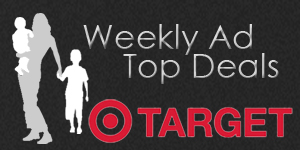 View this week's ad to see all sales and promotions for the week.
If you are not familiar with Target's Coupon Policy, I recommend reviewing it and even keeping a copy with you just in case you have any issues. Target also has a price matching Low Price Promise.
You can see and print all available Target Printable Coupons for further savings. Target also gives you a $0.05 credit for every reusable bag that you use.
If you are new to couponing or reading my weekly ad coupon match ups, please read Coupon Lingo and articles in Couponing 101.
Here are my top picks:
Right Guard Deodorant $2.49
-B1G1 Dry Idea or Right Guard Product 5/1 RP EXP 5/31 and
-$1/1 Right Guard Body wash or Deodorant Target Coupon IP
=$0.25 each wyb (2) with 2 Target coupons and B1G1

Smartwater or Vitaminwater $1.00
-Receive FREE 6pk Smartwater wyb (10) Smartwater or Vitaminwater
=$10 for 16 bottles or $0.63 each

Mitchum Deodorant $1.99
-$1/1 Mitchum Advanced Control 5/8 SS
=$0.99

Pantene Shampoo or Conditioner $3.79
-Receive FREE Pantene Styling Product wyb (2) 12.6oz Pantene Shampoo or Conditioners
-$3/2 Pantene Product 5/1 PG EXP 5/31 and
-$1.50/2 Pantene Hair Care Target Coupon  5/1 Target PG
=$1.03 wyb 2 and styling product

Axe Deodorant $3.49
-B1G1 Axe Body Spray, Anti-perspriant or Deodorant 5/22 RP
=$1.75 each wyb 2

Raid Bug Barrier 30oz $8.00
Raid Bug Barrier Refill $4.50
-$3/1 Raid Max Bug Barrier Starter 5/8 SS and
-$1/1 Raid Max Bug Barrier Refill 5/8 SS
-Receive $5 Gift Card wyb both
=$1.75 each wyb both after coupons and GC
Stayfree Super Maxi Pads 24ct $2.79
-$1/1 Stayfree Product 5/8 SS
=$1.79

Kraft Cheese Shredded or Blocks $2.29
-$1/2 Kraft Cheese Products Target IP
=$1.79 each wyb 2

Banana Boat Sport Sunscreen $6.49
-$1/1 Banana Boat Sun Care Product 5/22 SS
-Receive $5 Gift Card wyb 2 Banana Boat or Hawaiian Tropics Sun Care
=$2.99 each after coupons and GC

Pedigree Dog Food 20lb Bag $11.99
-$2/1 Pedigree Food for Dogs 5/1 RP
-$3/1 Pedigree Food for Dogs IP
-Receive $5 Gift Card wyb 2
=$6.49 each wyb 2 with (2) $3/1 Coupons and after GC
Glad Trash Bags Select 38-88ct $8.29
-$0.75/1 Glad Trash Bag Product 5/1 PG and
-$1/1 Glad OdorShield Trash Bags , 84ct Target Coupon IP
=$6.54 wyb 84ct with coupon stack