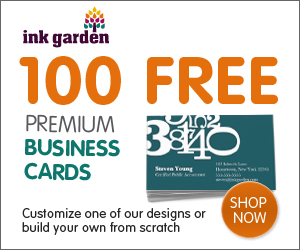 Ink Garden has a great offer right now. You can get 100 customized business cards for FREE (just pay shipping). There are tons of designs to choose from or you can start from scratch and create your own. What I love is when you pick a design, you can move parts of it around, change the font, upload an image, just about anything you want.
My shipping was just $4.49 which is a great price for 100 business cards!
Promo Code  for front only cards: 100FREE
Promo Code for 2 sided cards:100FREE2
Note: When I did it, the discount was automatically entered and I didn't have to enter a code
Order your cards before the deal is gone!