Time to stock up on bath tissue! Walgreens has a month-long Register Rewards deal on Cottonelle and used with coupons, you can score a great deal!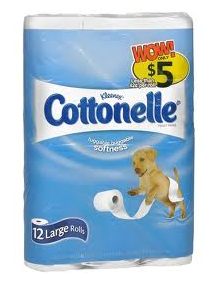 RR DEAL (Valid through 9/30) –
Get $2 Register Rewards when you buy 2 or $3 Register Rewards when you buy 3 Cottonelle 12pk Bath Tissue OR Cottonelle Flushable Moist Wipes  42ct+
Cottonelle 12pk $5.00
-$0.50/1 Cottonelle Toilet Paper 8/12 SS (EXP 9/23)  (use 2) AND
-$1.00/1 Cottonelle Bathroom Tissue 12pk Walgreens IVC Book found by ads in-store (Use 1, will take off $2)
-Receive $2 RR when you buy 2
=$2.50 each

*You can only receive 1 RR per transaction and you cannot use that RR to purchase the same product, so you can't use the $2 to buy more Cottonelle.
(thanks wildforwags)