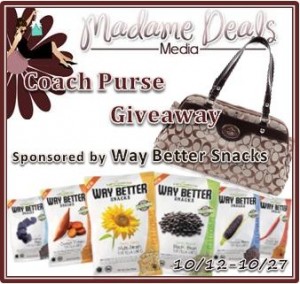 We know how much you LOVE Coach purses! Way Better Snacks is sponsoring this beautiful Penelope Coach purse for one of you to WIN!
**Powered by Madame Deals and Mommy Needs Her Coffee**
About Our Sponsor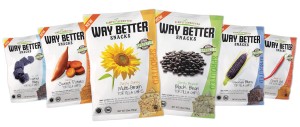 Way Better Snacks are sprouted tortilla chips that are a WAY Better Snack choice.
They are Non GMO Project Verified, Certified Gluten Free, Kosher and Vegan. Made with Whole Grains and seed sprouting they not only taste good but they are also good for you.
I couldn't wait to try Way Better Snacks. I love salty foods and chips, but I have been trying to avoid them, because I know too much salt is not healthy. I was surprise at how much flavor each tortilla chip had. They were thick so they could be used with dips and salsa with no problems. However, I really enjoyed them plain with such remarkable flavors. I am always on the look out for new snacks for my kids and these are perfect. They don't even know they are healthier for them! My favorite is the Simply Sunny Multi-Grain and the Simply So Sweet Chili.
Check out this great video review from Giveaway Bandit:
Like to try some of these awesome snacks for yourself? you can find Way Better Snacks on their Website as well as Facebook, Pinterest and Twitter!
Now for the Coach Purse Giveaway. The giveaway will run from 10/12 12:01 am EST – 10/27 11:59 pm EST and is open to US residents only.
Enter via the Rafflecopter below:
You can find official Terms and Conditions on the Madame Deals Media page.
To inquire about becoming a sponsor for a giveaway like this one, please contact Amee or Dawn at madamedealsmedia@yahoo.com for details. Take a look Madame Deals Media to see what we have to offer.
Are you a blogger that would like to be on the MDMedia Team? Find out how you can join us.
I received samples of Way Better Snacks but all opinions are 100% mine.