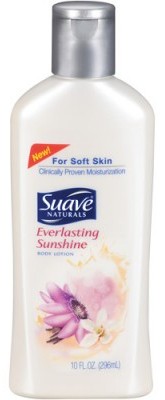 If you are headed to Target this week, make sure you check your store for the 10oz bottles of Suave Lotion. They are included in a Unilever $5 Gift Card deal good through October 27th. Here's how to get them for $0.59 each with no coupons:
Suave Lotion 10oz $1.84
-Receive $5 Target Gift Card wyb 4
=$0.59 each after gift card wyb 4
Reminder: With gift card deals, you can purchase more items to get more gift cards in the same transaction. But the gift cards cannot be used on the same transaction it was received on.
If you have 10/14 Red Plum coupon insert coupon for $2/1 Suave Lotion 18oz+, you can get a better deal:
Suave Lotion 18oz $2.89 (buy 2)
Suave Lotion 10oz $1.84 (buy 2)
-Receive $5 Gift Card wyb 4
-$2/1 Suave Lotion 18oz+ 10/14 RP (2)
=$0.46 cents for all after GC and coupons or $0.12 each
(thanks totallytarget)