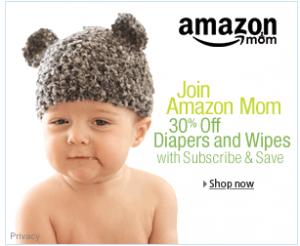 When it comes to babies, diapers can be a huge cost each month, especially with two children in diapers. I buy my diapers on Amazon and save over $50 a month. This is how I pay $7.64 for a box of 228 diapers delivered right to my front door.
First, sign up for Amazon Mom. It's FREE and there are many benefits. When you sign up, you get 3 free months of Amazon Prime, which gives you free 2-day shipping. For every $25 you spend (pre-discounts) in the Baby Store, you receive another month of Amazon Prime. You can earn up to a year free. You will get 30% off select diapers and wipes using 'Subscribe and Save' (explained below). Also you will receive exclusive offers just for Amazon Moms
When you order diapers, use the "Subscribe & Save" option. As stated above, you get 30% off. When you sign up for it, you pick how often you want to have the diapers shipped to your home. You can cancel at any time without penalty.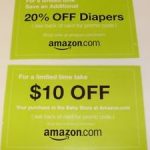 I get a few parenting magazines that almost always have coupon codes for Amazon. These include 'Parenting', 'American Baby', 'Baby Talk', and 'Parents'. Some of these magazines can often be found in you or your kids' doctors' office as well. Most of the time, there is a 20% off Diapers code in the magazines. Lately, American Baby and Baby Talk have had $10 off any purchase in the Baby Store. It is my experience that these codes can be stacked, but only one from each magazine, each month. If you wish to subscribe to some of these magazines, you can get 26% cash back shopping Magazines.com through Ebates.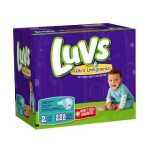 I order Luvs Diapers. The list price on Amazon is $35.28. So after the 'Subscribe & Save' discount, they are $24.88. I then use one 20% off coupon code and one $10 coupon code. It breaks down as follows:
| | |
| --- | --- |
| Item(s) Subtotal: | $35.28 |
| Shipping & Handling: | $0.00 |
| Promotion Applied: | -$10.00 |
| Promotion Applied: | -$7.06 |
| Promotion Applied: | -$10.58 |
| | —– |
| Total Before Tax: | $7.64 |
| Sales Tax: | $0.00 |
| | —– |
| Total for This Shipment: | $7.64 |
It's that easy! So join Amazon Mom and start saving!