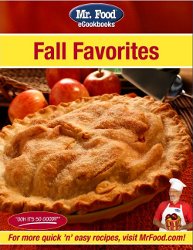 One of my favorite thing about fall is cooking comfort foods! You can download this FREE eCookbook from Mr. Food that includes 35 fall meals and desserts. Some recipes you will find are Beefy Onion Soup, Buttery Cabbage, Pork and Bean Chili, Apple Glazed Chicken, Piled High Apple Pie, and my favorite, Chocolate Caramel Brownies.
Also, make sure to sign up for the eNewsletter for great recipes directly to your inbox! I love getting the emails because it give me great ideas for meal without having to search for it.
Get your FREE Fall Favorites eCookbook today!