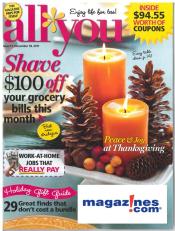 TODAY ONLY, you can get All You Magazine for as low as $0.68 an issue! Ebates is offering 52% cash back on purchases from Magazines.com today only. They have All You Magazine 2 year subscription for just $34. So you would get $17.68 cash back making it just $0.68 an issue. You can get a 1 year subscription for $19.97, but that would come to $0.80 an issue which is slightly more.
This is the best deal I have seen for All You Magazine (which has great manufacturers coupons in each issue).
You can read more about Ebates here if you are unfamiliar. I love using Ebates!
To get the deal, go to Ebates, search Magazines.com, then you can find All You on the left sidebar in the Top 10 Magazines.