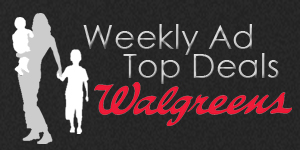 View this week's full ad to see all advertised sales and promotions (available Sunday).
If you are not familiar with it, I would recommend reviewing the coupon policy.
Walgreens has Monthly Instant Savings booklets in store near the weekly ads. These can be found online as well.
**If you are stacking coupons, give the cashier the manufacturers coupons first. This should avoid beeps or issues.
*RR are Register Rewards that print out at the register after you pay for qualifying items.
If you are new to couponing or reading my weekly ad coupon match ups, please read Coupon Lingo and articles in Couponing 101.
Here are my top picks from this week's ad:
Accu-Chek Aviva Blood Glucose Monitor $14.99
–Receive $5 RR
-$14.99 Mail-In Rebate in Package
=FREE + $5 Money Maker after RR & MIR
Bayer Aspirin Advanced 20-24ct $1.99 with In-Ad Coupon
– $2/1 Bayer Advanced Aspirin Product 9/11 RP
– $1.50/1 Bayer Advanced Aspirin 10/23 RP
=FREE
Nozin Nasal Sanitizer $7.99
–Receive $7.99 RR
-FREE
TRUEresult Blood Glucose Monitor $12.99
–$12.99 Mail-In Rebate on Package
=FREE after MIR
Ricola Drops 19-24ct $1.29 with In-Ad Coupon
-$1/1 Ricola Cough & Throat Drops 10/30 SS
=$0.29
Jell-O $0.59 with In-Ad Coupon
-$0.60/3 Jell-O Gels or Pudding Walgreens Coupon 11/6 SS
=$0.39 each wyb 3
Nabisco Crackers 4-8oz $1.99
-Buy 1 Get 1 FREE with In-Ad Coupon
-$1/2 Nabisco Crackers 6-16oz 11/13 SS
-$1/2 Nabisco Crackers 6-16oz IP
=$0.50 each wyb 2
Coffee Mate Liquid Creamer 16oz 2/$3.00
-$0.55/1 Nestle Coffee-mate Liquid or Powder IP
=$0.95
Schick Quattro, Intuition or Hydro Systems and Cartridges $8.99
–Receive $4 RR
-$2/1 Schick Quattro for Women Razor or Refills Walgreens Walgreens Make This Season Stunning Booklet (found at cosmetic counter) or
-$2/1 Schick Quattro for Titanium Razor or Refills Walgreens Walgreens Make This Season Stunning Booklet (found at cosmetic counter) AND
-$3/1 Schick Intuition Razor or Refill IP or
-$2/1 Schick Hydro Razor 11/20 SS or
-$2/1 Schick Hydro Refills 11/20 SS or
-$2/1 Schick Quattro Titanium Refill 10/30 SS or
-$2/1 Schick Titanium Razor or Trimmer 10/3 SS or
-$2/1 Schick Quattro for Women Razor, Refills 10/30 SS
=As low as $0.99
Infusium 23 Hair Care 8-16oz $4.99
–Receive $2 RR
-$1/1 Infusium 23 Hair Care Products Walgreens Make This Season Stunning Booklet (found at cosmetic counter) AND
-$1/1 Infusium 23 Hair Care Products 11/20 SS
=$0.99
Hefty One Zip Bags 13ct Freezer or 17-22ct Storage $3.49
–Buy 1 Get 1 FREE with In-Ad Coupon
-$1/2 Hefty One Zip Bags 8/14 RP
=$1.25 each wyb 2
Kellogg's Cereals 2/$4.00
-$1/2 Kellogg's Cereals IP
=$1.50 each wyb 2
Playtex Sport or Gentleglide Tampons 18ct 2/$8.00
–Receive $2 RR wyb 2
-$1/1 Playtex Sport Tampons 10/2 SS
-$1/1 Playtex Gentle Glide Tampons 10/2 SS
=$2.00 each wyb 2
Sunsweet Prune Juice 64oz 2/$6.00
-$0.75/1 Sunsweet Prune Juice 9/1 SS
=$2.25
Advil Infants' Drop .5oz, or Children's 4oz $4.99
–Receive $3 RR wyb 2
–$1.10 off when you buy any Infants' Advil® product IP
–$1.10 off when you buy any Children's Advil® product IP
=$2.39 each wyb 2
Charmin Basic Bathroom Tissue 6 Rolls $2.99 with In-Ad Coupon
-$0.25/1 Charmin Product 10/30 PG
=$2.74
Viva Paper Towels 6 rolls 2/$12.00
-$3/2 Viva Paper Towels 6+ct Walgreens IVC December Booklet AND
-$1/1 Viva Paper Towels Big Rolls 11/6 SS
=$3.50 each wyb 2
Wisk Laundry Detergent $6.99
–Receive $1 RR
-$1/1 Wisk Laundry Detergent Facebook IP
=$4.99
Dunkin Donuts Coffee 12oz $7.99
-$0.50/1 Dunkin Donuts Coffee Walgreens IVC December Booklet AND
-$1/1 11oz+ bag of Dunkin' Donuts Coffee IP
=$6.49
Nature Made Vitamins and Supplements   (no price in ad)
–Buy 1 Get 1 FREE In-Store Promotion
-$1/1 Any Nature Made Product IP
-$1/1 Nature Made Product 11/6 SS
=Varies
Excedrin Pain Relief (no price in ad)
–Receive $10 RR wyb $20 worth of participation Excedrin Products
-$1.50/1 Excedrin 80ct+ 11/13 SS
-$1.50/1 Excedrin Product 80ct+ 10/16 SS
-$0.75/1 Excedrin Product 20ct+ 10/16 SS
-$1/1 Excedrin PM Product IP
-$1/1 Excedrin Migraine Product IP
=Varies
**I AM WORKING ON THE BLACK FRIDAY TOP DEALS AND MATCH UP**