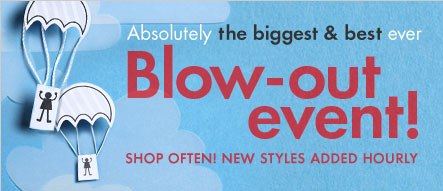 I recommend heading over to Zulily this weekend and checking out their HUGE Blow-Out Event! They have so many things on sale I know I haven't had a chance to look at everything. They are also adding things every hour.
You can browse by category – Boys, Girls, Women, Home & Gear, Toys & Books. You can also then sort by age range. There is just about everything form shoes to clothes, accessories, kitchenware, decor, something for everyone!
Also you can get $5 off any $50 purchase using promo code GA5867.