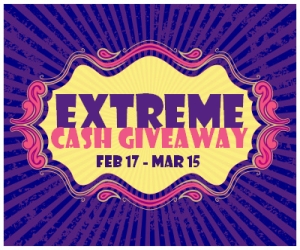 Welcome to the FEBRUARY EXTREME CASH GIVEAWAY!
The last giveaway was a huge success that this time we're bringing you MORE PRIZES which means MORE CHANCES for YOU to win!
We are giving away:
(1) $300 Paypal Cash prize
(1) $200 Paypal Cash prize
(1) $100 Paypal Cash prize
(1) $50 Paypal Cash prize
(1) Kodak Easyshare Sport Camera
There are lots of entries available and this giveaway will go on for a whole month, so take your time! Be sure to bookmark this page so you can come back every day and claim your daily entries too.
This giveaway ends 3/15 at 11:59 pm EST and is open worldwide. There are over 100 participating blogs, but you only need to enter the giveaway on one of our blogs. If you have any issues or questions, feel free to email me at contact(at)niftymom(dot)com.
Good luck!