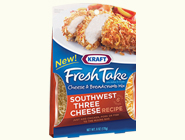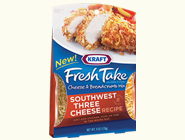 If you are a member of the Kraft Foods First Taste, log in and see if you are offered a FREE coupon for a package of any New Fresh Take Cheese & Breadcrumb Mix (up to $3.99 value). If you don't get the FREE coupon, you will should have some sorts of coupon for the product.


If you are not a member of First Taste, I highly recommend that you sign up. You could have the offer waiting for you when you sign up!
I hope you get the free coupons as well!