Tag: clearance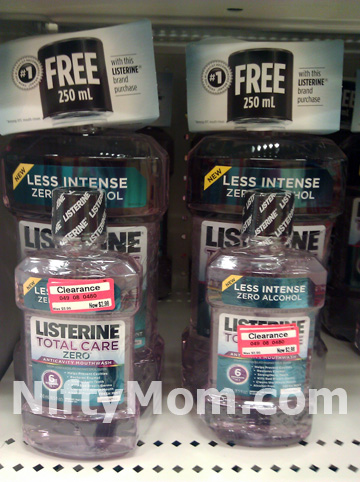 I was at Target last night and spotted a whole end cap of clearance Listerine Total Care Zero mouthwash. The 1L bottles come with a FREE 250mL. They were all marked 50% off for just $2.98. Use the $1.00 off coupon from the Listerine website HERE (or $1/1 Listerine Total Care, Listerine Total Care Zero, Listerine Total Care Plus Whitening or Listerine Restoring coupon from RedPlum 4/29) to get two bottles for just $1.98!
*Reminder – Clearance varies store-to-store so you may not find the same deal at your local Target store, but if you are there, it is worth looking for!
---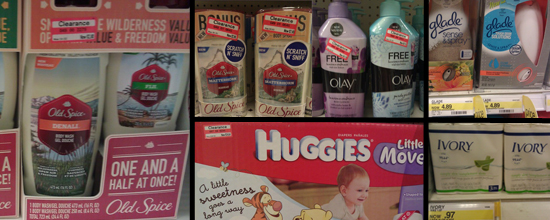 Yesterday when I was at Target, I found a few great clearance deals and few price cuts. My store had 3 endcap shelves full of the Old Spice Body Wash and Deodorant. Note that clearance can vary greatly from store to store.
Old Spice Body Wash (with free 1/2 size body wash)  Clearance $2.80
-B1G1 Old Spice Bodywash 5/1 PG or
-$1/2 Old Spice Products 5/1 PG
=$2.80 each or $0.70 per item with B1G1 coupon
Old Spice Deodorant (with free travel size) Clearance $2.80
-$1/2 Old Spice Products 5/1 PG
=2/$4.60 or $1.15 per item
Olay Body Lotion (with free trial size) Clearance $4.18
-$3/2 Olay Bar, Body Wash, or Body Lotion AND Secret Deodorant 5/1 PG
=Varies, have to get Secret Deodorant to use the coupon, but it is still a good deal
Huggies and Pampers Large Box Diapers Clearance 15% off
(Huggies was $24.64)
-$3.50/1 Huggies Diapers IP

-$2/1 Huggies Diapers 5/15 SS
-$2/1 Pampers Diapers or Pants 5/1 PG
=Varies
Glade Automatic Starter Kits Price Cut $4.89
-$4/1 Glade Automatic Starter Kit IP
=$0.89
Ivory Bars 3ct $0.97
-$1/1 Ivory Bar, Body Wash, or Liquid Hand Soap 5/1 PG
=Free
Zantac Heartburn Relief 24ct Price Cut $7.21
-$2/1 Zantac 24+ct Target IP and
-$5/1 Zantac 24+ct IP
=$0.21
---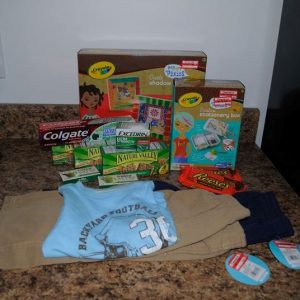 I headed to Target yesterday to get a few things that I had some coupons for. I was pretty excited about some of my clearance finds. Remember, clearance varies greatly by store. The original price for everything totaled to $57.78. My total before coupons was $26.64 and I ended up spending $7.02.
The breakdown of my purchase:
2 – Circo Pants (Org $7) on clearance $1.75
- (2) $1/1 Circo apparel Target coupon IP
= Final Price $0.75 each
Toddler Shirt (Org $6) on clearance $1.50
Crayola Pop Art Stationary Box Kit (Org $9.99) on clearance $2.48
-  $2/1 Crayola Pop Art Pixie Product IP
= Final Price $0.48
Crayola Pop Art Shadow Box Kit (Org $14.99) on clearance $3.74
- $2/1 Crayola Pop Art Pixie Product IP
= Final Price $1.74
Colgate Toothpaste 2.49
- $1/1 Colgate Max Fresh or White Toothpaste Target Coupon 3/20 SS
- $.75/1 Any Colgate Toothpaste 2/27 SS
= Final Price $0.74
Excedrin 20 Count 3.39
- $3/1 Excedrin Extra Strength 20+ count Target IP
- $0.75/1 Excedrin 20 count 2/27 SS
= Final Price overage of $0.36
3 – Nature Valley 4-pack $1
- $1.50/3 Select General Mills Food Items Target Coupons IP
- (3) $0.50/1 Nature Valley Granola Bars IP (also available on Target)
= Final Price $0.00
2 – Trident Layers $1.27 each
- $1/2 Trident Layers Gum Target Coupon IP
- B1G1 Free Trident Gum Single Pack 3/6 SS
= Final Price $0.27 for both
2 – Reese Peanut Butter Cups $0.69 each
- B1G1 Free Reese Target Coupon IP
= Final Price $0.69 for both
---
A Collection of Warm Cocktails
Search:
Categories
Grab My Button
Archives