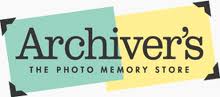 There are two new Archiver's coupons valid thru July 18th.
30% off one item coupon
Buy 5 sheets 8×11.5″ Cardstock get 5 FREE or Buy 3 sheets 12×12″ get 3 FREE coupon
Make sure you read the restrictions on the coupons. Both coupons print together. Also Tuesday, 7/18, get 50% off all photo prints and copies. No coupon necessary.