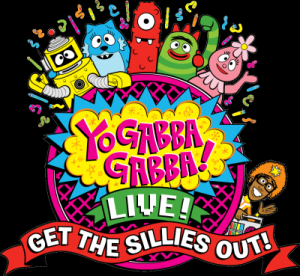 One of my sons' favorite shows is Yo Gabba Gabba. They love dancing around the house and singing the songs even when the show is not on. I just found out that Yo Gabba Gabba! Live! Get the Sillies Out! is coming to the Fox Theatre next month! I have heard great things about their live shows and I cannot wait to take my kids. The shows are very interactive and fun for the whole family.
SHOW INFORMATION
YO GABBA GABBA! LIVE! GET THE SILLIES OUT! TOUR will visit THE FABULOUS FOX THEATRE on Friday, January 18th at 7 PM ONLY!

Yo Gabba Gabba! Live! Get the Sillies Out! Tour hits the Fabulous Fox Theatre for one show only on Friday, January 18th! Catch DJ Lance Rock, Biz Markie and your favorite cast of colorful creatures as they jump, shake and shimmy the sillies out!
Yo Gabba Gabba! LIVE! is a state-of-the-art production and an interactive experience that offers audiences of all ages the opportunity to witness their favorite characters come to life when DJ Lance Rock and fans say the magic words, "Yo Gabba Gabba!". Hip-hop legend Biz Markie will join the cast on stage for Yo Gabba Gabba! LIVE!: Get the Sillies Out! with Biz's Beat of the Day. The show will also feature Super Music Friends and Dancey Dance guest performances.
Tickets and Gabba Party Packages are on sale NOW!  Purchase tickets at the Fox Box Office, www.metrotix.com or by calling (314)534-1111.
I hope to see you there!
If you are not in the St. Louis area, you can view the entire tour schedule here.


I am receiving complimentary tickets to the show and in no other way being compensated for this post. All opinions expressed are 100% mine.