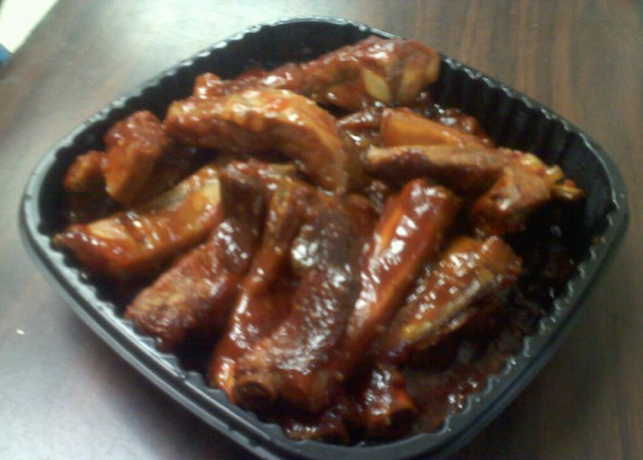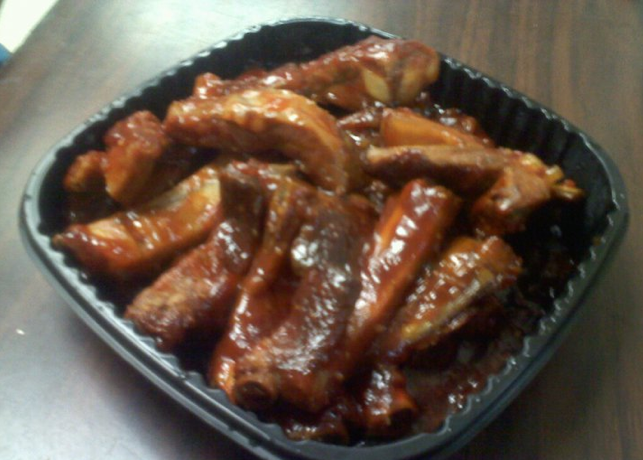 INGREDIENTS:
3 pounds pork spare ribs
1 cup (or more) ketchup
1/4 cup (or more) sugar
3 tbsp of sweet & sour sauce
3/4 tsp worcestershire sauce
3/4 cup regular or honey bbq sauce
3/4 clove, minced garlic
Place the ribs in a large stock pot with enough water to cover. Bring to a boil and cook over medium/high heat for 1 hour.
In Medium saucepan, combine all the above ingredients while the ribs are boiling. Cook over medium heat for about 20 minutes. Use more or less of whatever you want to taste to your liking. I like mine sweet :)
Preheat oven to 350 degrees F
Cut the ribs between the bones and place in a baking pan. (I line mine with aluminum foil to cut down on a lot of mess) Pour the sauce over the ribs and cover with aluminum foil.  Cook for 30 minutes. Remove the foil and continue cooking for an additional 30 minutes.
My man was very surprised when I made these for the first time. I have a history of drying out pork chops and not being able to make them 'correctly'. The first time I made this recipe, or made ribs ever, he was blown away. His only comments were 'How do you screw up pork chops, but make incredible ribs?' & 'You can make these more often'. Haha
**Now about the author – AnotherKsRose**
I am 21 years old and have certainly gone through, & am still going through, some pretty tough times. Luckily enough I have finally met a great man that stands behind me through everything that is going on and allows me to blog daily, while supporting & loving my 4 year old son and myself.
I blog about all sorts of things, mainly coupons and match ups…along with freebies & food…. Not to mention product reviews & giveaways.
I started AnotherKsRose about 3 months after I started couponing. I wanted to share my findings and my help with other struggling moms out there and help in any way I can, while building friendships and meeting a lot of new people.
**Visit Amber over at AnotherKsRose and on Facebook**