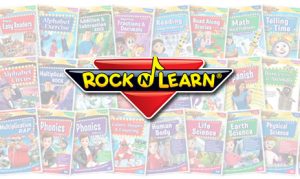 A few months ago, I had the opportunity to review the DVD "Letter Sounds" from Rock 'N Learn. It was an instant hit with my toddlers and they still ask to watch it almost everyday. When I was contacted to review another best selling Rock 'N Learn DVD, I couldn't pass it up.
Rock 'N Learn has produced over 50 educational videos and music for all age groups of children. They create a fun educational learning experience for your child. You can find DVDs and CDs for Phonics, Reading, Math, Science, Social Studies, Spanish, French, and more. Some of their best selling titles include "Letter Sounds", "Phonics", "Colors, Shapes and Counting", "Getting Ready for Kindergarten", "Spanish", "Sight Words", and "States and Capitals Rap".
I was sent their new "Sight Words" DVD which is targeted for children Pre-K and up. "Sight Words" is designed to teach the most frequently used words in the English language. Within the last few weeks, my 2.5 year old's vocabulary has exploded and everyday he is trying to say more and more words. I couldn't wait for him to watch this one!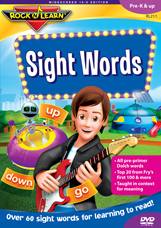 Sight Words Covered:
up • down • come • go • in • out
of • the • a
where • is • it • here • there
one • two • three • red • yellow • blue • little • big
look • see • find
run • jump • play • away • and
you • I • we • can • make • funny • face • get
to • for • me • my • give • from • came • as • are
no • not • now • said • help • will
he • she • his • her • they • that • was • with • on
When the DVD arrived and I showed the box to my son, he grabbed it and started jumping up and down. He really likes the main character as he was pointing to him as he ran to the DVD player.  Of course we just HAD to watch it right away (unless I wanted to deal with a tantrum of course).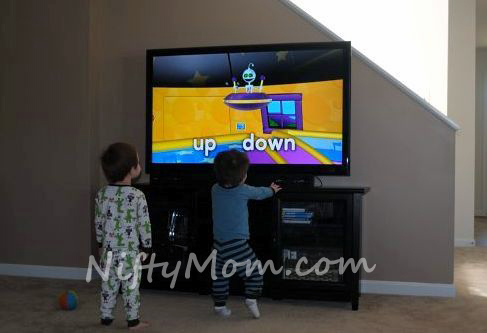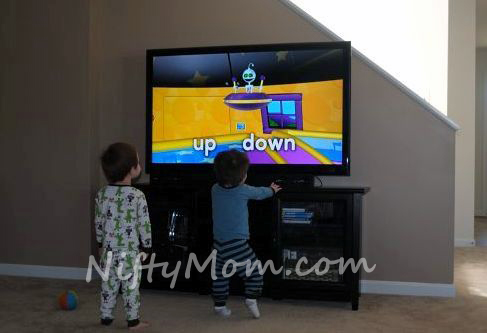 Again, I was extremely impressed with the whole DVD. My son was very responsive to it and was saying the words as they came up on the screen. The words are repeated in a way isn't boring and just repetitious. For example, when they cover 'up' and 'down', you actually watch one of the characters fly up and down with the words on screen. Throughout the whole DVD there are catchy background beats to keep the kids engaged. My son even made sure I was giving it 100% of my attention because if I looked away and he noticed, he would yell 'Mom' repeatedly pointing to the TV until I showed complete interest. Not only did my 2.5 year old enjoy it, my 19 month old did as well. The more we watch the two we have, the more I realized I better pick out some new ones! I really want them all though!
Follow Rock N Learn on Twitter, Facebook, and Google+.
Buy It – You can buy Rock N Learn products on their website. Use promo code JQ7711 for 25% off!
Win It – Enter to win  any DVD or CD of your choice! There will be 9 winners! This giveaway ends on April 14, 2012, at 11:59 pm EST and is open to residents of the US only, age 18+. Once the winners are drawn randomly via Rafflecopter, we will contact them through email. They will then have 48 hours to respond. If there is no response, we will draw a new winner.
Good luck!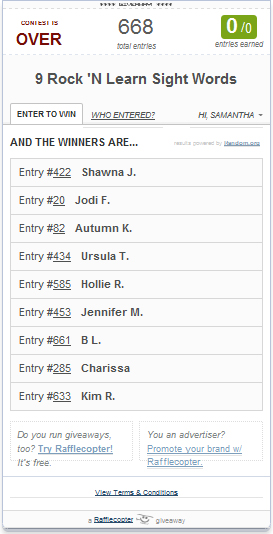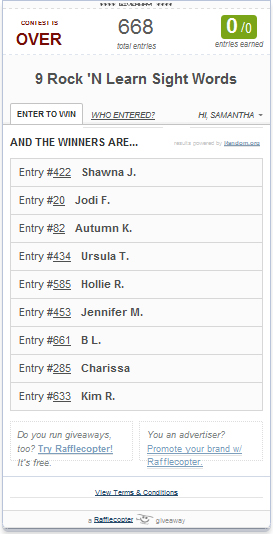 Check out these other blogs from Karma Media that reviewed Sight Words:

I received the named product at no cost to conduct this review and was in no other way compensated. All opinions expressed are 100% mine. This review is brought to you by Karma Media.