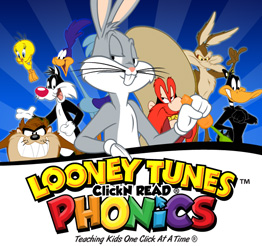 My (almost) 3 year old loves playing learning games on his tablet. He has gotten very good at a lot of them, but at the same time, he gets bored with them quickly. I heard about Looney Tunes ClickN READ Phonics from Karma Media and was enthused to learn more and let Little E. try something new.
Looney Tunes Phonics is an online reading program for children as young as 3 years old to about 3rd grade. It uses Looney Tunes clips in between each section during the lessons to engage your child and hold their attention while they are learning. Each lesson has different zones to help them learn:
The Letter Sound Zone: Learn Phonics Letter Sounds
The Listening Zone: Learn Phonics Word Blending
The Reading Zone: Learn Word and Sentence Reading Skills
The Speed Zone: Practice Phonics Skills Learned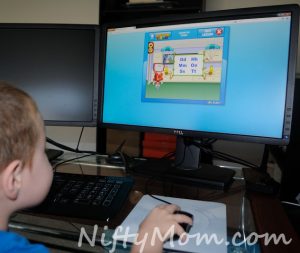 Setting up our account was quick and easy and very customizable. You get to pick a Looney Tunes character and what lesson level to starts at (I started him at 1 since he will just turn 3 next month). Then I got to pick how long each zone will last, how much praise/motivation and cartoons are included, etc. With the customizations, each lesson can range from 20 to 50 minutes long. The 'instructor' for the lessons is a robot and I have to say, I think that is my son's favorite part. He loves the robot so much that he begs for the robot and runs to the computer.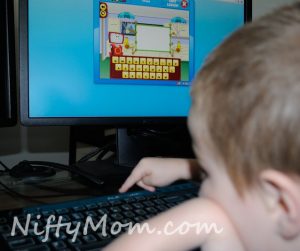 One of my favorite parts about the lessons is in the Listening Zone. During this zone, the robot says a letter sound and my son has to find the key on the keyboard (or click it on the on-screen keyboard). I love this because all of his toy computers and laptops have the keys in alphabetical order instead of a qwerty keyboard. When he plays on those and has to find the letters, he isn't learning where the keys are on a keyboard. He is learning where they are, but still searches all over the keyboard first.
At the end of each lesson, a progress report card is displayed. This allows you to see how your child performed and if they should complete the lesson again. I really like that they suggest repeating, because sometimes when I thought he did decent, they said to repeat the lesson. He doesn't mind doing it again th0ugh. He really loves his letters and alphabet right now so this is an amazing learning tool for him. The Looney Tunes cartoon segments in the middle help as well. When he starts getting distracted, it always seems to grab his attention right back. I was shocked that my son is starting to recognize words during the last reading zone we completed.
I can't wait to continue using the program for my oldest, as well as my other sons when they get older.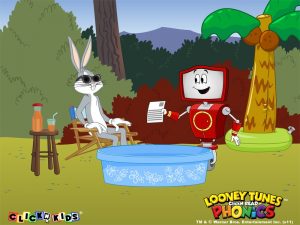 To learn more or complete a sample lesson, visit the Looney Tunes Phonics website. Also follow them of Twitter and become a fan on Facebook.
BUY IT: Looney Tunes Phonics can only be purchased online through their online store. There are three different subscription options: Monthly – single user $9.95, additional user $7.95: 6 month – single user $49.95, additional user $29.95; Annual – single user $99.95, additional user $59.95; Lifetime/Family – $249.95 for 3 users.
WIN IT: Looney Tunes Phonics is giving away 14 LIFETIME subscriptions! That's right – 14 winners! Entering is easy using the rafflecopter form below. Giveaway ends June 13th 11:59p EST and is open to the US only. The winners will be selected on Rafflecopter via Random.org, contacted via email and have 48 hours to reply to confirm. Failure to do so will result in a new winner to be selected
**THIS GIVEAWAY IS OVER**
—VIEW WINNERS LIST HERE—
Read more reviews (including some video reviews) from fellow Karma Media Members:
I received the named product at no cost to conduct this review and was in no other way compensated. All opinions expressed are 100% mine. This review is brought to you by Karma Media.