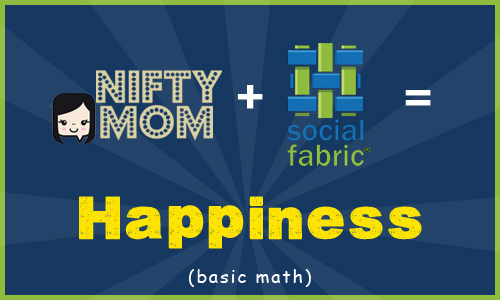 When I first started Nifty Mom a couple years ago, I initially just wanted to share great deals and coupons. Then, I started to meet fellow bloggers, networking, and getting more involved in the blogosphere. Last year, with three kids under three, it was getting more and more difficult to constantly post deals and coupons throughout the day, so I s-l-o-w-l-y started to do more reviews, recipes, activities and other non-coupon posts. My goal was to become more of a lifestyle blogger and put the 'nifty' more into my site. Then in September, a fellow blogger posted in a Facebook group that Social Fabric was open for new members. Since I have only heard good things about them, I figured it couldn't hurt to apply. To my surprise, I got accepted and was welcomed with arms wide open.

The community is like no other. If you have a question, someone's there to answer. If you want to rant, someone is there to listen. If you just want to be silly, someone is there to laugh at you (ok, with you). Yea, that was slightly corny… but either way, it allows you to be yourself. Anyway, within the first month, I realized I had finally become the 'Nifty Mom' that I desired (well close enough but always working on bettering myself). The opportunities not only opened me up to new things to write about, share great products with my readers, but they also challenged me to be a better writer and (wannabe) photographer. Each campaign that I am lucky enough to participate in, helps me grow and become better at what I do. For example, right now I am working on an amazing post and craft upcycling Starbucks coffee bags (coming on Monday). I #LuvSoFab and all these awesome posts I have written.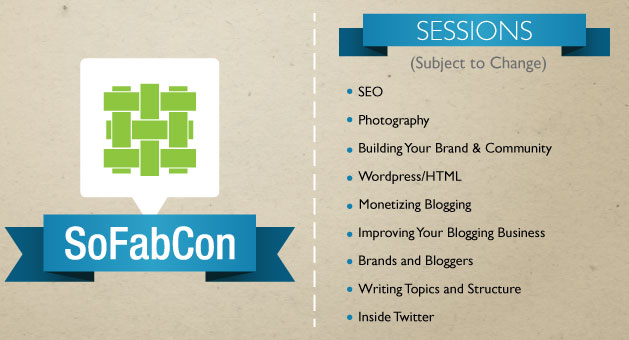 Collective Bias is having their first ever brand/blogger conference this May in Bentonville, AR (exciting, I know). I would love to attend to be able to meet my fellow bloggers and all those smiling faces I see across social media each day. It would also give me an opportunity to grow and learn how to better myself as a blogger. Building relationships is important between brands, consumers, bloggers, and everyone in between and this would be a great opportunity to do so. Right now, Collective Bias is having a sponsorship contest to give away 12 full paid trips! So I decided to create this little video to add to my application.
Please note: I am NOT a singer… or a rapper. I am also not a video editor, as this was a first. So, I do like to be creative and sometimes go out of my comfort zone.
And just in case you need to hear the great MC Hammer now, click here for the Music Video on YouTube, get a blast from the past, and break it down…. hammer time! You can thank me later for having it stuck in your head all day ;)
And if you could be so kind to retweet that would be great!

Check out why I #LuvSoFab and want to go to #SoFabCon – You don't want to miss this 'Can't Touch This' remix! niftymom.com/2013/03/luvsof… #cbias

— Samantha King (@nifty_mom) March 15, 2013
This post and video is an entry for a sponsorship to SoFabcon. All opinions expressed are 100% my own, because I truly want to go to… #SoFabCon!