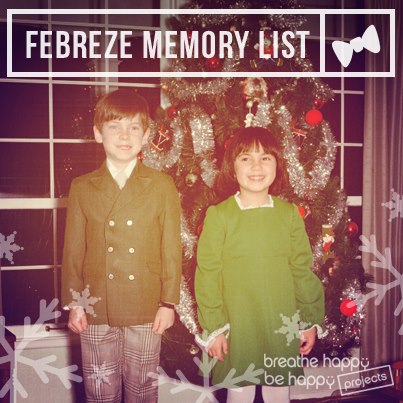 Last week, Febreze started sharing a Memory List on their Facebook page to highlight the most popular holiday memories from their fans. I think it is a great and fun way to remember special memories you may have forgotten about. The Memory list questions will be posted to Febreze's Facebook page once a day in the morning. In the late afternoon, they post the best or most popular memory response for that day.
Friday's question was: What was your most memorable OUTFIT you received from past holidays? I don't really have a specific outfit I can remember, but some Febreze fans sure did. Check out the Most Memorable Outfit here.
Febreze will be collecting the Top 10 best holiday memories from their fans until December 17th – tell them yours and they may add it to the list! Visit the Facebook page here and be ready to share your response. I can't wait to find out what the next one is going to be on Monday!
"I participated in a campaign on behalf of Mom Central Consulting for Febreze. I received a promotional item to thank me for participating"