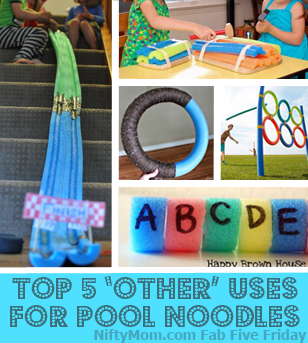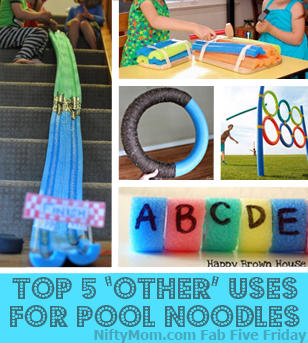 With summer coming to an end, I have been thinking about new fall activities and re-purposing summer toys.  Yesterday, I was in my garage and noticed a few foam pool noodles that we didn't really use this summer. I knew I could find some new uses for them so the search was on and this weekend I plan to start my projects. But for now, here are my top 5 favorite uses I found for pool noodles.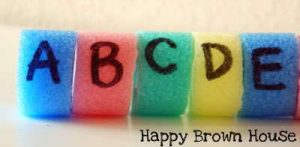 1. Over-sided Beads & Lacing Patterns: I know my sons are going to have tons of fun with these. Sara posted on Totally Tots this great idea to slice a few different colored noodles. Write a letter or number on each piece. Little ones can lace them in order, copy patterns, or spell words. I can see hours of fun and learning here. Deborah from TeachPreschool.org takes it a step further and cuts a slit in each one. This allows the kids to connect them to create chains.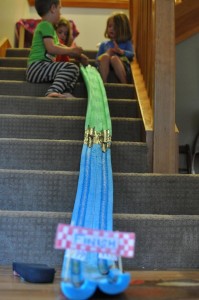 2. Marble Run: Lindsay from LindsayandAndrew sliced noodles in half and created a little 'race track' for marbles.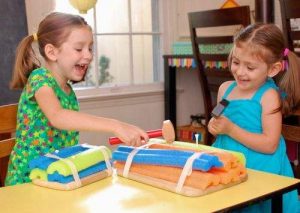 3. Hammer Time: I can't begin to tell you how much I love this idea from Valerie over at Inner Child Fun. She attached pieces of pool noodles to cutting boards and then the kids can use their toy hammers to hammer golf tees into the noodles. I am just going to say this is the first one I am going to make this weekend. My 2 & 3 year old sons have been attached to their toy hammers this past week and want to hit/hammer everything (including the walls, tables, and even each other).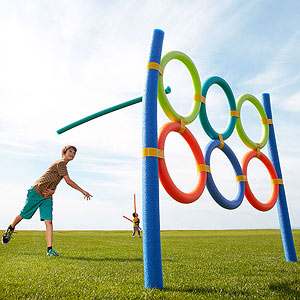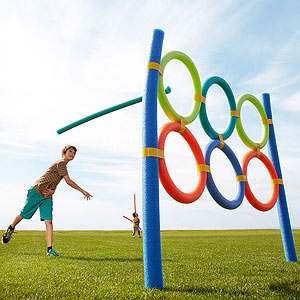 4. Backyard Play: Parents.com has a few ideas for using the pool noodles in the backyard making a Target Station, Rings, Wicket, and more.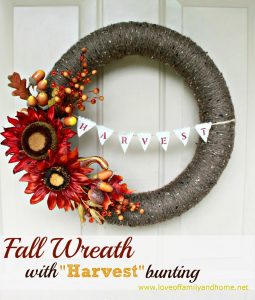 5. Wreath: Tonya from Love of Family and Home made this super cute Autumn wreath and the form is a pool noodle!
Do you re-use pool noodles for outside of the pool?