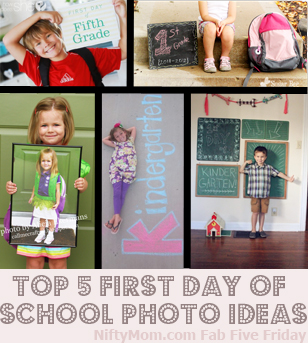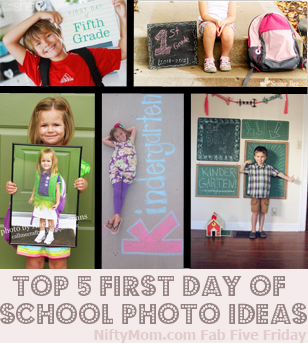 Welcome to my first addition of Fab Five Friday! Each week I plan on bringing you a new top five list. Since it is back to school time, I want to share my favorite first day of school photo ideas I have can across on Pinterest!
1. OUTSIDE CHALK – Becca at Blue Cricket Design used chalk to write her daughter's grade on the concrete and took pictures with her posing around it. Super cute!!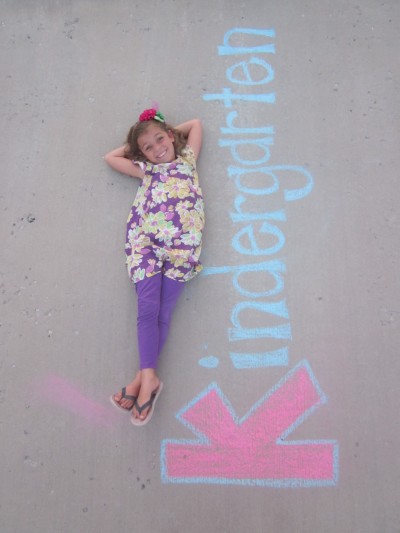 2. PRINTABLES – Take a picture with your child right before school holding a sign stating the current grade. Create your own or choose from some printables available: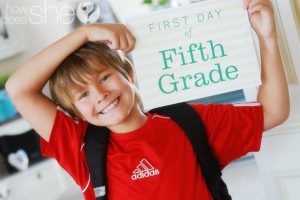 3. CHALKBOARD SIGN – Mandy over at Sugar Bee Crafts made a chalkboard sign for her daughter's first day of school pictures. She even includes a tutorial on how she made it! Awesome!!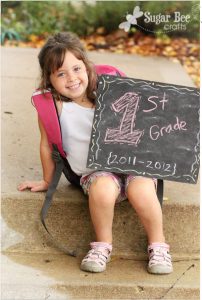 4. CREATE A BACKGROUND – Rachel from Smile and Wave used chalkboards on the wall as a great background for her son's first day of school. You can also use poster board to create something fun.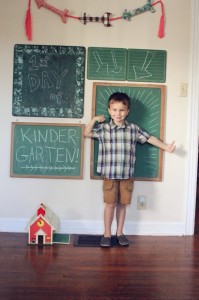 5. FIRST DAY / LAST DAY PICTURES – I love Alicia's idea over on Call Me Crafty Al to take a picture on the last day of school holding the picture from the first day of school to show how much they have grown through the school year.