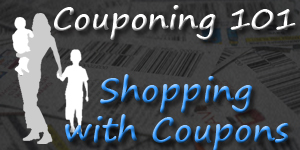 If you missed the last posts in the Couponing 101 series, I covered Coupon Organization and Where to Get Coupons. This week I want to go over shopping with coupons. The most important thing about shopping with coupons is planning and researching.
Here are some tips when planning before you head to the store:
Research all the stores you have locally. You want to learn their coupon policies and if they have a loyalty program to maximize your savings. Numerous stores double and even triple some coupons.  You want to learn about each store because one might typically have higher prices, but has a loyalty program and triples coupons. Also see if the store offer 'store' coupons. These coupons normally can be stacked with manufacturers' coupons, I.E. Targetand Walgreens.
Read all your store circulars to see what sales are going on and compare prices. Sometimes one store might have a product on sale, but that sale price is more than the regular price at another store. Some people like to create a spreadsheet or list of the lowest prices on products to keep track of how low a price might get on an item and where to get it.
Review store matchups online. I cover my local grocery stores, Schnucks, Shop N Save, and Dierbergs, as well as Target and Walgreens. (If you are in a different area and would like to see your stores on Nifty Mom, contact me and I will try to get those store matchups on here for you). These matchups highlight the weekly advertisement and let you know what coupons are available for the sale items.
Make a list. I normally have 4 lists going for each week. One for each store I shop at. I put a star next to an item if I have a coupon for it and paperclip the corresponding coupons to each list.
Check a coupon database to see if coupons are available for products that are not featured on my store matchups. I hope to have a coupon database on my site for you to easily access in the near future.
A few other things to note when shopping:
Getting the biggest size of an item isn't always to best value. Check the price per ounce/unit to see which is a better value.
10/$10 sale doesn't mean you have to buy 10.
Check coupons for size limits. Some coupons have to be used on larger products or cannot be used with travel size or single servings.
Always check the clearance sections. Coupons are good on clearance and you could get a really great deal sometimes.
I hope this helps you understand shopping the stores with coupons. Please let me know if you have any questions.