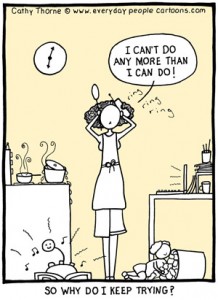 That's how I have felt lately, but not that bad, and it's more in a good way… You may have noticed I haven't been posting as much this past week and/or I have been a little behind. I just wanted to give my wonderful readers a little update on what's going on over here. It have been a little crazy, but mostly a good crazy! Why?!?!…..
We found out we are having another baby! We are very excited, but it has made me one tired Momma. Chasing around an almost 2 year old and 9 month old wears me out as it is! I normally write posts after the boys all go to bed. But lately, I have just been so tired I just go right to bed.
Since our family is growing again, we started looking at new houses this week. It has been so time consuming just looking at them online. That is taking up a lot of my 'me' time as well. We are going to look at some houses this weekend, so my normal Weekly Ad Top Deals might be a little later than usual.
Don't worry, I am posting as much as I can and as many deals as I can find for you.
Also, I would like to welcome all my newest readers! Glad you are here. Here is a tentative schedule of some of the post you will find each week:
Throughout the week – Daily posts including new coupons, online deals, store deals, free events, freebies and samples
At least once a week – A new recipe or DIY/Craft project
Once a week – Couponing 101 Series
Weekly Ad Top Deals (coupon matchups):

Walgreens: Saturday Afternoon
Target: Late Saturday Night/Early Sunday Morning
Shop N Save: Sunday Afternoon
Schnucks: Late Sunday Night/Early Monday Morning
Dierbergs: Monday Afternoon
I will keep you updated on any changes, etc. Thank you for being a Nifty Mom reader!
Don't forget, my giveaway ends Tuesday, June 14 and there aren't that many entries so go enter.