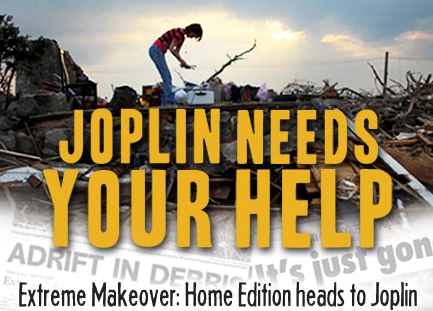 In May, the devastating F5 tornado basically wiped out Joplin, MO and was all over the news nationwide. Being in the St. Louis area, it seemed too close to home. I still get emotional seeing pictures and reading articles about it. I saw today that Extreme Makeover: Home Edition is on a mission to help rebuild and revive the community! I know that will be one episode that I will not have dry eyes!
Extreme Makeover is looking for volunteers and donations. The project is set to start on October 19th. They are getting the whole community involved and having a Pep Rally.
Visit JoinExtreme.com/joplin for details, dates, volunteer sign up, and all the latest updates.
Let me know if any Nifty Mom readers are planning on helping to Rebuild Joplin and please share this and spread the word!