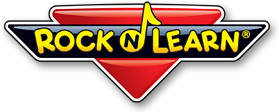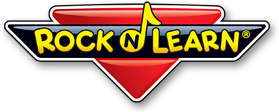 Over the past month, I have had to opportunity to review a great DVD from Rock 'Learn. Rock 'N Learn has produced over 50 educational videos and music for all age groups of children. They are brilliantly made to create to a fun learning experience for your child. You can find DVDs and CDs for Phonics, Reading, Math, Science, Social Studies, Spanish, French, and more. Each one has a recommended age category as well.
Some of their best selling titles include "Phonics", "Colors, Shapes and Counting", "Getting Ready for Kindergarten", "Spanish", "Sight Words", and "States and Capitals Rap". I received one of their best seller "Letter Sounds" for my 2.5 year old to try out.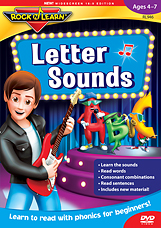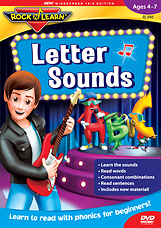 The New Alphabet Song
Learn the Sounds
Letter Sounds Quiz
Name That Letter!
Reading Words
Consonant Combinations
Spell It!
Swap the Sounds
Common Sight Words
Reading Sentences
The "Letter Sounds" DVD is full of bright colors, fun songs, and a 'cool' main character.  It is continuous fun activities and music to capture the child's attention. One of my favorite things about the DVD is it has an "on-screen mouth" to show your child how to form the sound. It has a suggested age for children from 4 to 7. Even though my oldest son is only two and a half, he really seemed to enjoy this DVD. The songs seem to go in learning order. So the first songs are just the alphabet, letter recognition and letter sounds, which is perfect because my son is all about the ABC's right now. He loved trying to sing along and making the letter sounds. My 16 month old was also dancing around having fun while it was playing.
I can't wait to see my sons continue to grow with the DVD. There are so many others I want to get for them now!
Follow Rock N Learn on Twitter, Facebook, and Google+.
Buy It – You can buy Rock N Learn products on their website. Use promo code JQ7711 for 25% off!
Win It – Rock N Learn was gracious enough give one lucky Nifty Mom reader any DVD or CD of their choice! For more giveaway information and to enter to win, click below.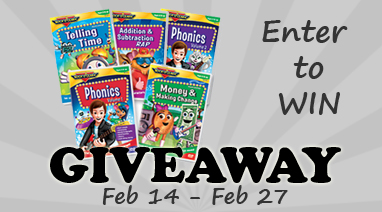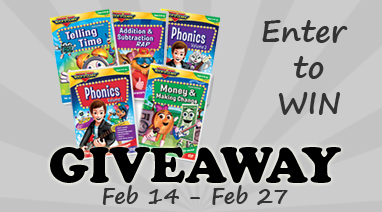 Disclosure – I received the named product at no cost to conduct this review and was in no other way compensated. All opinions expressed are 100% mine.