Have you ever heard of Savvy Rest? Savvy Rest can help you get a good night's sleep while using consciously-sourced materials in all their products. They create mattresses and other bedding with natural latex rubber, certified organic wool and certified organic cotton to assure you aren't sleeping with products that contain toxic chemicals.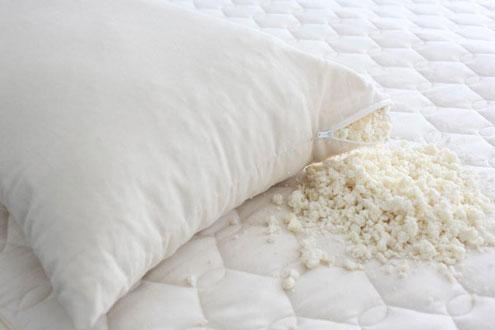 I was lucky enough to receive a Standard Shredded Latex Pillow to review from Savvy Rest. When the package arrived, I was shocked at how heavy it was. If I hadn't known any better, I would have never guessed a pillow was in the box. The pillow is extremely stuffed with very soft natural shredded latex. They over-stuff each pillow to allow you to customize it to your liking. I normally only sleep with one small pillow and don't need that much stuffing. So I can take out as much as I want to be comfortable and add more later if I change my mind. I love that! Another plus is the pillow has an organic cotton casing with a soft flannel finish.
My only issue with the pillow… my husband loves it so much I haven't gotten to sleep on it for even a full night! But I am totally okay with that. I have had the hardest time finding him a pillow he doesn't end up complaining about. Most pillows end up lossing their fluff, aren't firm enough and thin out quickly. He's always ended up stacking pillows to try to get more comfortable. He prefers the pillow as it came, completely over-stuffed, and couldn't be happier. And in the month he has been using it, it hasn't changed at all. It is still very firm and to his liking. He comments about it almost every night still!
Some other products Savvy Rest specializes in include natural latex mattresses, organic mattress toppers, sheets, mattress pads and dog beds.
For more information on all the Savvy Rest products or to purchase your own, visit their website at SavvyRest.com. Also for the latest updates, make sure you follow Savvy Rest on Facebook and add Savvy Rest on Google+ to your circle. You can also find Savvy Rest on Pinterest!
Disclosure – I received the named product at no cost to conduct this review and was in no other way compensated. All opinions expressed are 100% mine.