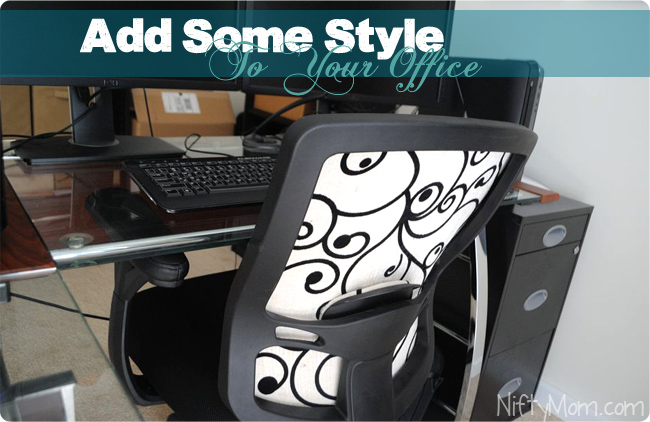 We moved into our house just over a year ago. I thought that starting with all white walls and a blank slate would make decorating the house easier. Well, I was wrong. More wrong that I ever thought I would be. We purchased all new furniture and painted the living room almost immediately. It still took us a few months to start hanging pictures and decor on the walls. Next we painted the laundry room and then it took almost a year to decide on a paint color for the kitchen (we still have yet to agree on back splash tiles). Last week we finally painted the dining room and hung up some artwork (my favorite room so far because we painted it dark red with a wine theme). So on the main floor, that leaves the office and the entryway. I have been really trying to kick it in high gear to get the office project started because I work on the computer every day, so I want the room to be inviting and inspiring. It is also the first room you see when you come into our house.

What's Wrong with My Office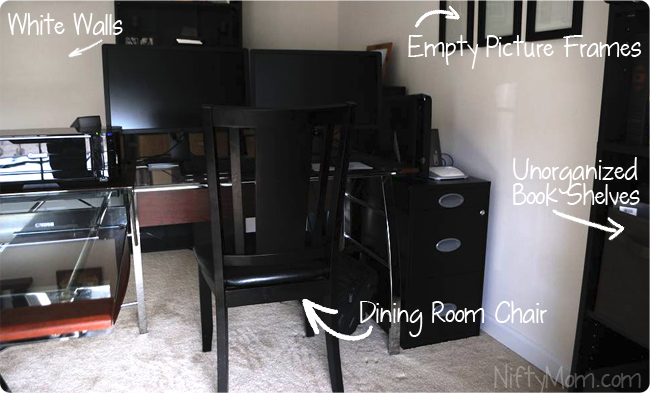 So even after a year of being in our house, there is so much that is just flat out wrong with our office.
The walls haven't been painted and are still white, blah. 

In an effort to start decorating, we added some picture frame, but I have yet to add pictures in them.
We have 3 book shelves in the office and none of them are organized and there is even still a box that was never unpacked from the move (just needs to be organized and put in the basement, obviously not that important). There are also lots of canvas totes that are full of cables, files, booklets, and anything I couldn't find a home for.
We have yet to get an office chair. Do you see that above? We have a dining room chair….in the office. Not comfortable to be sit on for long periods of times and not ideal.
Things have got to change before I go crazy! I love organization and have a love for new post-it notes, binders and any kind of office supplies (one thing I miss about a desk job). I really don't have long periods of time to go through everything and haven't found exactly what I want (or just can't make a decision). I know that since I work on the computer all the time, it should be done, but I use a laptop most of the time in other rooms besides the office, so it is easy to avoid the unfinished room.
Adding Style with a Necessity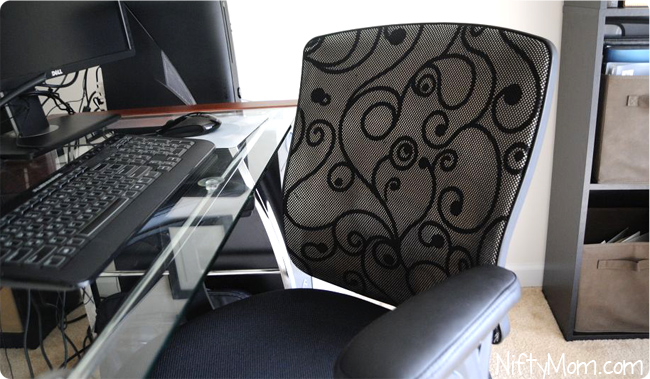 Since I love shopping online, I was browsing ReStockIt.com shortly after getting introduced to the site. They have so many great home and office products, but I knew I needed to get an office chair. I was just done with the dining room chair in the office. That's when I saw it: The OIF Mid-Back Swivel/Tilt Mesh Swirl Chair. I have never seen a chair that had swirls and style! I am use to boring black chairs. I kept browsing chairs, but couldn't stop thinking of all the ways the swirl chair could do my office some good. So I stopped looking and knew I had to get it. After ordering it, I couldn't wait for the box to arrive and see what it looked like. Who would have thought a chair could possibly bring style to an office?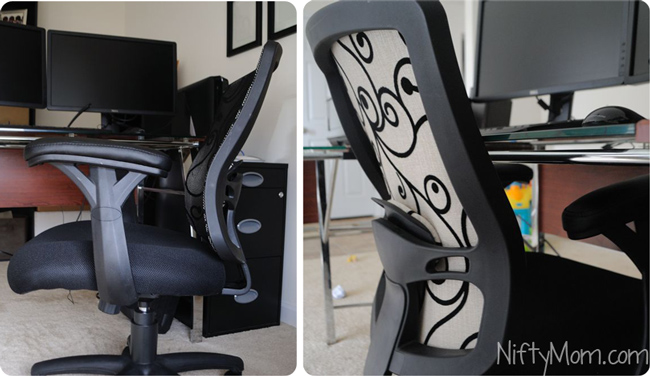 When the box finally came, I had my wonderful husband put the chair together. It was just a few simple steps to attach the pieces and wheels so I could have done it without him, but I like him to feel needed. The best part, which I didn't even expect, was the design on the back of the chair. There was no back view on the website when I ordered it, so I didn't even know the true beauty of the chair until we actually got it together. It adds a stylish chic feel to the room and I haven't even don't anything else in there yet.
Not only does it look amazing, the chair is also comfortable. The bottom is greatly padded and the back of the chair curves for extra support. It is covered with a breathable mesh for cool comfort.I cannot express how much I love my new office chair and it is so much better than a dining room chair. I can use it for hours and still be comfortable.
I have decided to finish the rest of the office with a focus on the chair's black and white swirl design. I have been brewing up some ideas for new organization, wall decor and more. I look forward to sharing all my tips, ideas and progress with you. I assure you, it will not be tomorrow, but I am extremely motivated with this awesome focal point.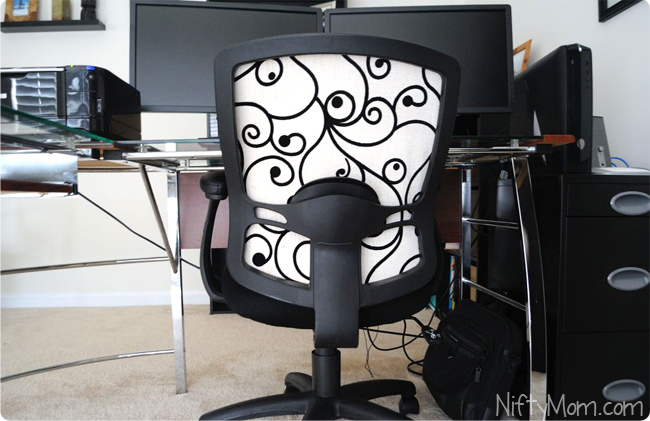 Shop at ReStockIt.com
ReStockIt.com has thousands of products for your home, office or business at a great price. You can find ink toner, printers, office furniture, breakroom supplies, tools, storage, and much more. For the latest sales and updates, be sure to become a fan on Facebook and follow @ReStockIt on Twitter.
Like what you see? Click here to enter to win a $50 Credit to ReStockIt.com! 
I received the named product at no cost to conduct this review and was in no other way compensated. All opinions expressed are 100% mine.