I'm a magazine kinda gal. I know everything is going digital and you can find anything online, but I still love magazines. My favorite ones include activities I can do with my kids and they even love flipping though the pages. When I receive the opportunity to receive two Creative Steps Magazines to review, I couldn't be happier to accept.
Creative Steps is published four times a year, each issue filled with season-appropriate activities, crafts, recipes and more. There are activities for children from ages 0-11 years old, even sectioning off activities for specific age groups (0-5, 5-7, 7-11) and for individuals or groups. This magazine is great for parents, grandparents, babysitters, teachers and anyone who spends time with children.

When I received both my magazines, the first thing I noticed was the size. They are larger than the typical magazines and the pages are thicker. It is high quality and will last awhile. This is great with smaller children. I let my toddlers page through them (my oldest picking activities he wanted to do and demanding we do them that second) and they both were still in one piece after they were done. That doesn't normally happen. There are lots of great activities to choice from. A lot of the crafts are using items you may already have at your house. I like this for days I am looking for something new to do with the kids. I can just pull the magazine out and find something new to do right away. All projects have corresponding images to go with the directions.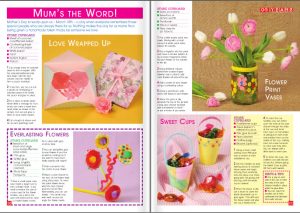 Another great thing about the magazine is that in the back you also get templates to accompany the activities when needed. After you use those templates or if you choose not to cut up the pages, you can download the templates online. This is a great feature for doing the projects with multiple children.
Creative Steps is available by subscription only in print and online. I did use the online version as well, and it is extreme easy to navigate. I have a Special Readers Discount of 25% OFF just for you!
For more information and learn more about Creative Steps, visit the Creative Steps Website, become a fan of Creative Steps on Facebook, and follow Creative Steps on Twitter.
**Make sure you stop back by on May 26th for your chance to win a 1-year Subscription**
Here are more Creative Steps reviews from fellow Karma Media Members:





I received the named product at no cost to conduct this review and was in no other way compensated. All opinions expressed are 100% mine. This review is brought to you by Karma Media.