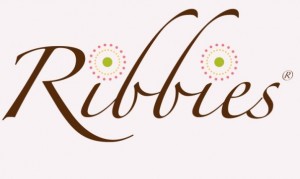 Ribbies Clippies was started in 2006 by two sisters looking for new cute baby-friendly hair clips for their daughters. They created some clippies with cute new ribbon and added foam grips to keep the clips in all day long. From making them at the kitchen table to growing worldwide, they expanded and now also make clippie cases and holders, pacifier clips, headbands, bows, and more. Since I only have boys, I was lucky enough to try and review a couple pacifier clips.

I have to say, I fell in love with the pacifier clips. Not only are they cute, but very functional. My sons are one and two and neither uses a pacifier, but I had many uses for the clips. The main two I have been using them for their snack bowl and a little travel drawing board.  I have mainly used them when we are out shopping and they are in the stroller or the shopping cart.  I clipped one side onto the lap belt and attached the other to the toy or cup. Since I have started using them, no lost toys or having to play the 'pick-up' game.
One of the best parts about the clips is the actual clip part itself. The design creates such an incredible hold that I never had a problem with it coming detached. One side of the clip had a loop so you can put the clip around what you are attaching to as shown in the picture below (click to enlarge). You can also see the grips on the clip that create such as strong hold.

These are now a must have in my diaper bag and purse. When baby #3 is born in January, I might just have to get more to use for his pacifiers (if he chooses to use them). I am very pleased with the clips and they are above and beyond what I expected!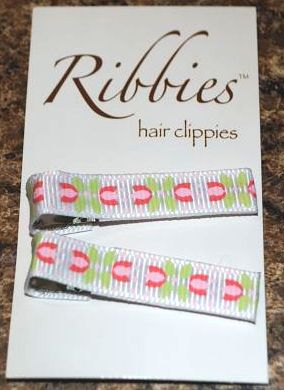 I also received a pair of clippies, which are just adorable. I used them in my hair just to try them out and they were great! I gave them to my good friend's 18 month old daughter. She has thin hair and her hair clips normally end up falling out or sliding down and not hold her hair back. With the Ribbies Clippies, she didn't have that problem at all! The clips stayed in all day, even during her full-energy play date!
Where to Buy – You can get Ribbies 4 pack of Clippies exclusively at Target. To purchase anything from their full line, visit RibbiesClippies.com.
Disclosure – I receive (2) pacifier clips and a pair of clippies to conduct this review. All opinions expressed are 100% mine.