If there was one store I wish we had in St. Louis, it is definitely an IKEA store. They have so many unique products and gifts at amazing prices. I could literally spend hours browsing their store online finding new fun products. During the holiday season, one of their hottest items are their soft toys. They offer countless different soft toys starting at just $0.49. This year, they have made their way onto Nifty Mom's Holiday Gift Guide for obvious reasons.
We have been enjoying non-stop play with a soccer ball, TORVA Carrot and a basket of veggies. I fell in love with each of them immediately and my kids love playing with them all. The soccer ball is perfect for my 2 & 3 year old sons. When they see a ball, any ball, they HAVE to throw it. No matter what. Well with the soft toy, they can do it without breaking anything or hurting anyone. A huge plus for me!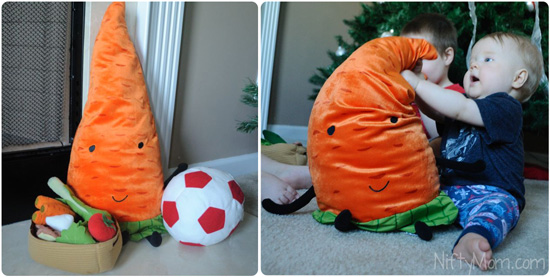 As the boys pulled veggies out of the basket, we played a 'What's That' game with them naming each one out loud: carrots, lettuce, tomatoes, garlic, mushrooms and peas. These are great toys to play pretend and for healthy food education. I like to get them out when I am making dinner and let them 'help' me and make dinner as well. The large carrot is part of the TORVA soft toy collection. Even though I love all the soft toys, this one is my favorite. It is extremely soft, huggable and as big as my 10 month old. He just adores it. These are high quality soft toys, tested to prove durability and to withstand rough play by my sons!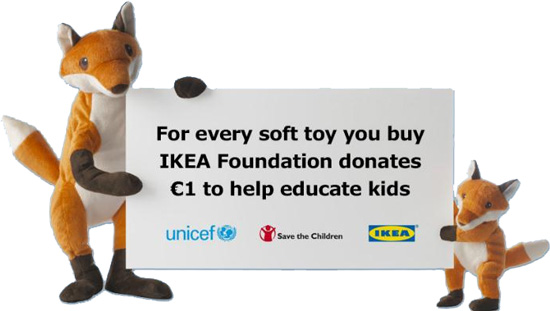 During November and December, for every soft toy purchased, the IKEA Foundation donates €1 (approximately 1.29 USD) to Save the Children and UNICEF, and is spent on children's educational projects. Last year, they were able to donate €12.4 million! The Soft Toys for Education Campaign started in 2003 and since then has raised $61.75 million, supported over 70 projects in nearly 40 countries, and helped more than 8 million children receive a better education. That's amazing! I love a great company that gives back.
For the latest updates, stay connected by following IKEA on Twitter, Facebook, and the IKEA Foundation on Facebook.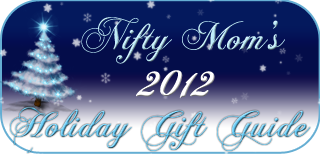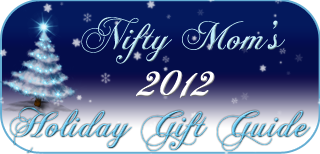 I received the named product at no cost to conduct this review and was in no other way compensated. All opinions expressed are 100% mine.