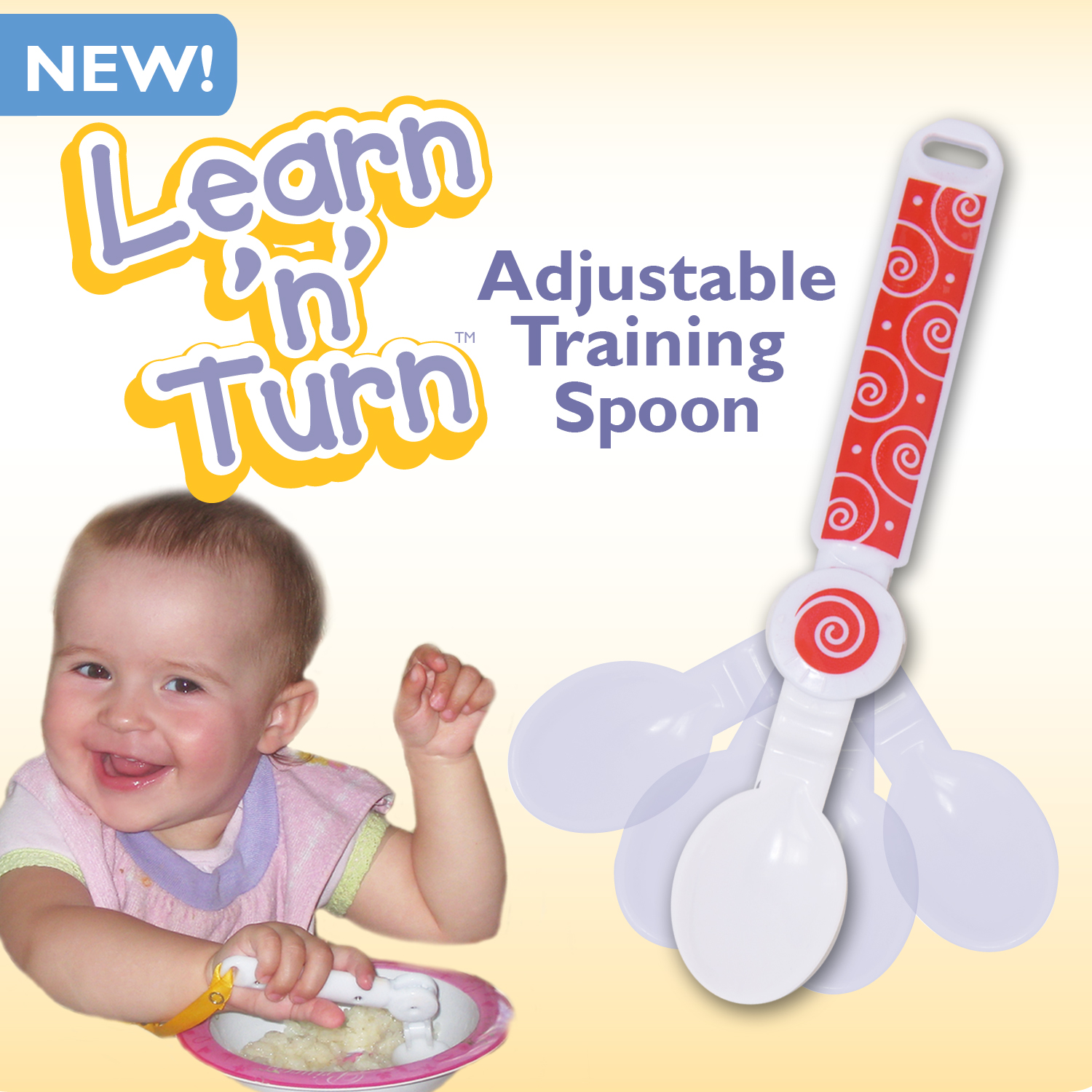 Mealtime can have its ups and downs in my house. My 1 year old always wants to eat like his 2 year old brother but has yet to master using a spoon and/or fork. He's always trying, but awkwardly twists and turns the spoon and by the time he gets it in his mouth, there is nothing on it. He tries and tries but he ends up getting  frustrated to say the least.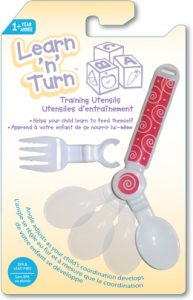 I was excited to get the opportunity to try the Learn 'N' Turn Feeding Utensil. This Dad-invented product is designed to help your little one learn to self-feed easier. Since infants little bones and muscles are still developing, they have a harder time rotating and getting a spoon successfully from the bowl to their mouth. The Learn 'N' Turn helps that problem by allowing you to adjust the angle of the spoon in either direction to accommodate your little one.
My son loves using the Learn 'N' Turn spoon. When I gave it to him for the first time (and each time after that) his face lit up. It's shape and size is just perfect for him. One of my favorite things about the spoon is with it angled, he cannot jam it down his throat. He gets so excited with a spoon sometimes it seems he tries to put the whole thing in his mouth and I get worried he is going to gag himself. He definitely cannot do that with the Learn 'N' Turn spoon. We have been through a few different angles so far and he is getting so much better using a spoon.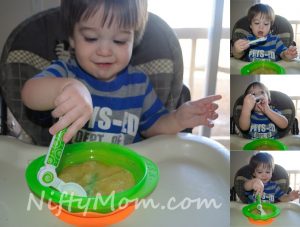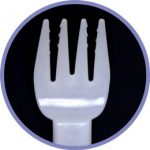 Another great thing is that the utensil comes with a fork attachment. So instead of having two different utensils, you can just pop off the spoon and attach the fork. I really like the fork because it has unique little grips to help hold the food on the fork. I have never seen anything that before.
I am very please with the Learn 'N' Turn and know I will be using it with the next baby as well.
BUY IT: You can buy the Learn 'N'  Turn online or find a retailer near you.
I received one or more of the products mentioned above for free using Tomoson.com. Regardless, I only recommend products or services I use personally and believe will be good for my readers.