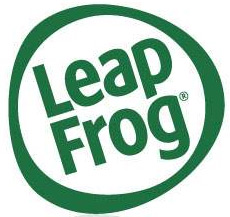 With three little guys, we have our fair share of toys and a good number of those toys are LeapFrog. I recently learned about their new Touch Magic products and had the opportunity to host a Touch Magic 'Rock N Learn' Party with some family and friends. To host the party, I received two Touch Magic Rockin' Guitars, a Touch Magic Learning Bus, coupons, activity & coloring sheets, and party planning tips. I couldn't wait to start planning my party!
A couple weeks ago I invited some friends and family over with their kids (ages 2-6) for a lunch 'Rock N Learn' play date. Even thought a few kids were extremely shy for most of the time (and only two would let me take pictures of them without their hands over their faces), all the kids had a chance to play the guitars and bus. One of the Moms even said, "Those are awesome, I want to play the guitar!"
The Touch Magic toys bring the touch screen technology to preschool toys for the first time ever. They recognize every tap, slide, and touch to create a great new learning experience for children. The surface of the toys are completely flat, making them easy to clean and sanitize. There are no buttons or small crevasses for dirt and germs to hide in. Since there are no buttons, the toys are very lightweight and slim. Some parents initially questioned their durability (notice how slim they are in the pictures below). I think they are questioning it because it is something new, different, and most parents are use to big bulky toys. I assumed them, my sons are pretty rough with toys and I can tell these ones are going to last.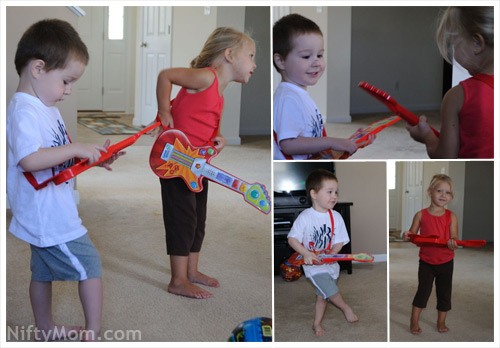 The guitar is recommended for kids 3 and up. It plays 10 different songs and kids can customize the songs by playing along adding drums, guitar riffs, and funny noises. The most popular feature at our party seemed to be the strumming. If you strum the guitar really fast, it speeds up the song really fast and sounds like the Chipmunks are singing. The kids loved doing it and thought it was the funniest thing. Out of the ten songs, 'If You're Happy and You Know It' and the 'ABCs' were the most popular songs.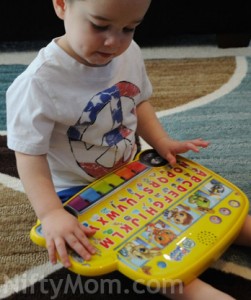 Recommended for ages 2 to 4, the Learning Bus brings lots of learning with the alphabet. My two year old loves this toy so much, he didn't want to share at first. There are three modes: learning, letter exploration and music. The kids loved the piano keys at bottom of the bus and I think we had to listen to 'The Wheels on The Bus' about 50 times throughout the afternoon. I also caught a few of the kids trying to drive the bus around the house while they were playing with it.
After all the playing, we relaxed with some Leap Frog coloring and activities. For their lunch I made drum sandwiches with cheese 'drum' sticks and fruit with music note cantaloupe. We also made some cookies shaped as music notes and guitars, but after they baked, it wasn't so easy to tell what they were. It was still a great ending to a fun and energetic afternoon.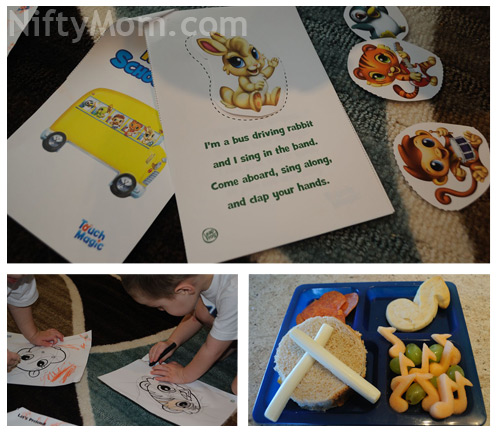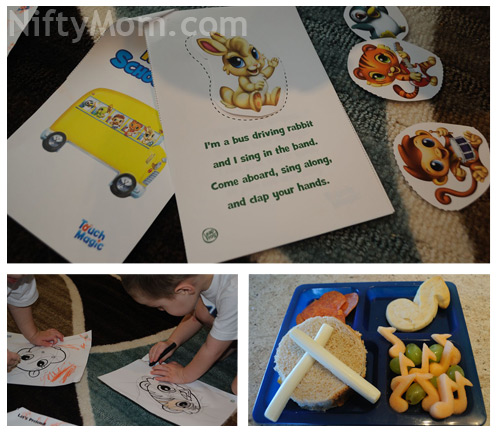 You can enter the Touch Magic Rockin' Guitar Contest by sharing how your child rocks to learn! Five winners will win a $500 Gift Card plus weekly drawings for $100 in toys! Here's how to get in your entry:
1. Submit a Video: Submit a video of your kid jamming with the Touch Magic Rockin' Guitar or a homemade guitar.
2. Share Video: Promote your video by sharing it with friends and family to view and vote.
3. Grand Prize: The 5 videos with the highest number of consumer votes and LeapFrog panel votes can each win a $500 gift card.
Visit http://touchmagic.leapfrog.com for more detailed contest information, contest rules, and to submit your entry by November 30th. GOOD LUCK!

Each toy retails for $24.99 and can be purchases on LeapFrog's site, at Target and other retailers, and on Amazon.com.
*I received a party kit including the named toys from Mom Select and LeapFrog to host my Rock N Learn party. I received no monetary compensation and all opinions stated are 100% mine.