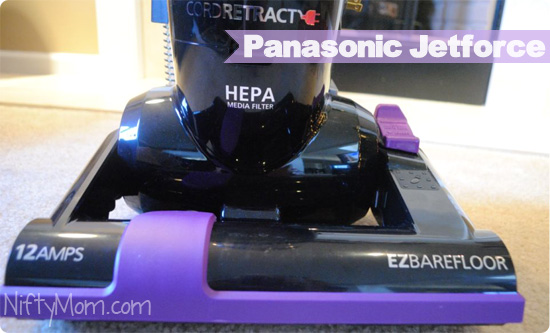 Clean. Clean. Clean. Some days I feel like all I do is clean. With three little ones, the floors seem to get dirty in the blink of an eye and If I don't vacuum or sweep it up right away, my 11 month old will find every little crumb or the tiniest piece of paper on the floor and try to eat it. I end up vacuuming at least three or four times a week and sweeping numerous times a day. Right now with all the Christmas decorations, I have been vacuuming more than usual because of the tree, garland and glitter from decorations that seem to get everywhere. My old vacuum couldn't even get all the glitter out of the carpet and I have tried to vacuum it up at least ten times. But I finally have a vacuum that got it up and makes all the floor cleaning easier: The Panasonic Jetforce Vacuum MC-UL427.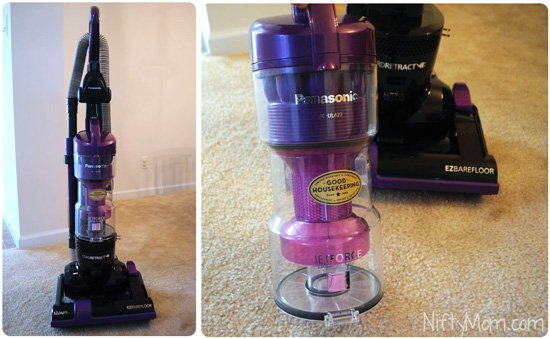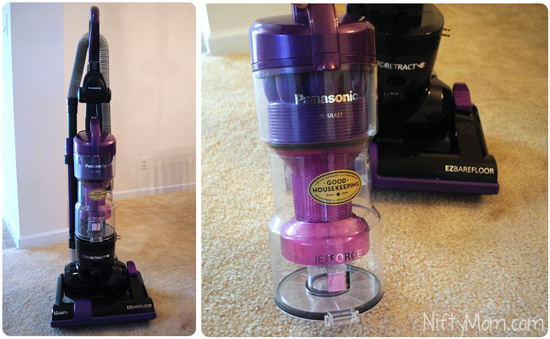 The Jetforce is a bagless vacuum with a unique hourglass-shaped dust container that allows for no loss of suction. The container is easy to open from the bottom for quick and mess-less dirt removal. It has an automatic carpet height adjustment which means I don't have to try to figure out the correct setting. Weighing in at just under 15 pounds, it is easy to move to upstairs, around tight spaces and to store. Some other great features on the Panasonic Jetforce:
JetForce technology separates the dust and air via centrifugal force
Nine cylinders for multi-­‐cyclonic dirt separation and cleaner exhaust air
12-amp motor for powerful cleaning
HEPA filter to catch all the small particles such as allergens, irritants, and pollutants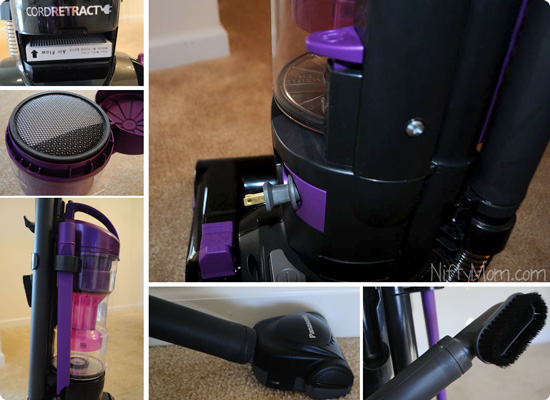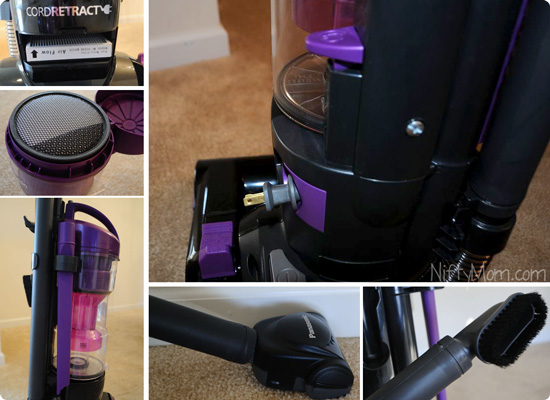 There are three attachments on the vacuum: A Pet Hair Turbine brush, dusting brush and a wand that attaches to the stretch hose. They are easy to get out while vacuuming to get above-floor areas, the steps and furniture. The attachments are the best I have ever used because they have the same powerful suction as the base. They make vacuuming our staircase a breeze. With all the great features my one favorite is the automatic cord reel. When I saw there was no cord wrapped around the back of the vacuum I was baffled, until I noticed the plug sticking out. All I do is pull out the cord and it stays out during use. When complete, I just press the retract button and the cord reels in. That alone saves time when cleaning.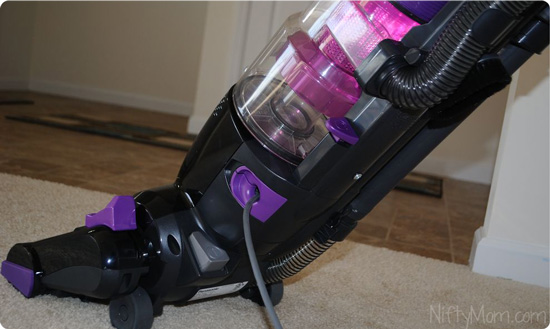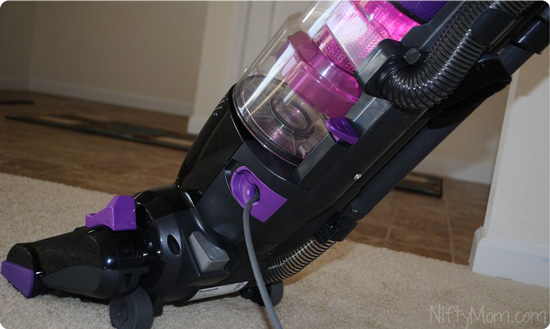 With the agitator shut off switch and soft wheels, the vacuum can be used on tile and hardwood floors. Another time saver! We have hard floor in our entry way and our kitchen. This makes it easy to clean the floors all at once and I don't have to get out the broom as much. The first time I used it was just one day after I vacuumed with my old vacuum and I couldn't believe how much dust and dirt it picked up. I could really tell a difference in my carpet. I couldn't be happier with the Panasonic Jetforce vacuum. It has been a huge help in cleaning and tackling the messes from my little ones.
To learn more about the Panasonic Jetforce Vacuum MC-UL427 visit the product page on Panasonic.com. You can also purchase it on Amazon.com on sale right now for $121.99.
"I participated in a campaign on behalf of Mom Central Consulting for Panasonic. I received a product to facilitate my review."