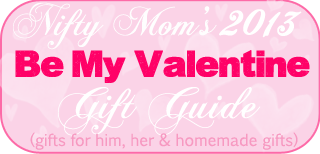 Are you still looking for something to get for your loved one on Valentine's Day? Or maybe you are just wanting to buy a great gift for yourself (because we all deserve a gift to ourselves every now and again). Either way, I wanted to let you know about some great products that could make some awesome gifts. I am also working on gathering my favorite homemade gifts and I will be continuously adding products to my Gift Guide.
Personalized Video Love Letter

Here's a great personal gift that you can make for FREE! Animoto allows you to upload pictures and video clips, add them to a styled video, select music and add your own text. I have been playing around with the site a little bit and next week I will share more thoughts on it, as well as a video I am putting together. Until then, view this sample Valentine's Day video. It is super cute. Creating an account is free, quick and easy then you can start making your own video.
Personalized Jewelry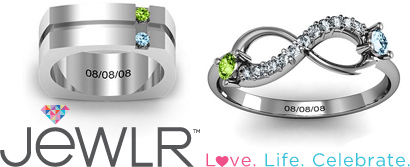 I love personalized jewelry and Jewlr has some amazing pieces for all occasions. Each piece can be personalized my choosing the medal, stones, and engraving. I am in love with their infinity ring collection (my Valentine's Day gift to myself) and for men, I think the Crevice Grooved Square-shaped Gemstone ring is an awesome gift for the Mister. Be sure to read the review of my infinity ring and their site. To make shopping easier, Jewlr has put together a Valentine's Day collection. Shop the collection here. Order by Sunday, February 10th for guaranteed FREE shipping by Valentine's Day!
KIND Healthy Snacks


If you are looking for a healthier alternative to chocolate, give the gift of KIND Snacks. I think they are great for someone who has stuck to their New Years resolution or just loves eating healthy. They have different varieties of bars and granola that make for great snacks. Some of their bars are make with Dark Chocolate such as the Nuts & Spices's bar, Dark Chocolate Nuts & Sea Salt. That happens to be my favorite. For more information visit KINDsnacks.com. Find a retailer near you or purchase on Amazon.
Red Shoes


When I think of Valentine's Day, I always think of the color red. It's always fun to give something like shoes and clothing that are red for Valentine's Day. Keds has red shoes for men and women. And if you know a Taylor Swift fan, they have the RED Taylor Swift Keds (pictured above).
ToyState James Bond Motorized Replicas


If you have a James Bond fanatic in your life, you should check out the James Bond 007 series from ToyState. The line features car replicas that were in the James Bond movies such as the Aston Martin, Lotus, and Ford Mustang Mach. All of them are motorized and have unique features such as secret weapons, dramatic spin-outs,  and radio-controlled wheelie action, with the iconic James Bond Theme serving as the soundtrack for all of the play fun. The model cars start at just $12.99 and they are very entertaining to play with. We have two and even the kids love watching the cars drive around playing James Bond theme music. See all the products in the line on ToyState.com and you can purchase them on Amazon.com.
 Milana Bra by Genie


This is another one of the gifts I got for myself :) I have been using the Milana Bra now for a few weeks and I have to say, it is extremely comfortable. It is made of stretch fabric with no underwire, hooks, or straps that dig into you. The lace top layer is perfect for low cut tops, sweaters, and dress because it looks like a cami. It is so comfortable it can be worn to sleep as well. Care for the bra is easy because you can easily wash it with all your other clothing. To learn more or purchase, visit MilanaBra.com.
Also be sure to visit Amazon's Valentine's Day Gifts.
Don't forget to check out my full 'Be My Valentine' Gift Guide as new items will be added up until Valentine's Day including DIY and homemade gifts!
*Some product samples were received for some of the mentioned products. However, I have reviewed each and personally recommend them. All opinions are 100% my own. Some links may include affiliate links.