"I participated in a campaign on behalf of Mom Central Consulting for Red Lobster. I received a gift card to facilitate my review promotional item as a thank-you for participating."
At least once a month, my husband and I try to have a date night. We get my parents over to watch the kids and we go out for a few hours. No matter what our plans are, we always go out to dinner first. Sometimes it is just dinner and then grocery shopping with no kids, but being together and enjoying a quiet, relaxing meal is a must.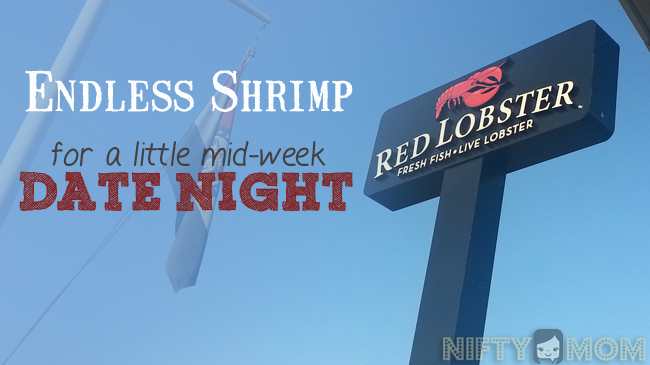 Then something rare occurred. Two weeks ago, my husband and I took our first trip without the kids. It was a much-needed road trip to Chicago with our friends. After the three-day trip, I had plans on coming back refreshed and was ready to accomplish a lot with the kids. However, we arrived home to two kids with a bad stomach bug. My 18 month old had a tough time kicking it and it lasted well over a week.
When the sickness started lightening up and I saw light at the end of the tunnel, I went out of our norm: I planned a date night on a weekday. We haven't been to Red Lobster in awhile, so when I started seeing the advertisements for their Endless Shrimp promotion, I didn't want to miss it.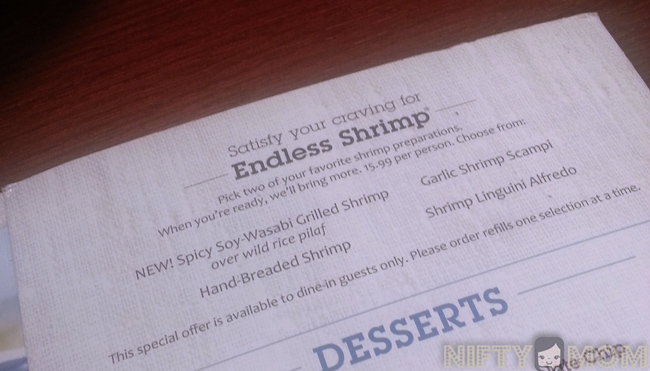 In it's 12th year, the Endless Shrimp has become one of the most popular Red Lobster promotions. For just $15.99, the meal comes with endless plates of four select shrimp entrees, salad, and unlimited Cheddar Bay Biscuits. You get to start with two shrimp selections. It was hard to pick from the four:
New Spicy Soy Wasabi Grilled Shrimp
Hand Breaded Shrimp
Garlic Shrimp Scampi
Shrimp Linguini Alfredo
I decided to start with two of my favorites from Red Lobster: Garlic Shrimp Scampi and Shrimp Linguini Alfredo with vegetable medley. I knew with the pasta I would fill up quick, so before I started eating, I ordered the Spicy Soy Wasabi Grilled Shrimp. I've never had it before, so I wanted to at least try it. I am not a huge fan of really spicy food, but I enjoyed it. The whole meal was good and the only thing I regret was not ordering some breaded shrimp as well.
It was a great mid-week dinner date. I think it is something that should be done more often to relax and break up the typical work-week.
For the latest promotions and offers from Red Lobster, follow @RedLobster on Twitter and become a fan on Facebook.
Have you ever had Red Lobster's Endless Shrimp?