I am working with Fisher to share and create recipes using Fisher Nuts and tools they provided. However, my opinions are entirely my own and I have not been paid to publish positive comments.
I love mini versions of different dishes and bite-size foods. I can be completely satisfied with an all appetizer dinner. These mini fruit salad cups are simple to make and can be easily adjusted for different preferences.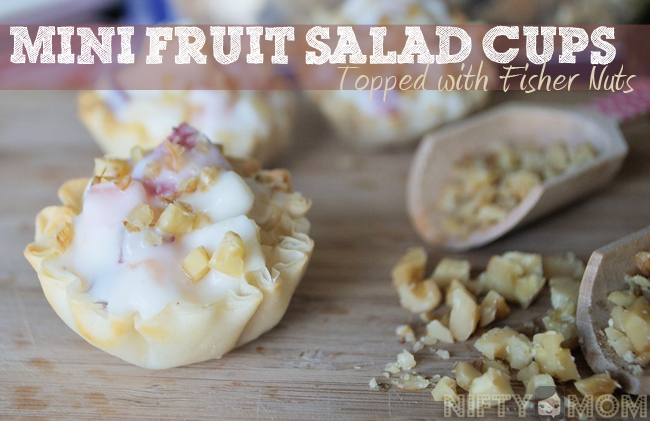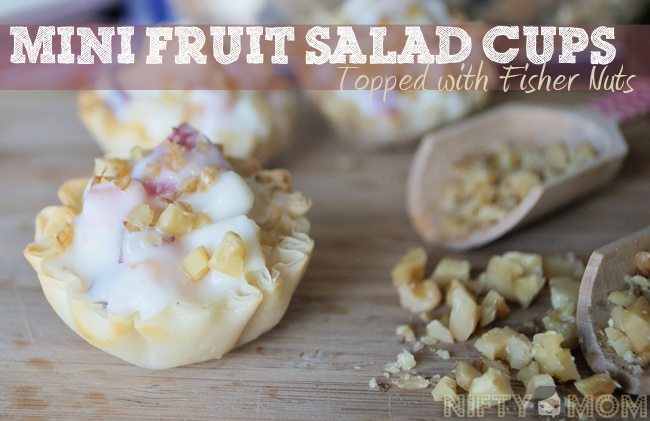 As summer starts to come to an end, it is still warm here and I am still thinking of foods for entertaining. When I think of summer recipes, fresh ingredients such as nuts and produce always come to mind.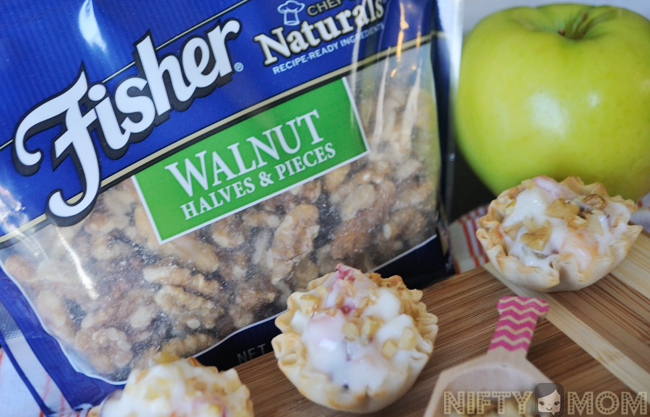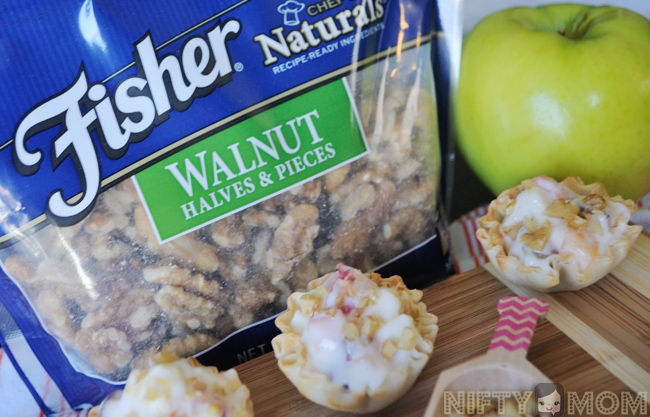 When I cook with nuts, Fisher Nuts are my go-to brand. They offer many different varieties in stand up Freshness Seal Bags that lock the flavor in after each use. They are easy to store and convenient to use even the smallest portions.
Walnuts are one of my favorite nuts to use and eat. Not only are they delicious, they are packed with protein and Omega-3. I like to eat them as a snack, or add them to a fruit mixture.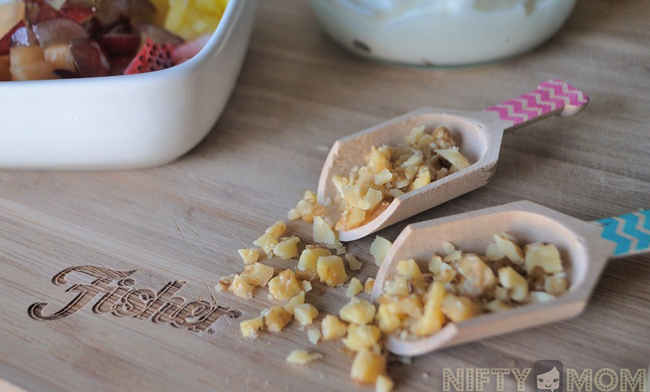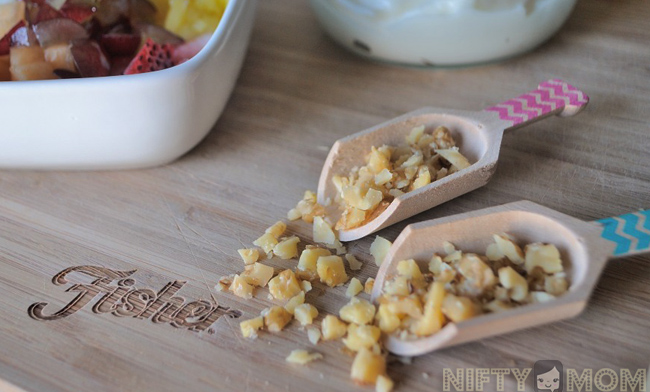 A few weeks ago, I was at the grocery store and came across Mini Fillo Shells. I decided to get a few packages to try them out. Since then, I try to find a reason to use them, because they are just amazing.
With some fresh fruit on hand, I thought it would be fun to cut them into small pieces for the shells.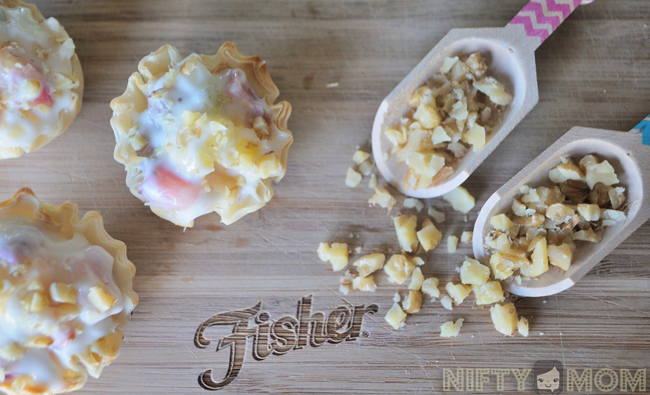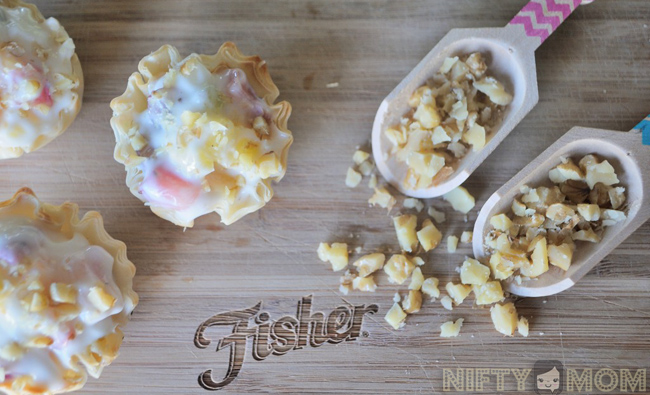 I first cut up a bunch of red grapes, part of a cantaloupe, strawberries, and some slices of pineapple. I was out of plain yogurt, so I mixed them with some fruit dip. Use more or less, depending on how sweet you want them. I like to have enough to just coat the fruit.
After scooping a spoonful in the phyllo shells, I chopped up some walnuts and sprinkled them on top. They ones we didn't eat immediately, I store in the refrigerator, covered. These are great for entertaining because guests can just grab one or a few, and don't have to hover over the fruit & dip platter.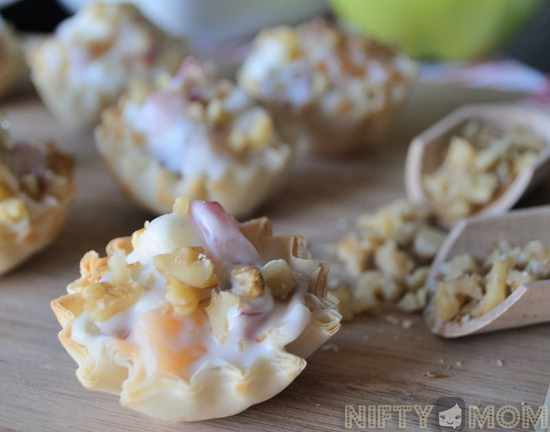 Mini Fruit Salad Cups - A Quick & Easy Appetizer
These mini fruit salad cups are simple to make and can be easily adjusted for different preferences.
Ingredients
3 - Packages of Mini Fillo Shells (15 per package)
1 - Container of Fruit Dip or Vanilla Yogurt
⅓ Cup - Chopped Walnuts
1-2 Cups - Chopped fruits such as strawberries, apples, pineapples, grapes, cantaloupe, etc.
Instructions
Mix chopped fruit with dip or yogurt. Use enough to coat the fruit, or more for a sweeter taste.
Spoon into the mini shells.
Sprinkle with chopped walnuts.
Serve or store in the refrigerator, covered.

Visit Fisher Nuts for recipes and tips on cooking with nuts.

**You can also enter to win a $75 Gift Card and Fisher Nuts Prize Pack HERE!