I received the mentioned educational games and activities to review. All opinions are my own.
Games. Games. More games. That is what I hear almost daily from my sons. They love board games and I try to accommodate their desire to play them as often as possible. To make game playing beneficial, about 90% of the ones we own are educational and target numerous skills.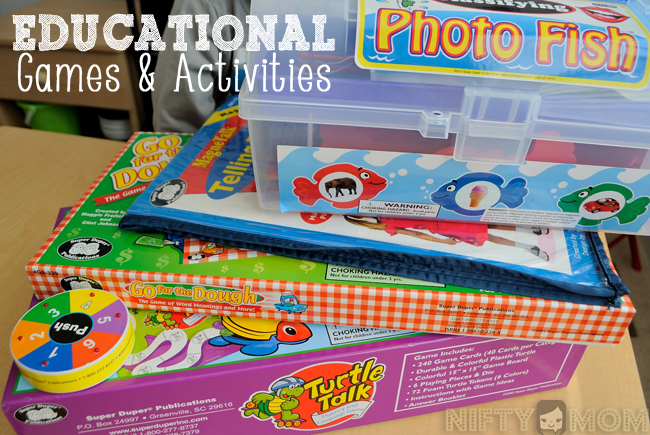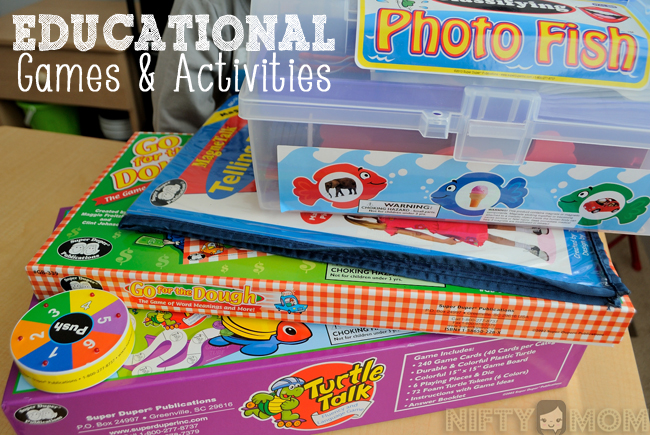 A few months ago, I was first introduced to Super Duper Publications. Their site is loaded with hundreds of enticing products to improve various skills in all children. They have many great products that can fill our little preschool area. We recently added some new games and activities to our collection that will benefit all three kids for years, from preK through grade school.
MagneTalk Telling Time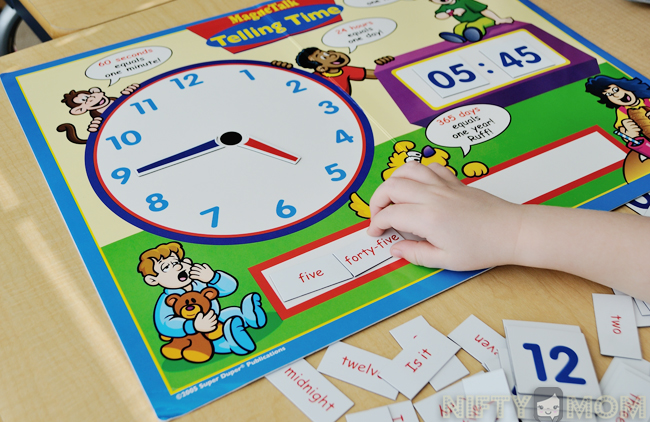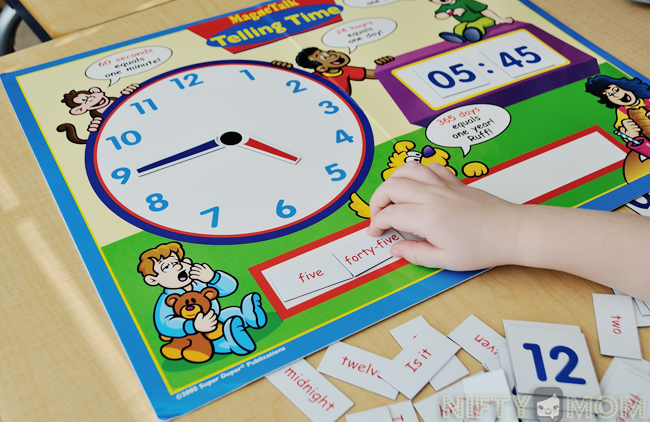 While I try to teach something to all three kids, sometimes I get a chance to focus on a skill solely with my 4 year old. Ethan is getting a grasp of time so weekly we try to cover a form of it. Super Duper's MagneTalk Telling Time board is a great activity that encompasses the different ways to tell time. It comes with one sturdy, magnetic game board (14″ x 18″), 24 magnetic number tiles (1 3/4″ x 1 3/4″), 47 magnetic "Sentence Maker" tiles, and two clock hands. I love that having a reusable way to teach him time.
I must add that the MagneTalk line includes many different boards teaching many different skills. I purchased the Money set for my nephew for Christmas. I hope to add to the ones we already have soon.
Classifying Photo Fish Game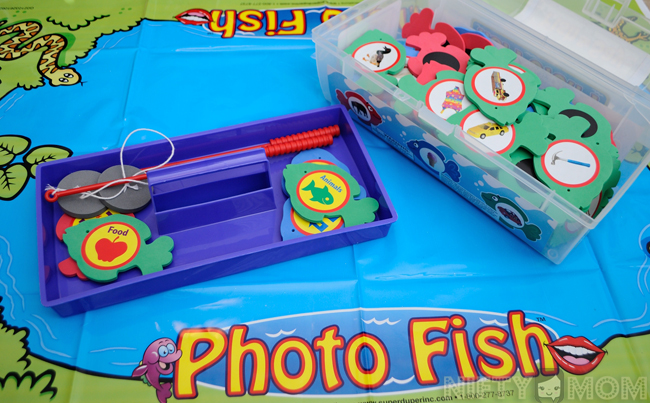 This game is a huge hit, even for my two year old. The case for it looks like a tackle box and that is enough to get the kids excited. Classifying Photo Fish comes with 55 Classifying Magnetic Photo Fish (11 fish in each category) and 5 "Category Catch" Fish, a 36″ x 23″ plastic pond, and two 11″ plastic fishing poles.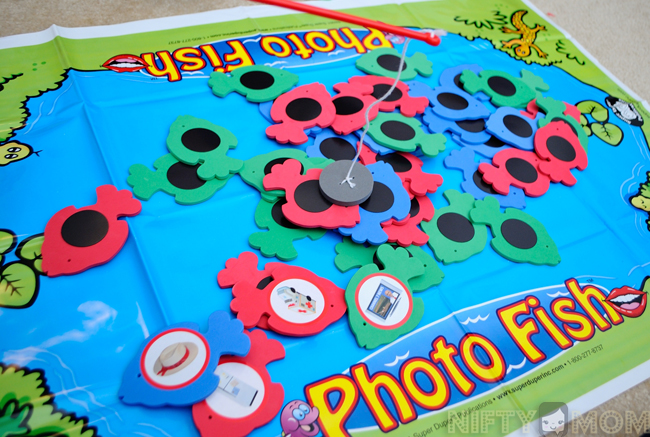 Photo Fish is targeted for grades PreK-6 and also can be played a variety of ways. We normally give each of the kids a couple categories and they have to 'fish' for the items that fit into that category. They actually love fishing, so this game is so much more than just finding categories. It is fun to pull out on a rainy day and let my two year old catch some fish as well.
Go for the Dough Board Game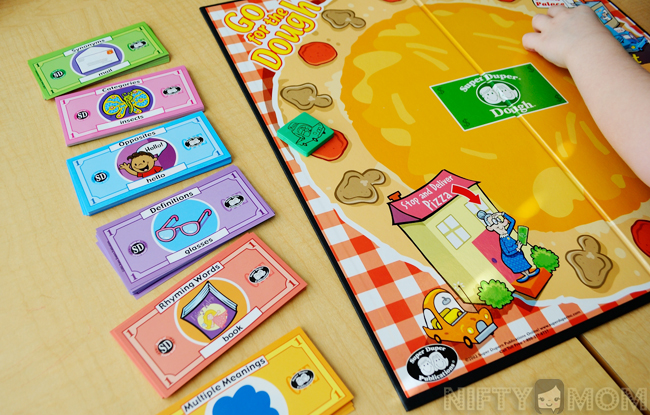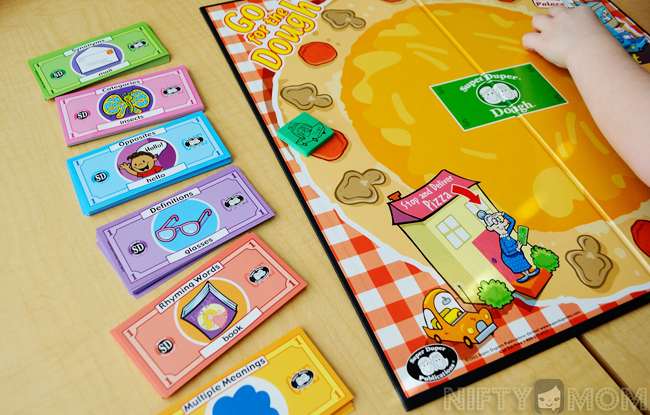 Go for the Dough is a fun game for kids in PreK and up. It creates an entertaining and interactive way to increase vocabulary and word meanings. There are six play dollar categories with different language skills. The game has many varieties of play, and can be customized to the children's skill level and needs. This will allow me to utilize the game for years. It comes with a sturdy game board (16″ x 16″), 480 Super Dough Dollars (4 1/4″ x 2 1/8″) divided into six categories, 6 car pawns, die, and a booklet containing suggested answers.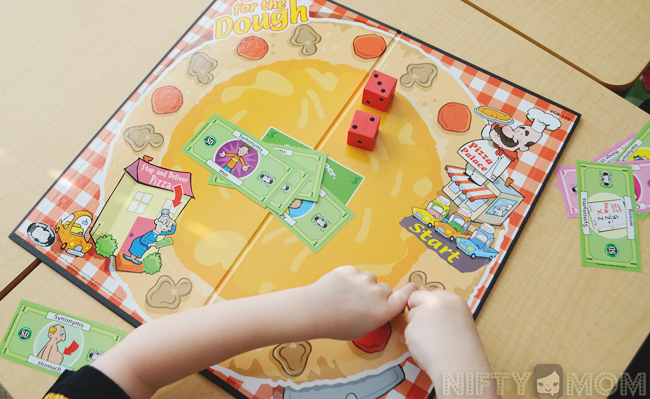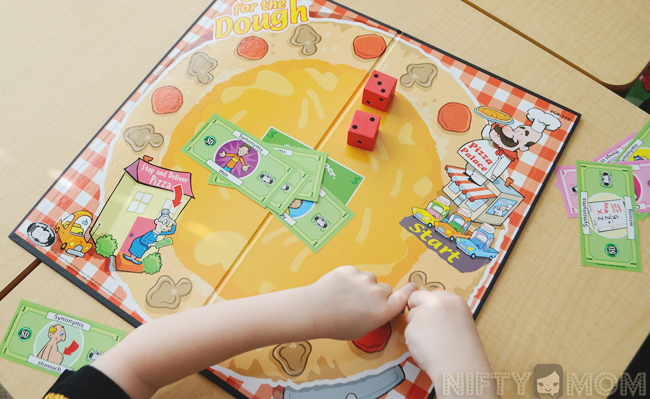 The game has a start, but no 'finish' spot. This makes the game continuous, and can end at a pre-determined time. Maybe after so many minutes, or when someone collects a specific amount of dollars. I love this because no matter how much time we have, we can fit in a round of the game. The boys really enjoy playing it and increasing their vocabulary.
Turtle Talk Board Game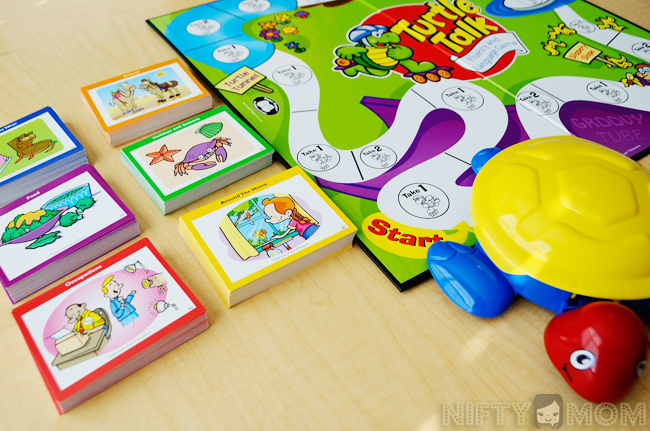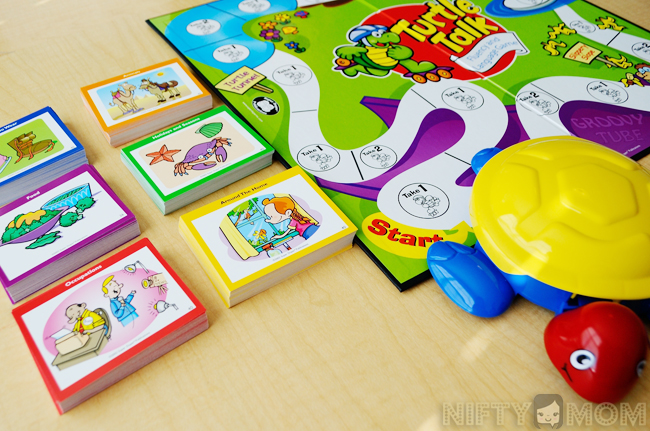 Turtle Talk (aka the Turtle game by my three-year old) is another language skill game that can grow with little ones from PreK up. The game board is continuous with no designated finish spot, so play time can vary by preference. On the players turn, they pick a card, answer the question, roll the die and receive tokens.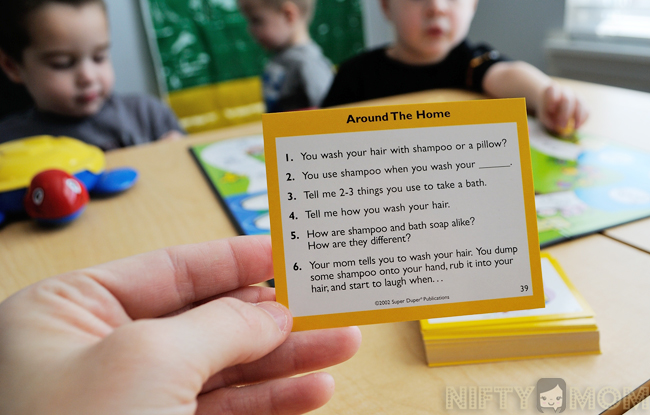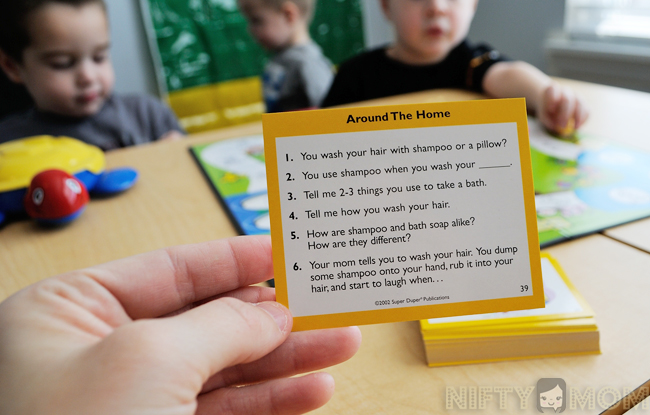 The cards included are 40 each of animals, around the home, food, holidays and seasons, occupations, and things you wear. Each one has six different questions with different skill levels. So the questions can vary by player depending on their age, or skill level. The back of the cards have corresponding illustrations that can also assist in the responses.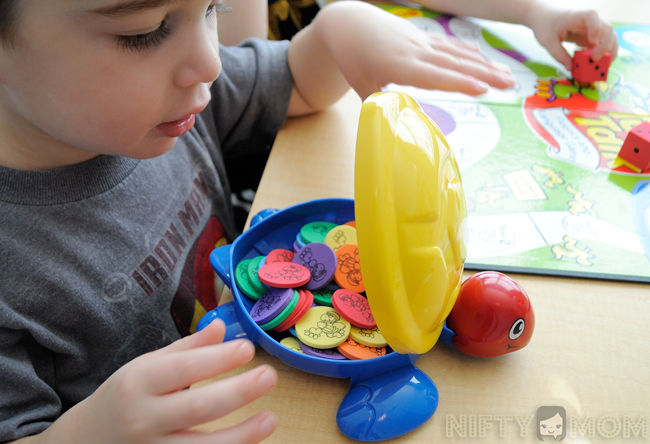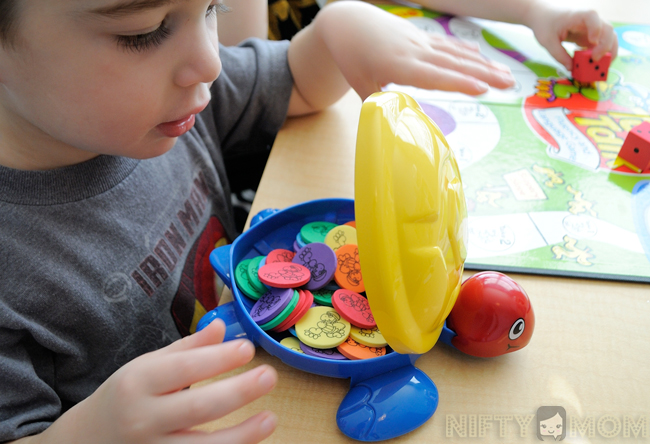 Each spot on the board has a number of tokens that are received for correct answers. I am pretty sure my boys favorite part of the game is passing the turtle back and forth and picking out the tokens. It is a great way to keep their attention through the game and let them have choices. The boys ask to play this game daily and with all the learning opportunities, it is hard to tell them no.
Electronic Spinner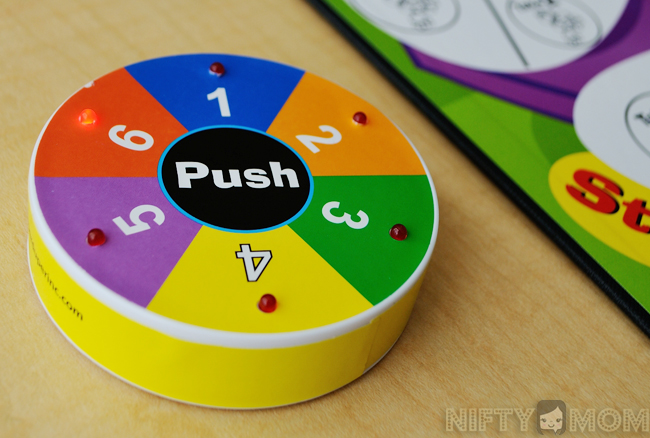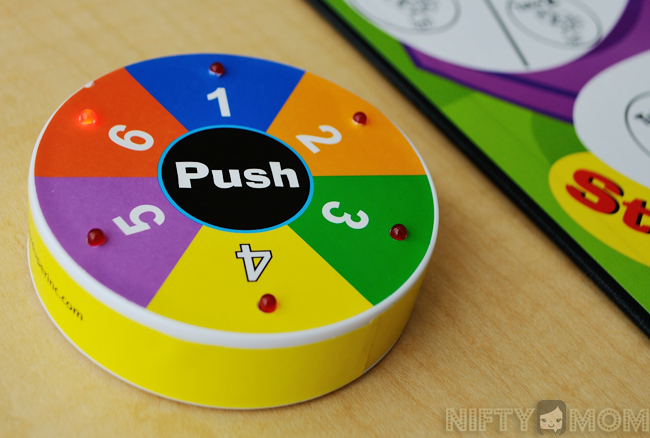 With all the games we have been playing, the Electronic Spinner has been used a lot. It is easier for the little ones to use than rolling dice, and it makes sounds. When we are having quiet time, and they want to use it, the sound can easily be turned off with a switch on the bottom. My two year old thinks it is a game on it's own and will run around with it all day if I let him.
All the games have become a staple in our preschool area and I know will grow with the boys. Super Duper has great learning products and I can't wait for my next purchase. Be sure to follow @SuperDuperPub on Twitter and become a fan on Facebook for deals, coupon codes, and free daily worksheets.