This vehicle documents organization post has been compensated by Collective Bias, Inc. and its advertiser. All opinions are mine alone.#DropShopAndOil #CollectiveBias
As we enter into February, I have to admit I am still working on re-organizing my home office. Each January I move the previous year's receipts and statements to a few categorized binders and store them in the basement. However, there are a few that binders that are important and have to stay on my desk.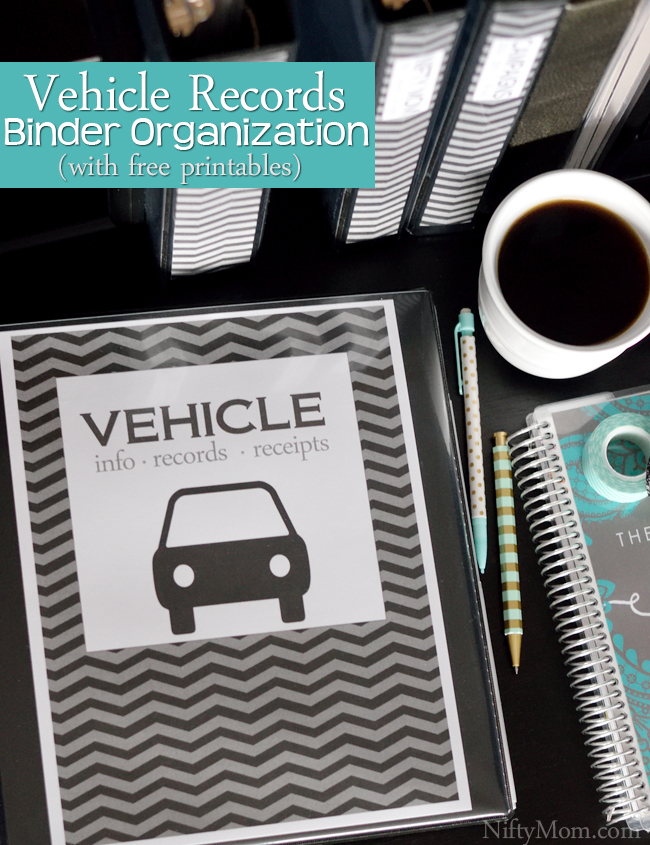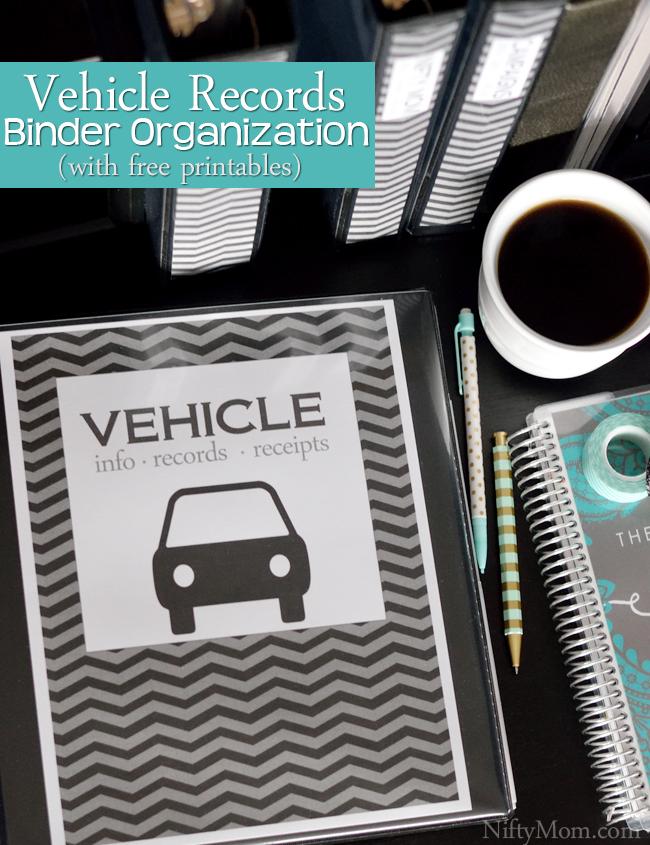 One of those binders is my vehicle binder. It hasn't always looked that nice, but we will get to that shortly. First, I want you to know why it's important to have such binder.
My car is important to me and needs to be treated with much respect and care. Every single day, I depend on her (my Armada) to help me safely get my kids around town or wherever we need to go. Just like our bodies, our cars need to be taken care of to make sure they stay healthy and dependable. All it takes is slacking on routine oil changes for something to start going awry.
However, with three kids, getting these oil changes (and other auto services) can seem daunting. Have you ever tried to entertain three kids under the age of 5 in a tiny waiting room (with virtually nothing) for an hour? I have…simply.not.fun…. And I am thankful I will never have to do that again. That was years ago and since then, I have gotten smarter. Way smarter.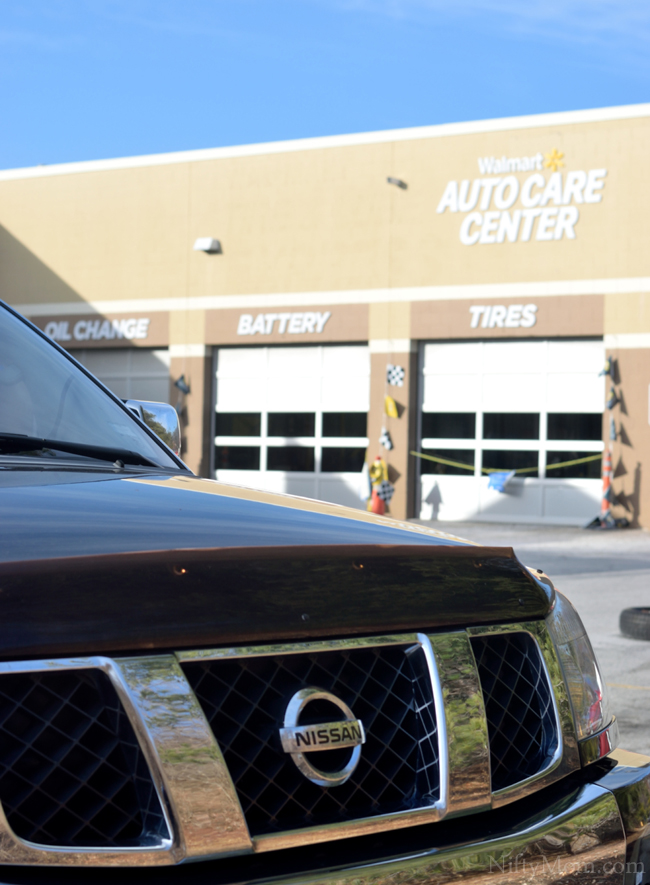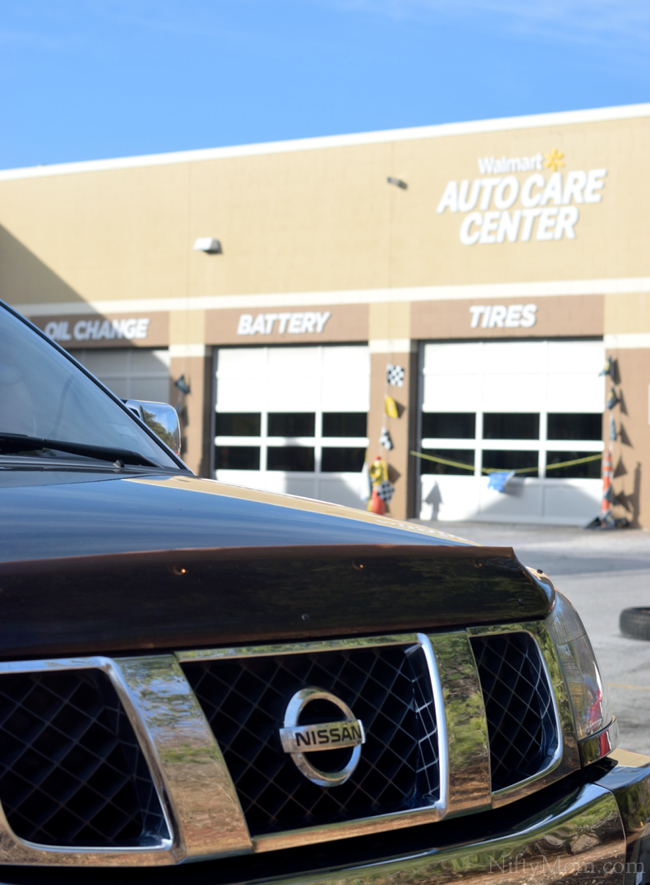 Now what I do while grocery shopping, as I recently did last week, is pull around to the side of Walmart and park near their Auto Care Center. There, along with the three kids, I hand my keys over to a friendly (and knowledgeable) Auto Care Center specialist and give him some information about my vehicle.
One of the things the specialist inquires about is the type of oil to use. They have always recommended Pennzoil High Mileage Vehicle motor oil for my car because it is designed for vehicles that have over 75,000 miles to help reduce leaks and oil consumption and keep the engines running clean and going strong for a long time. I care about my car, so using the right motor oil is essential.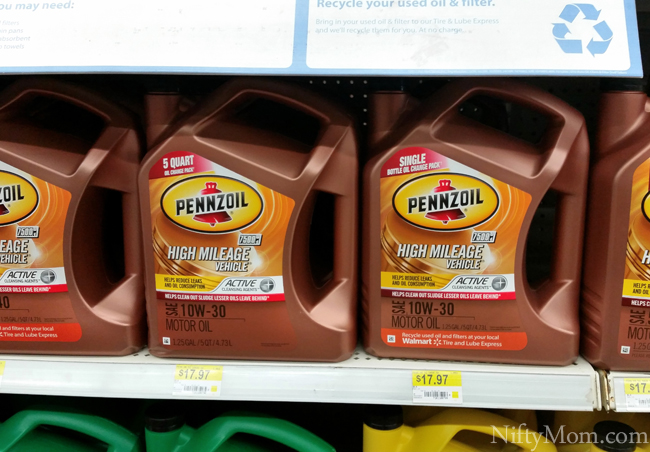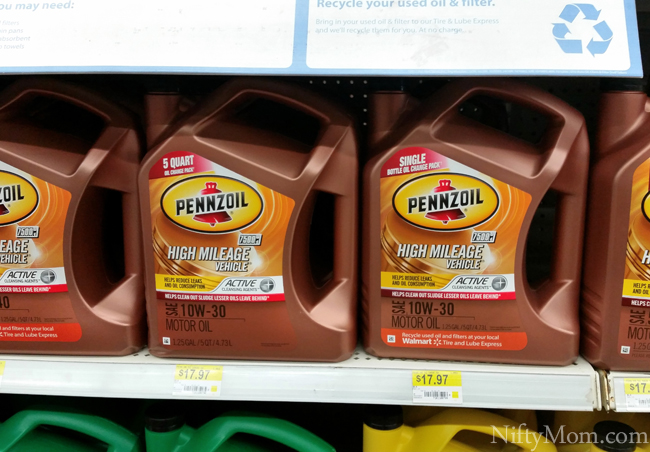 Not only does Pennzoil motor oil provide the best protection from friction, it also offers a free warranty that covers 15 engine parts that may fail due to engine wear or which experience abnormal wear due to friction (for more information, check out the Pennzoil Warranty Site). If you like to change your own oil, checkout the current promotion from Ibotta (a free mobile savings app) to get $5 off one 5-quart bottle of Pennzoil Platinum with PurePlus Technology.
Once the specialist has all the needed information, we are off to do our grocery shopping until we get a call that the services are complete. That is multitasking at it's finest. Even better, most of the time it only takes the Auto Care Center thirty minutes to get my car finished. Now if I could just get grocery shopping completed that quick with all the kids in tow!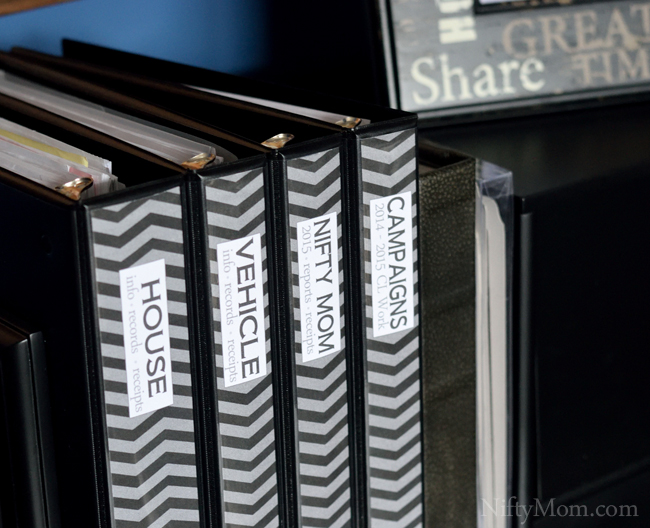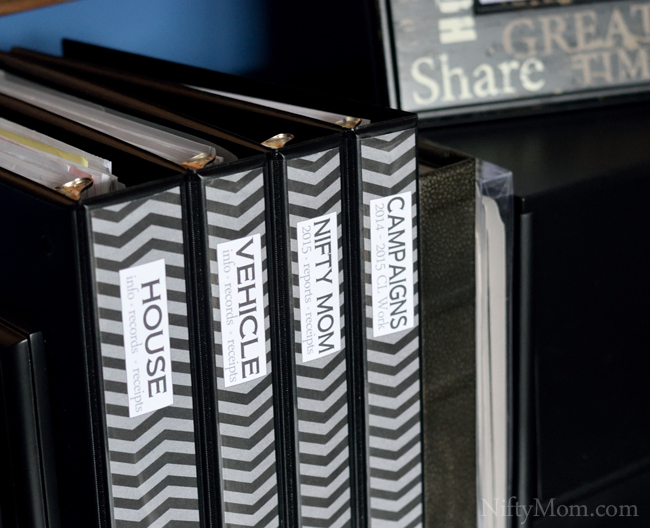 So what do you do after you have your car serviced? Some people just throw the receipt in the glove box, store it somewhere with other receipts, or just throw it away. However, I think it is essential to keep all vehicle receipts and documents together.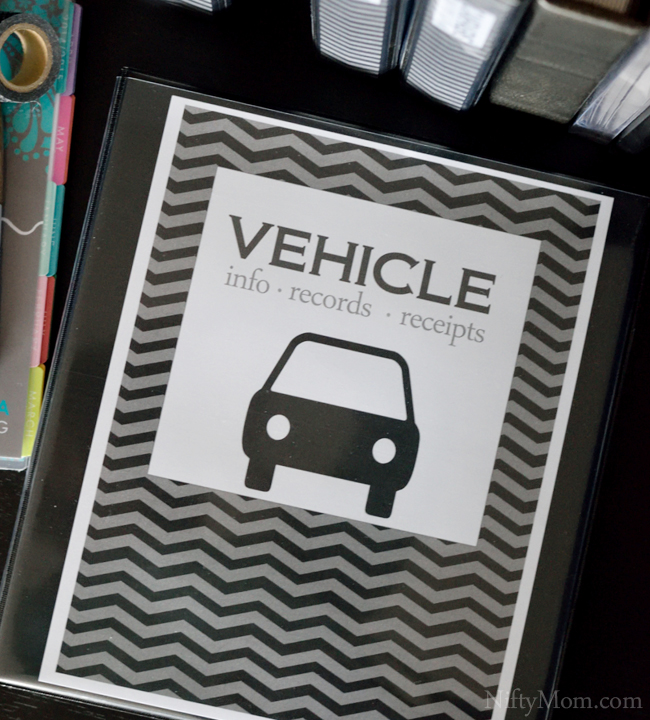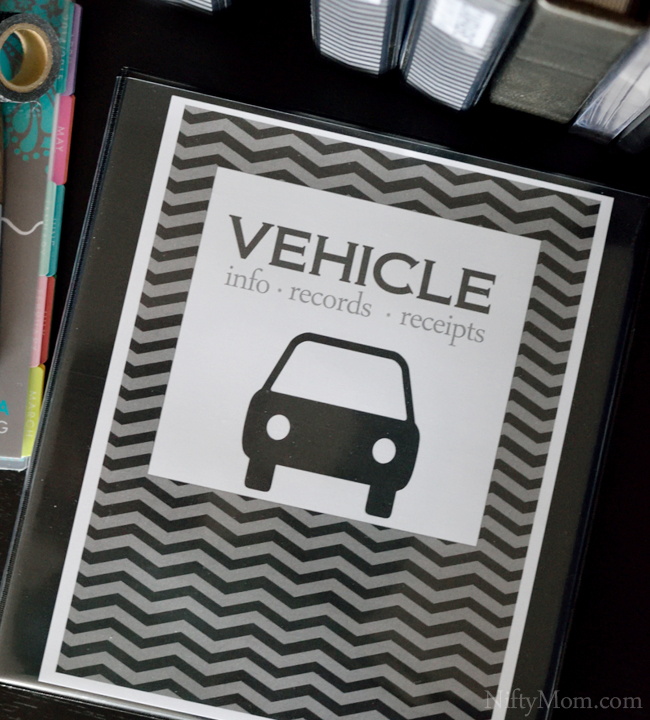 I have always had a binder with all this paperwork, but this month I gave it a new look and re-organized it. Organizing with binders makes it easy to access information quickly and reference any receipts or records.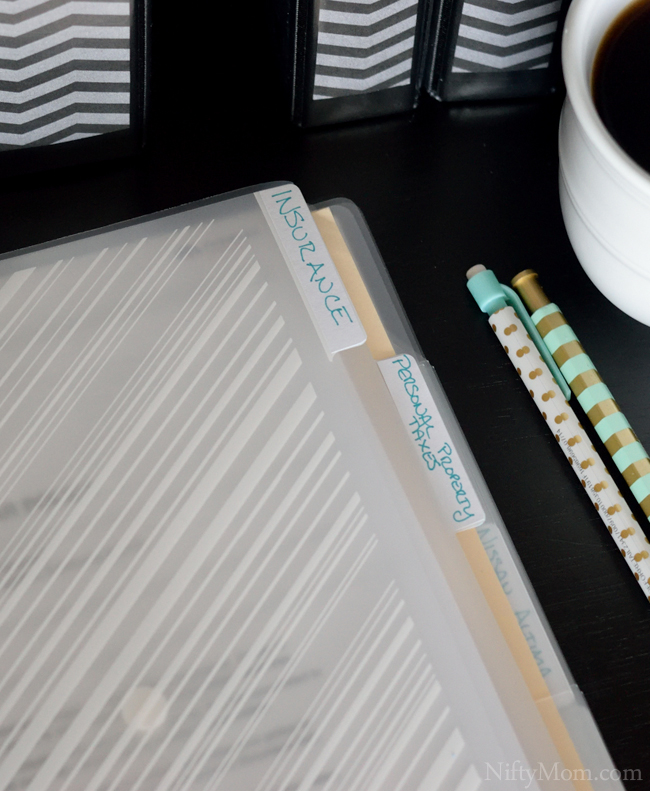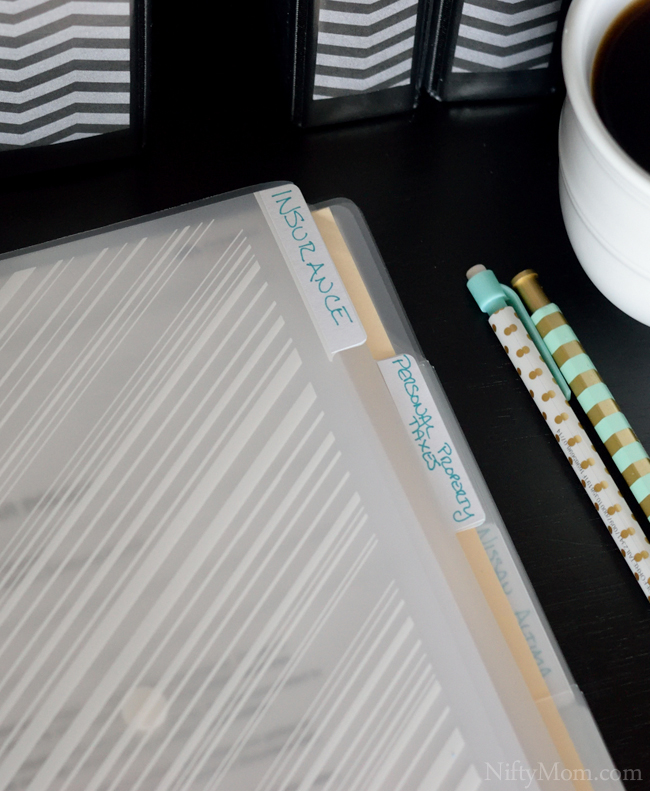 My binder has five tabs. The first section is all my auto insurance. I keep all policy information, company contacts and bi-yearly statements. There are also some quotes from other insurance companies that I get yearly to make sure I am getting the best rate for my needs.
The second section is all our personal property tax information that pertains to our vehicles.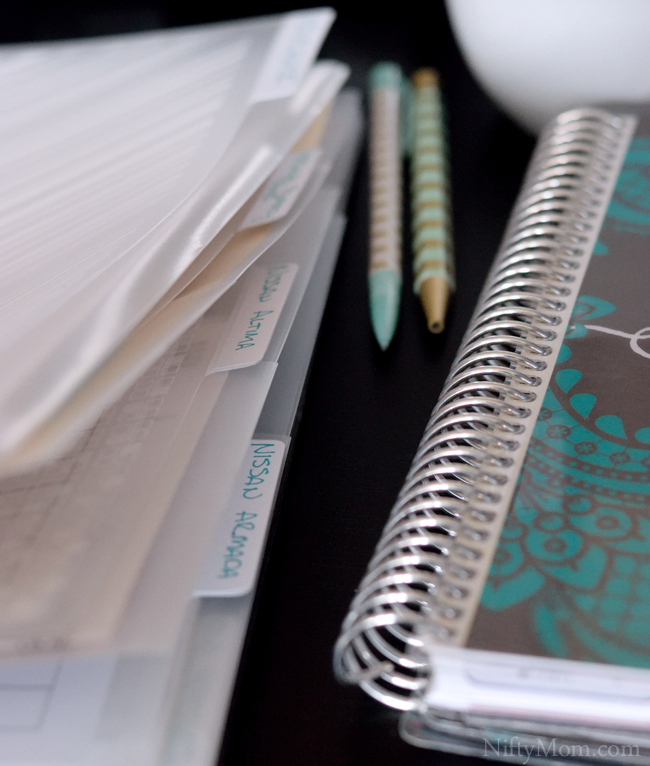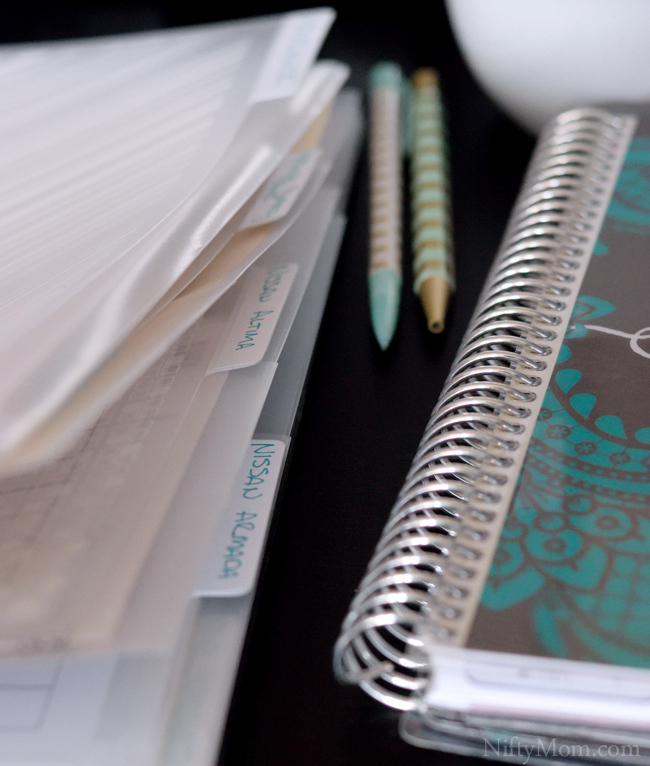 The following sections are for each vehicle we currently own (with the last section for any paperwork for our past vehicles). All the important documents for corresponding vehicles are kept here.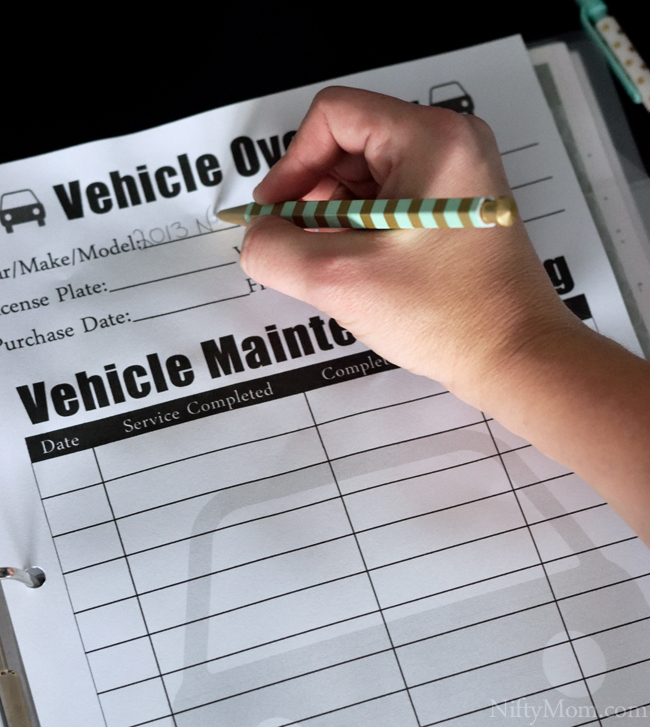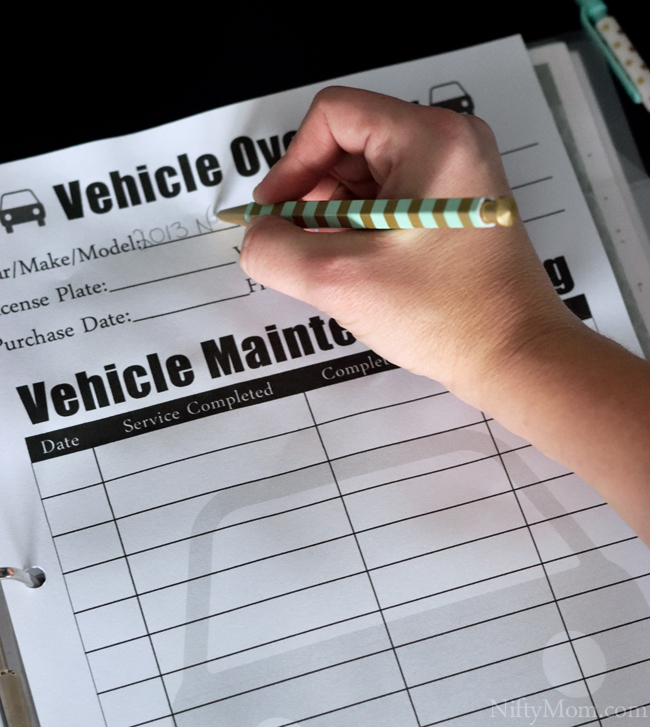 To start each section, I created an overview sheet with maintenance log (printable here).  Here I can easily view the car information and any services that have been completed.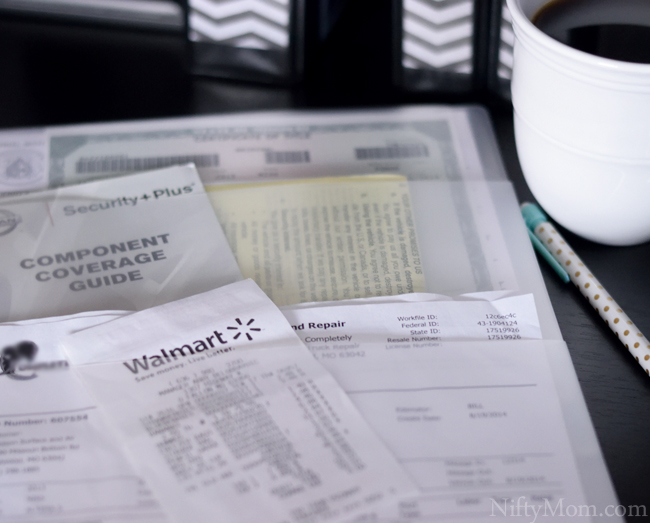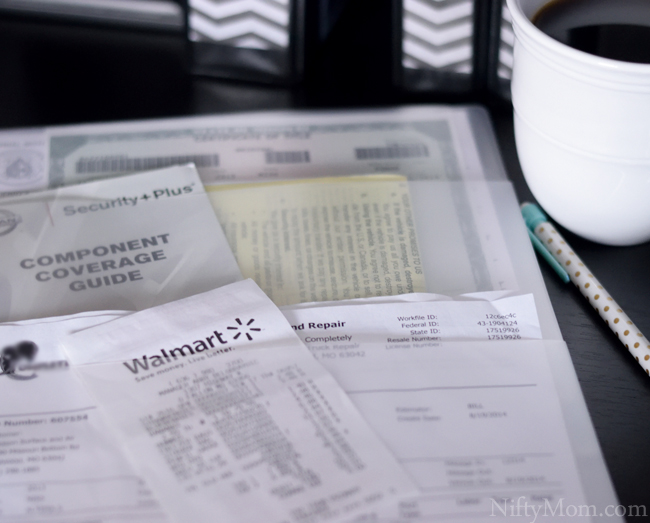 Behind that sheet, I keep the title, receipts, inspections, warranties, and anything else related. For anything I can't hole punch, I place into a three-pocket document holder. Having everything makes things 100% easier than trying to track information down months or years later.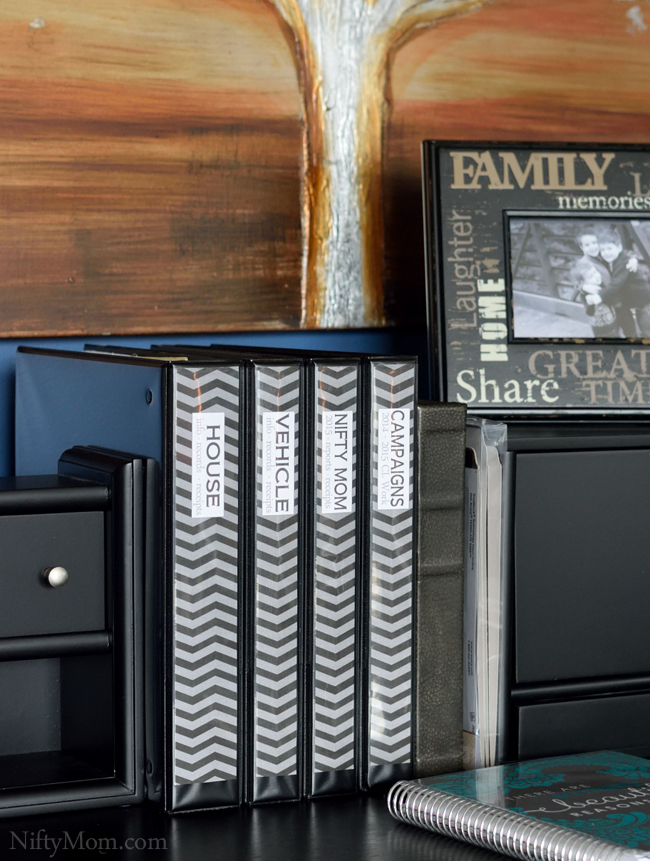 My vehicle binder is one the ones I keep out on my desk for a few reasons. It makes it easier to access at any time when something comes up or I need to look up information. It also is a constant reminder to make sure I am staying on top of my vehicle's maintenance and to remind my husband to do the same.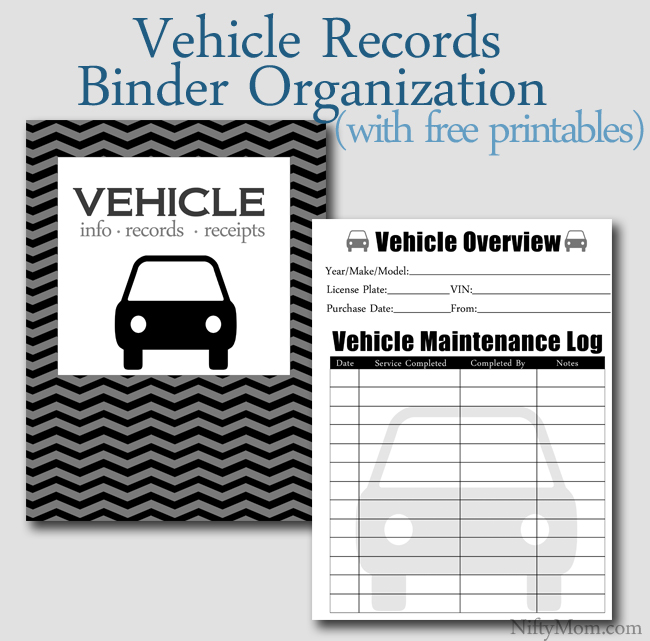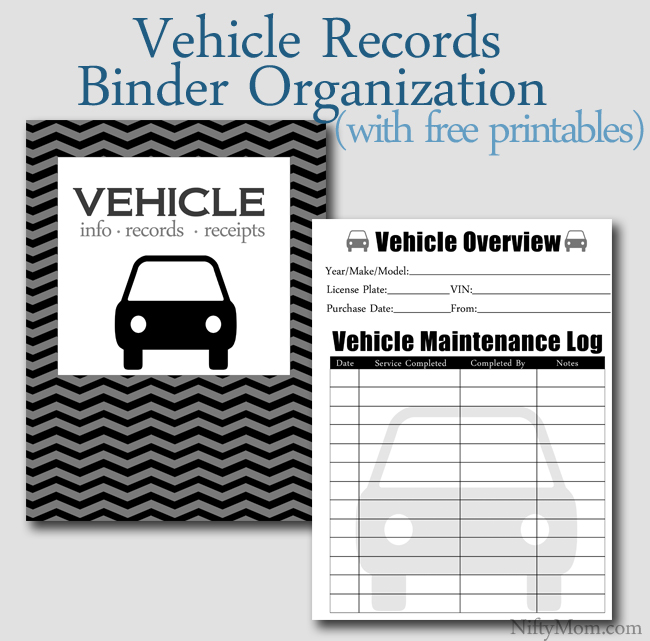 You can print the following documents I created to help get your vehicle document's organized, too!
Vehicle Binder Cover
Vehicle Binder Spine (for 1.5″ Binders)
Vehicle Overview and Maintenance Log
Pennzoil Richard Petty Driving Experience Giveaway
Feeling lucky? 3 lucky winners will each win a trip to one of the Richard Petty Driving Experiences (each trip valued at $1,100).  That means they get to climb into a NASCAR car for an adrenaline-pumping experience that simulates real NASCAR driving. How exciting would that be? Enter below!
Pennzoil Richard Petty Driving School "Experience of a Lifetime" Giveaway