This post for DIY Ideas & Printables has been compensated by Collective Bias, Inc. and its advertiser. All opinions are mine alone. #SweeterTogether #CollectiveBias
Oh, summer days. I can't say enough how much I love those summer days and weekends filled with family, friends, sprinklers, barbecue and delicious treats. No matter what we are doing, nothing tops it better than a nice cold bowl of ice cream on a hot summer day.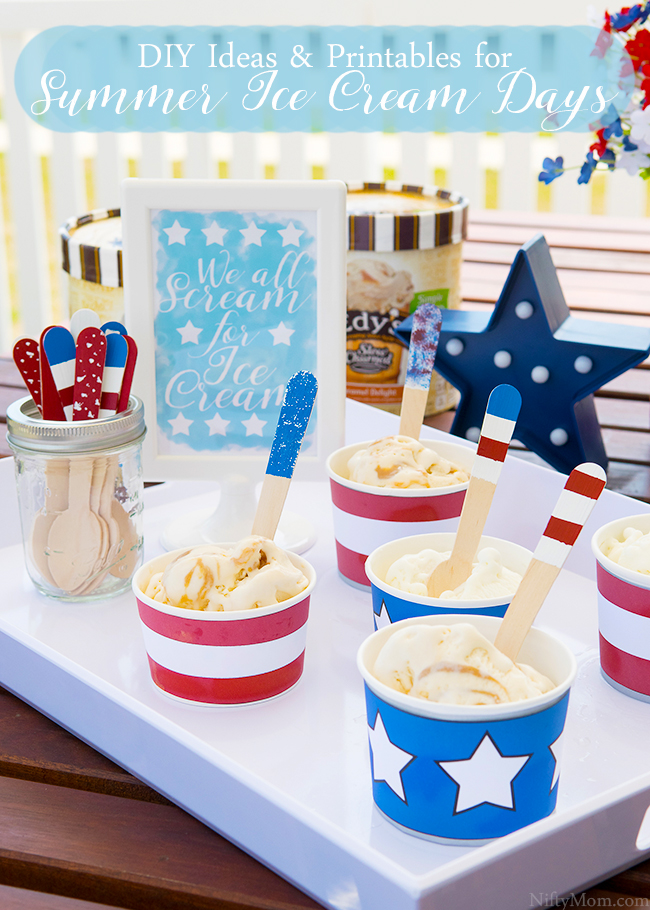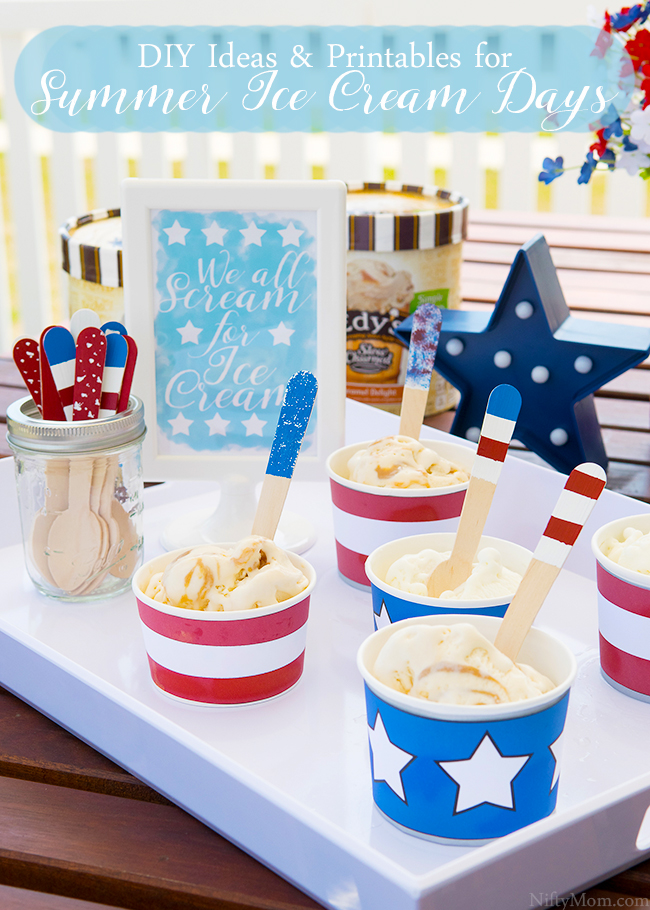 The summer is all about togetherness, spending as much time as possible with loved ones and being outside. It's been extremely hot the last week or so. I am talking about 100+ temperatures, but feels like 150 degrees (or something close to that, right?). That's just too hot. Even when with the sprinkler going in the backyard, it doesn't take long for everyone to get the need to cool off.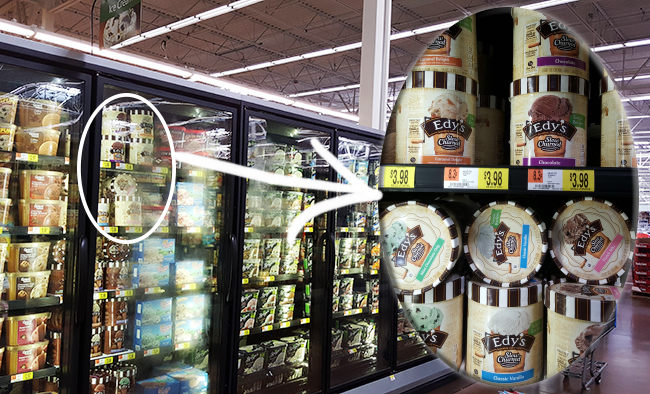 One of the best ways to cool off of course is that nice cold bowl of ice cream. Last week at Walmart, once all my other groceries were in the cart, I knew it was time to re-stock the freezer with ice cream so I browsed through the frozen food/ice cream aisle. EDY'S® SLOW CHURNED® Caramel Delight Light Ice Cream & EDY'S® SLOW CHURNED® Vanilla Light Ice Cream were my picks. Caramel has always been a favorite flavor of mine and I can never go wrong with classic vanilla.
When I was driving home I realized we didn't have any fun summer treat cups or spoons to serve with this delicious ice cream. It was time to make some and get the kids involved for a family activity.
Serving Summer Ice Cream – DIY Ideas & Printables
A great summer theme is red, white and blue. All these ideas can be used for parties, barbecues, summer holidays or just because.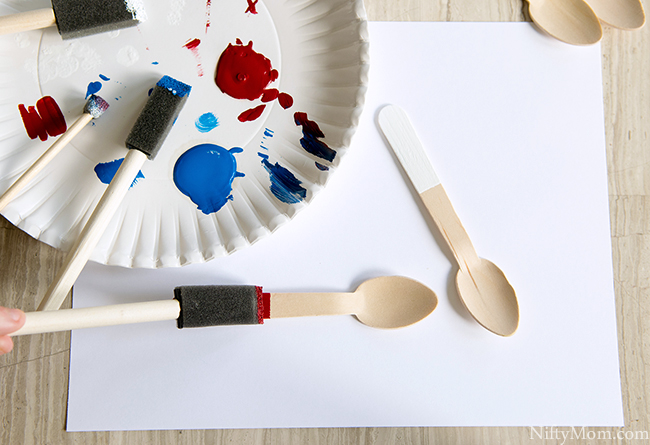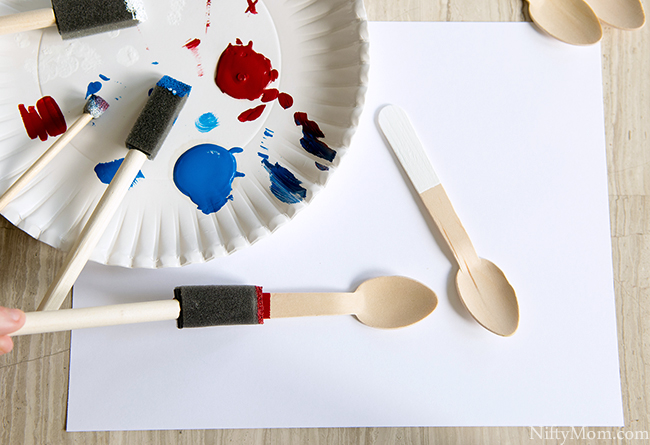 PAINTED WOODEN TREAT SPOONS – Wooden spoons are perfect for outdoor dining and they are easy to decorate. I used multi-surface acrylic paint for my spoons. A few different ways to paint the handles:

Solid Colors
Use washi tape to paint stripes (removing the tape once dried)
Use small foam brush to lightly add white over colors for a starry look
Dots
Dab different colors on the handle
Let the kids paint some for their own ice cream!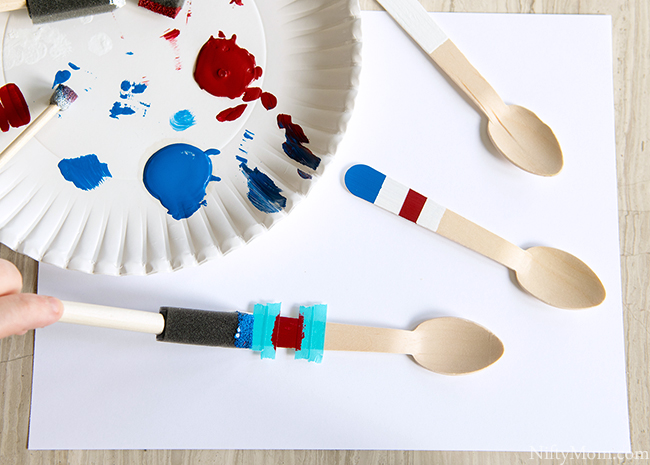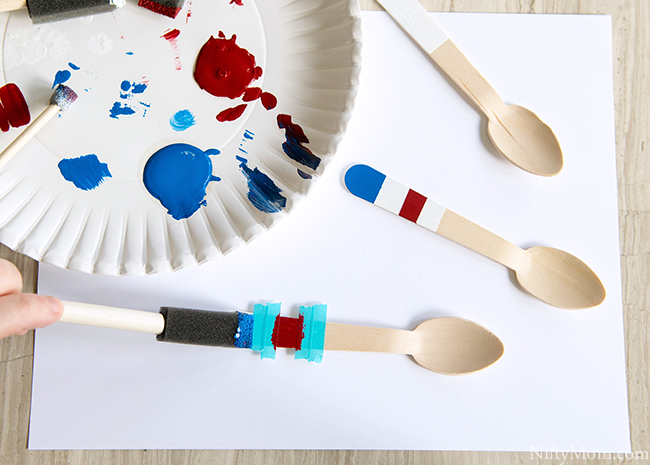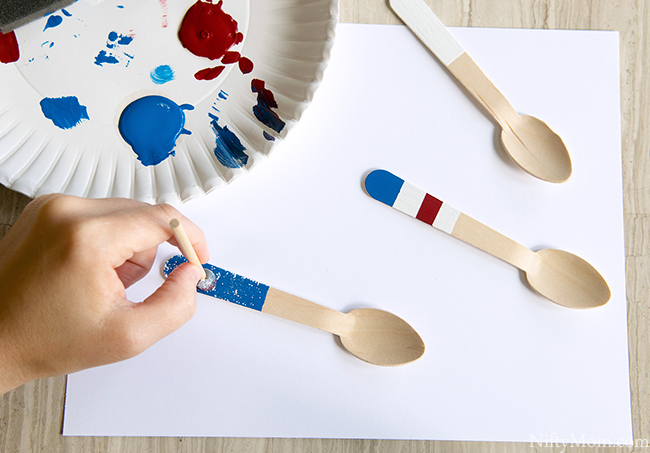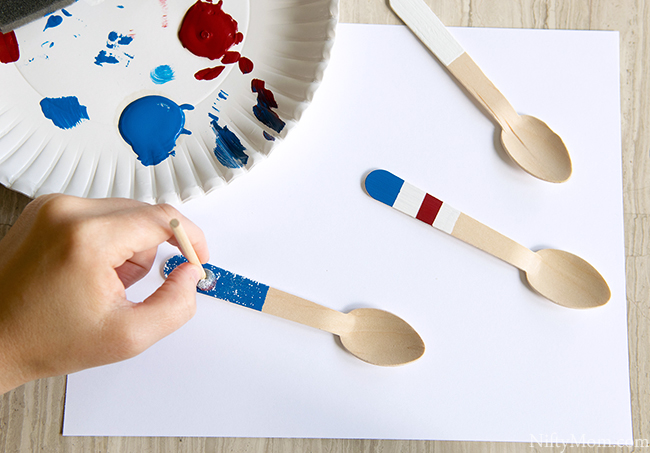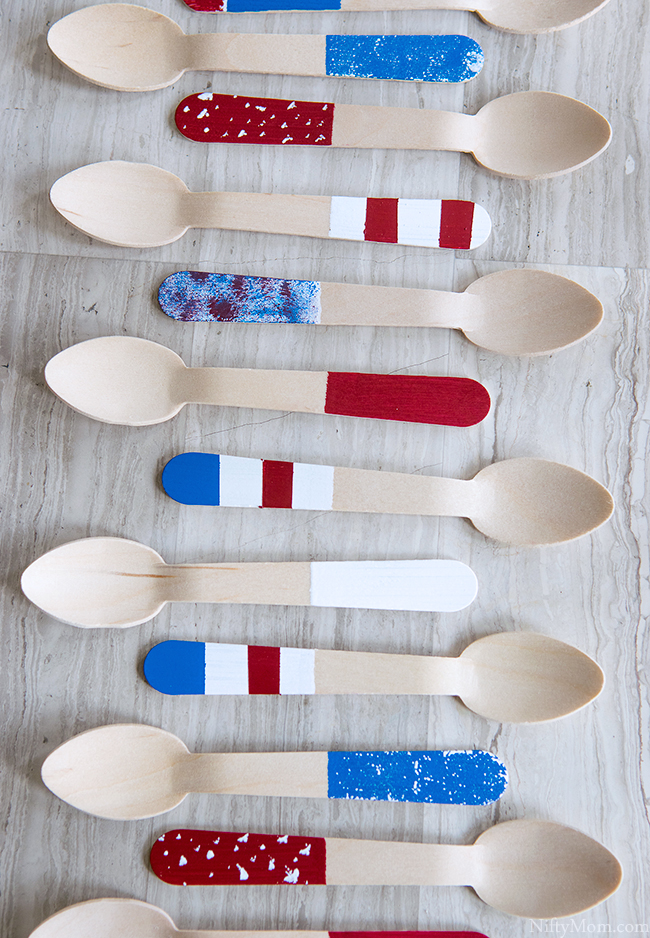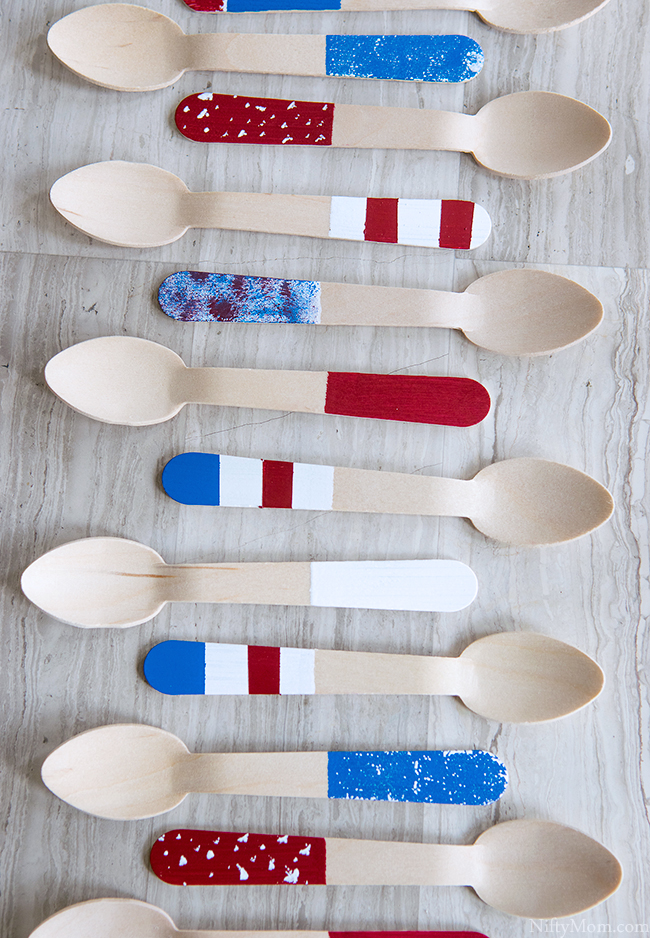 PRINTABLE TREAT CUP WRAPPERS – Since I don't have any treat cups with a summer-feel, I created a few different printables for the treat cups I have. Each sheet has a red/white striped wrapper and a blue/white stars wrapper.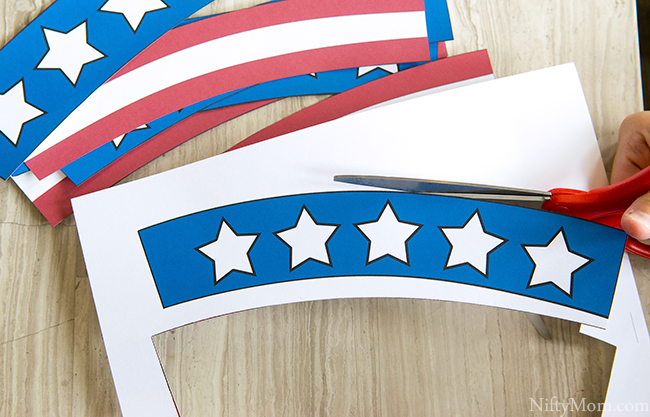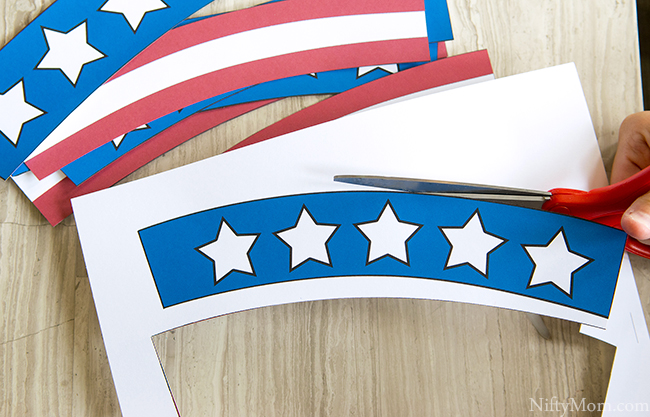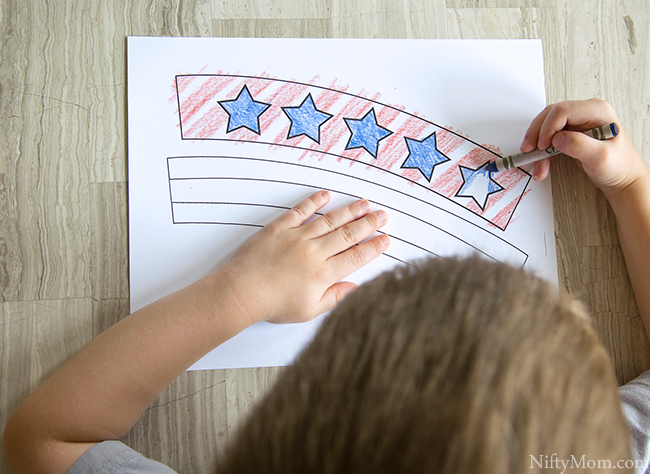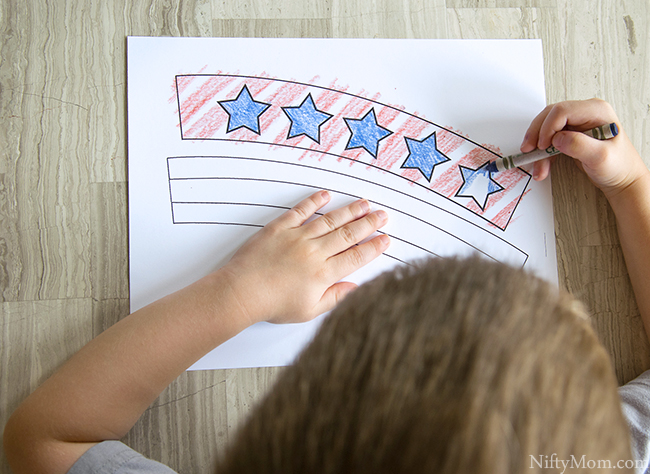 To get the kids involved, I also created the same wrappers with just the outlines so the kids can color their own cup wrappers.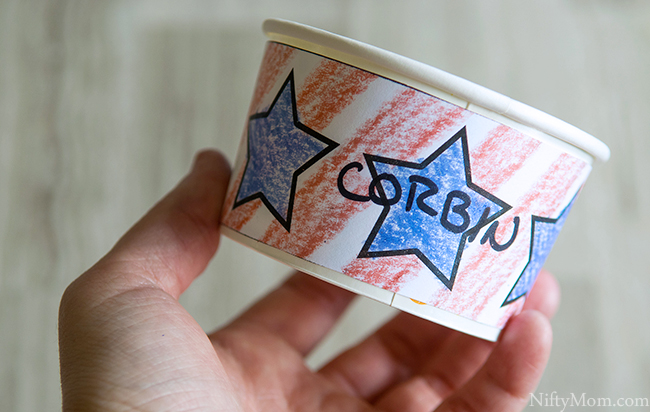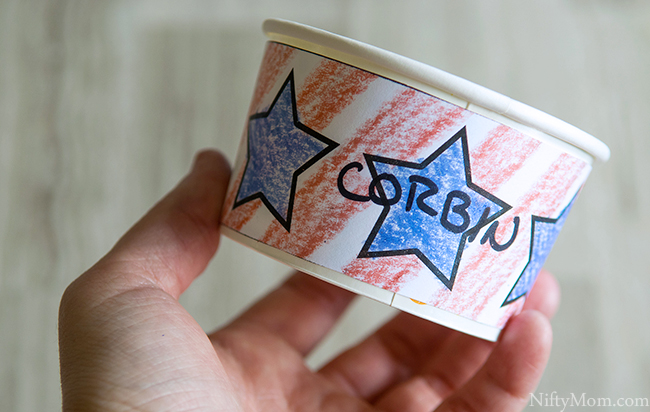 Once printed and colored, cut the wrappers out and attach each one to a treat cup. It is best to do this in advance or early in the day. This gives any paint and glue time to dry.
Ice Cream Time!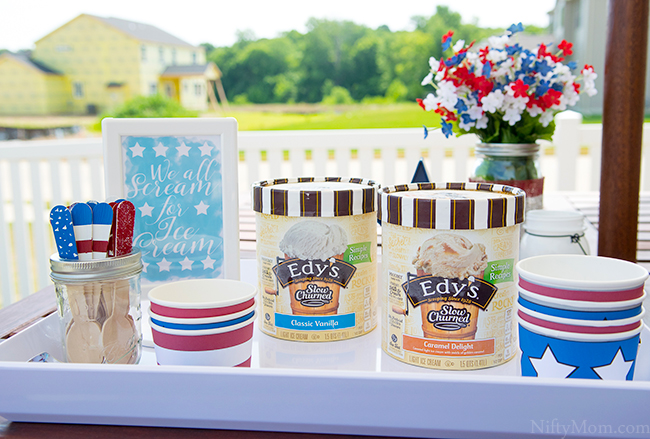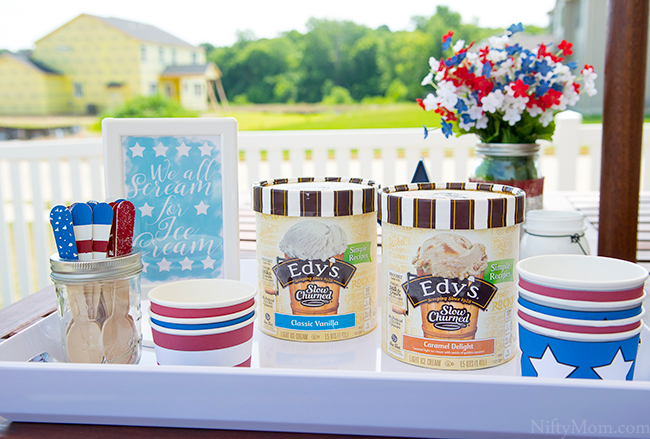 Once it is time to serve the ice cream, I put everything on a tray to take outside all together.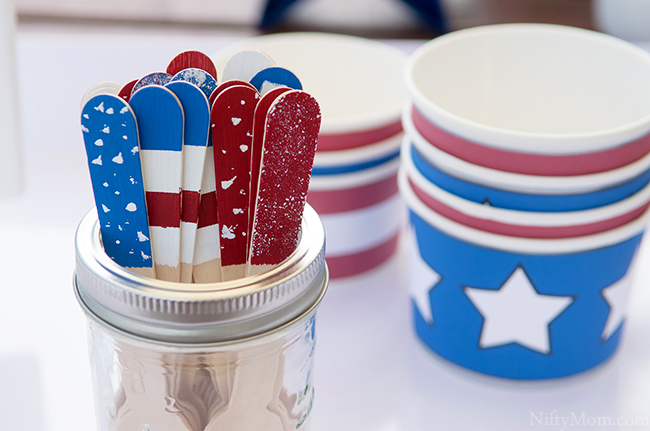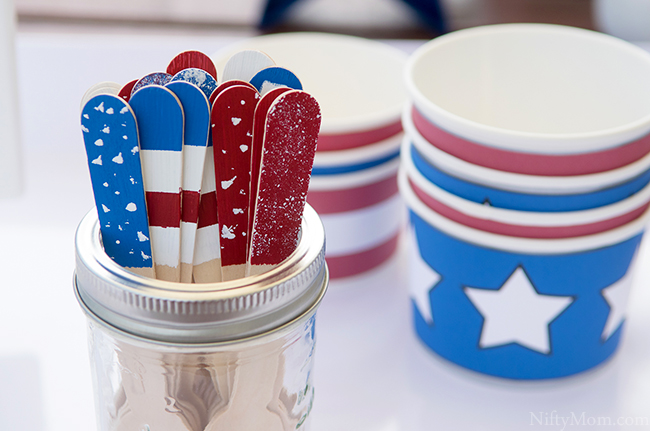 Even wrapped, the treat cups can easily be stacked and I place the spoons in a small mason jar. Everyone can pick their own spoon, treat cup and flavor ice cream.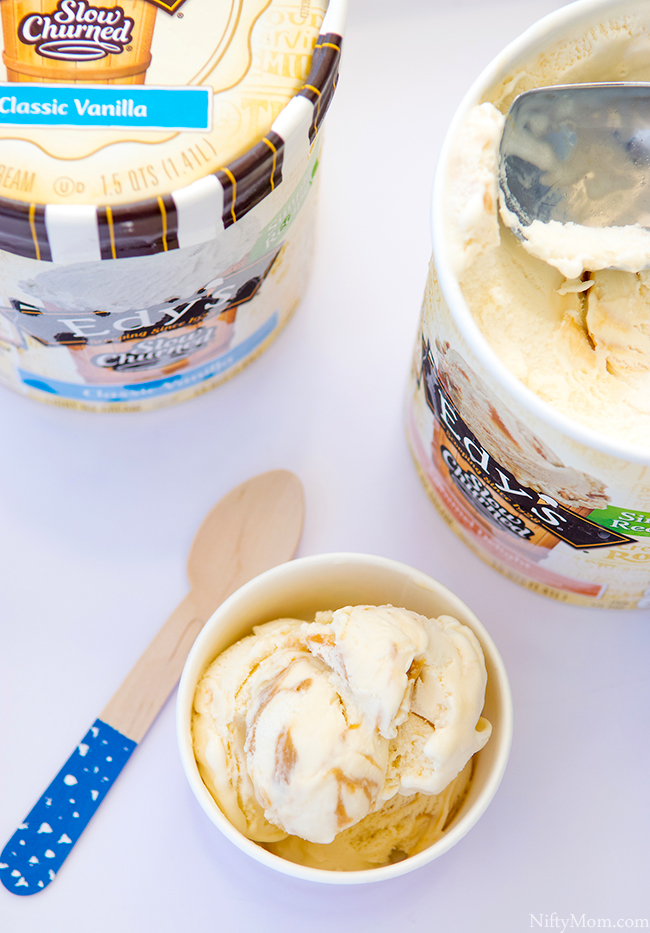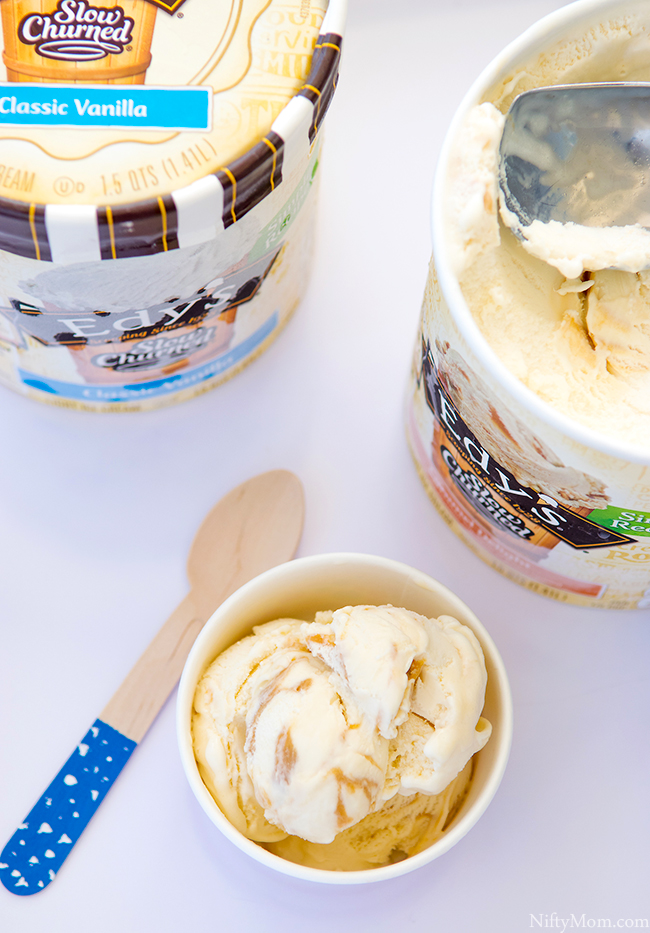 The EDY'S® SLOW CHURNED® Simple Recipes are made with real, simple ingredients, no artificial colors or flavors & no GMO Ingredients. "Simply made, simply delicious" for the whole family. If you haven't tried it yet, search this spreadsheet to see if and when your local Walmart will have in-store demo events to get a sample.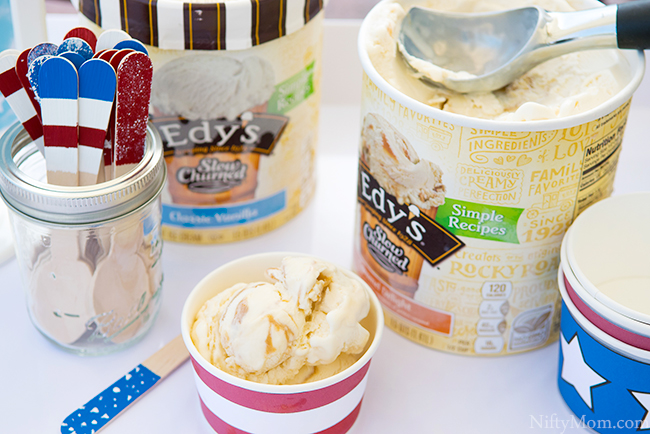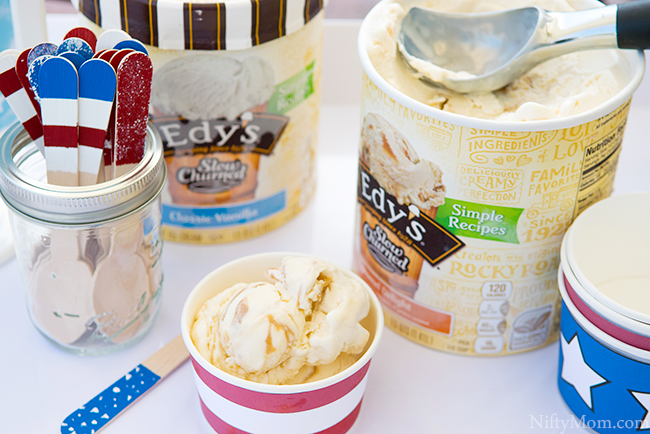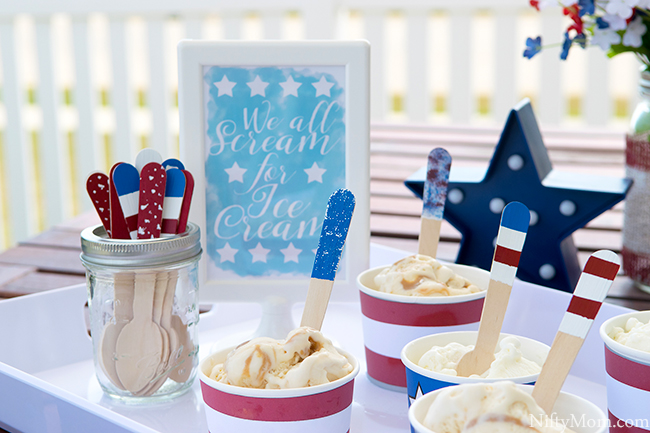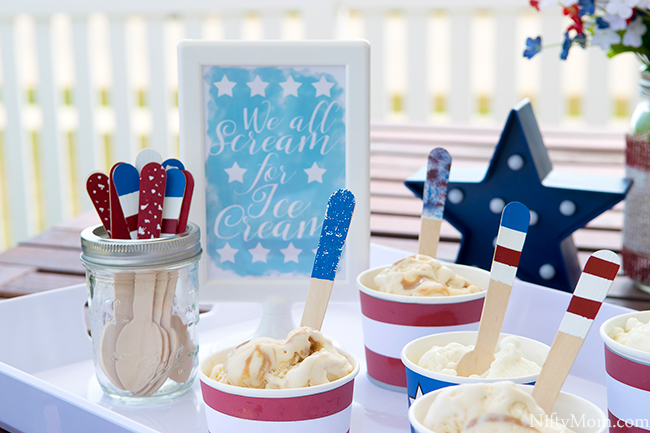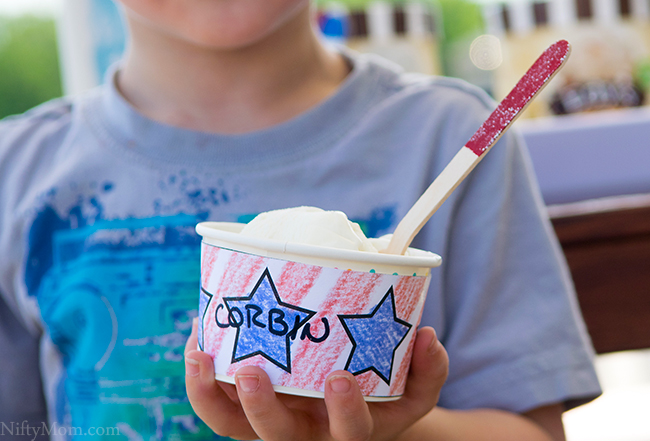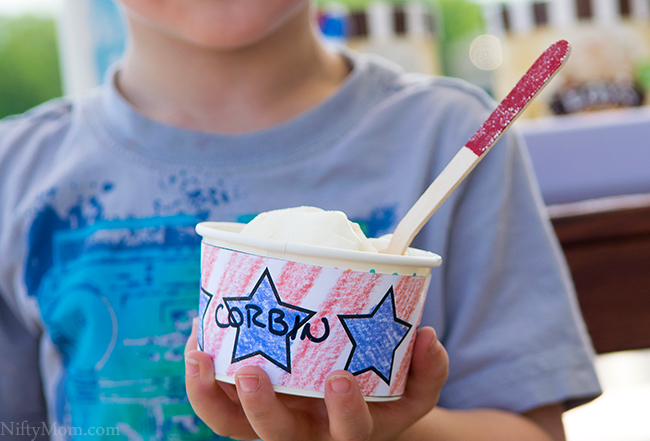 Just being together in the summer is enough reason for an ice cream day around here.
When do you enjoy a nice cold bowl of ice cream?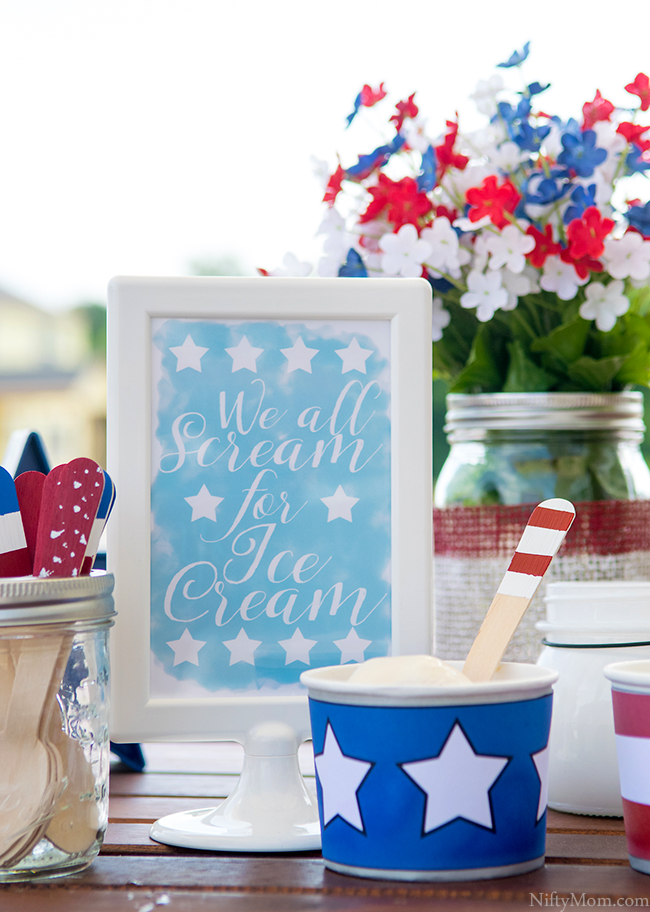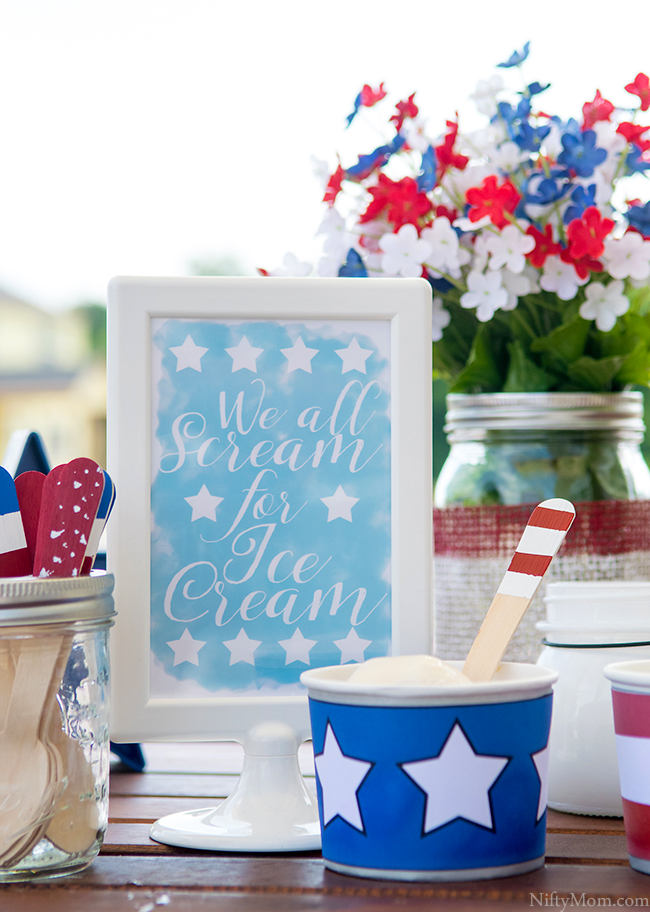 *FREE PRINTABLES*
– Wrappers for approx. 2″ cups –
– Wrappers for approx. 2.5″ cups –
– Outline wrappers for approx. 2″ cups –
– Outline wrappers for approx. 2.5″ cups –
– We all Scream for Ice Cream 4×6 Print –