Our mini vacation to Branson was sponsored by The Branson Visitor's & Conventions Bureau and The Women Bloggers.  All opinions are my own. #ExploreBranson
Each summer I try to pack in as much family fun as I possibly can. With three little ones, finding something to keep everyone entertained isn't always easy. Luckily, there is plenty to do in Branson, MO. It's the perfect location for a mini road trip vacation.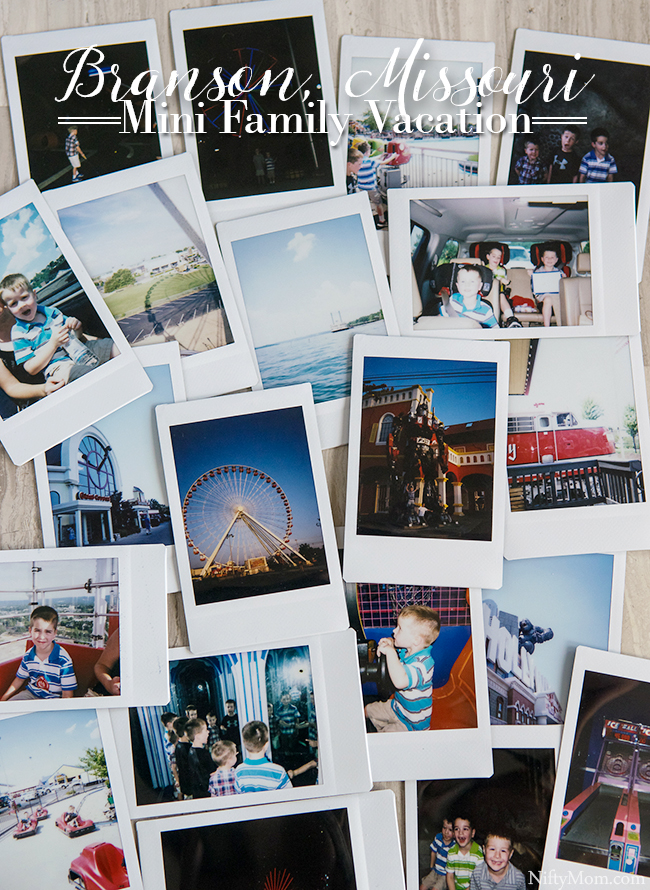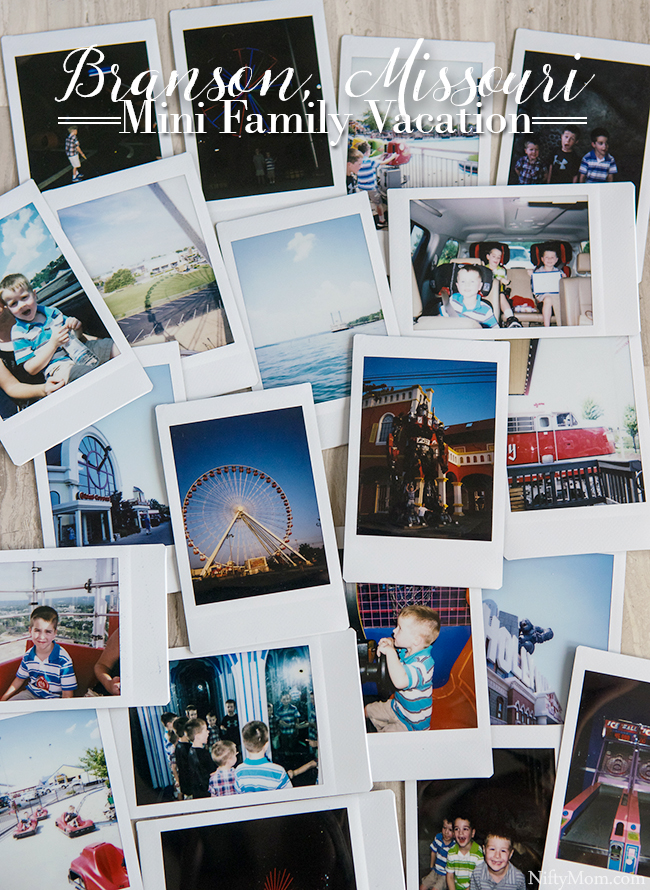 Being just a 4-hour drive, the trip to Branson, MO is not too far and not too close. The kids don't mind a little road trip and anything over 4 hours can make them too restless. Since one of my favorite childhood memories is visiting Branson, MO with my parents, I always knew it would be a great location to take the kids and create new memories. During our first visit 2 years ago, we didn't check out as many attractions as we anticipated. This year however, we had just about every waking hour scheduled with fun.
Before going to Branson, it is very helpful to do further research and checkout ExploreBranson.com. You can easily search through attractions, lodging, dining and everything to plan your trip.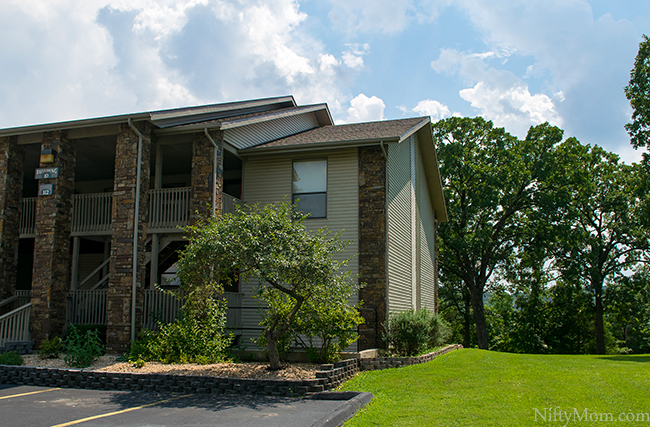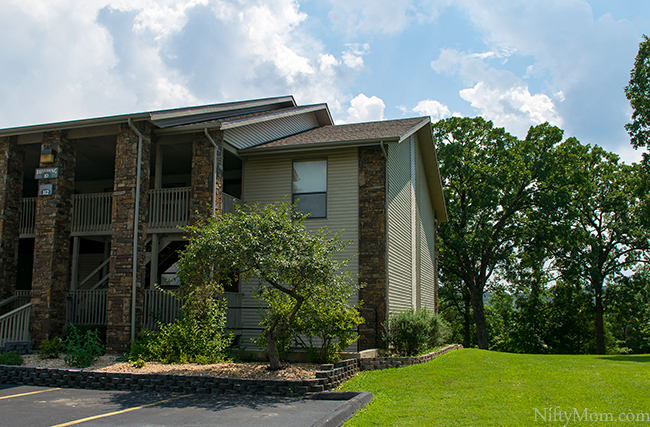 While we were in Branson, we stayed at Pointe Royale Condominium Resort & Golf Course. The resort has one-to-four bedroom condos, an 18-hole golf course, view of Lake Taneycomo, picnic areas, pools, trout fishing, playgrounds and more.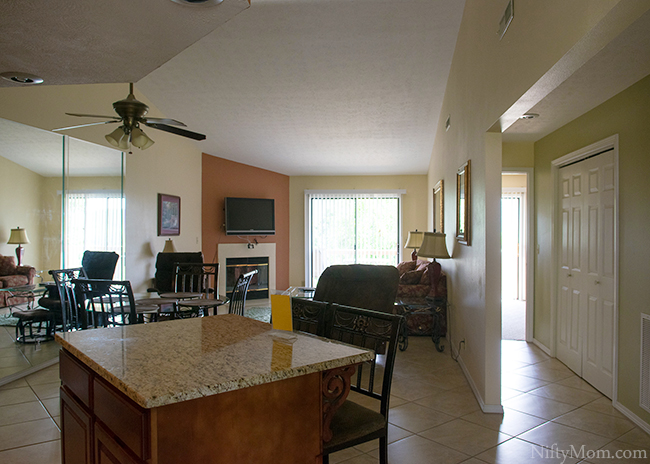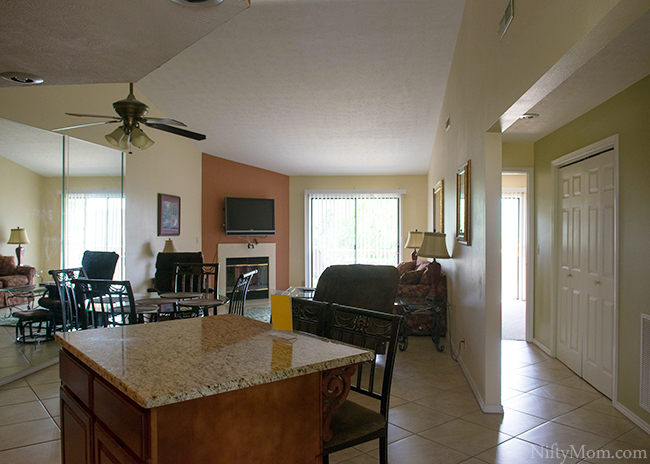 Our two-bedroom condo accommodated our family of five well. There was a full kitchen, allowing us to make some meals there each day. There was also a washer and dryer in the condo, which was wonderful.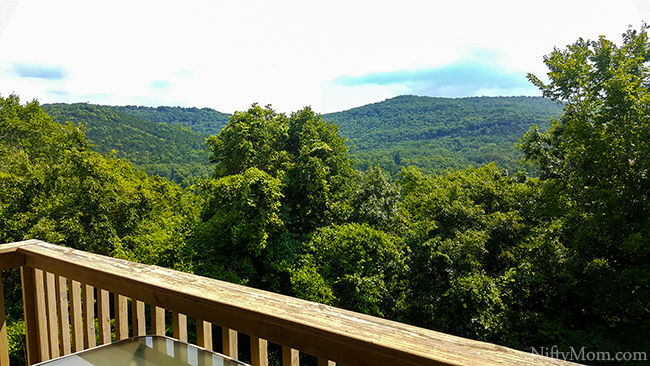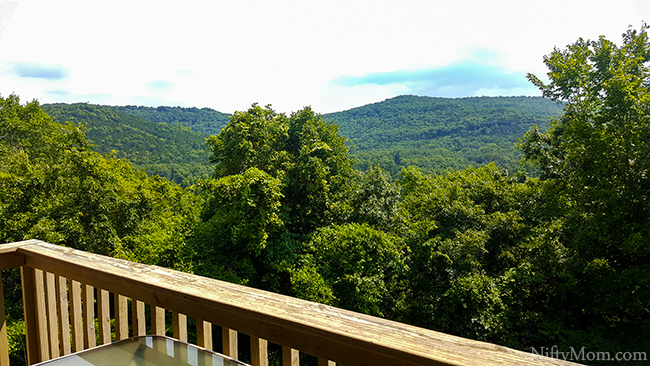 And the view off the balcony was gorgeous. We only stayed three days, but it would be a great resort to stay for a week or more.
Family Things to Do & See in Branson, MO
My boys are 4, 5 and 7 so when we plan activities or go sightseeing, there needs to be a variety of things to hold their attention and keep them active. Otherwise, they get restless and bored quickly. Everything we did on our last visit was a hit and the boys enjoyed every minute of it.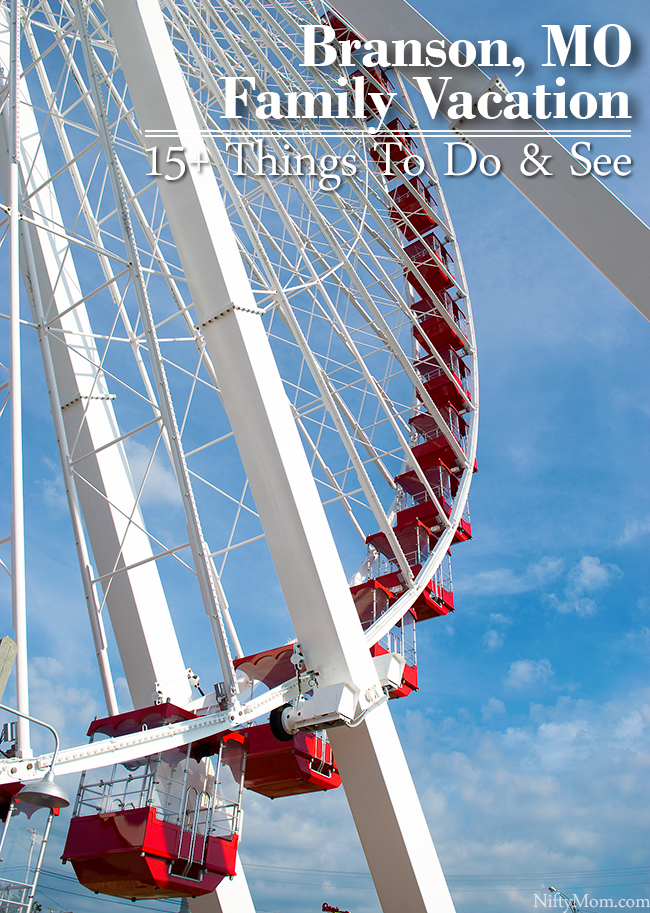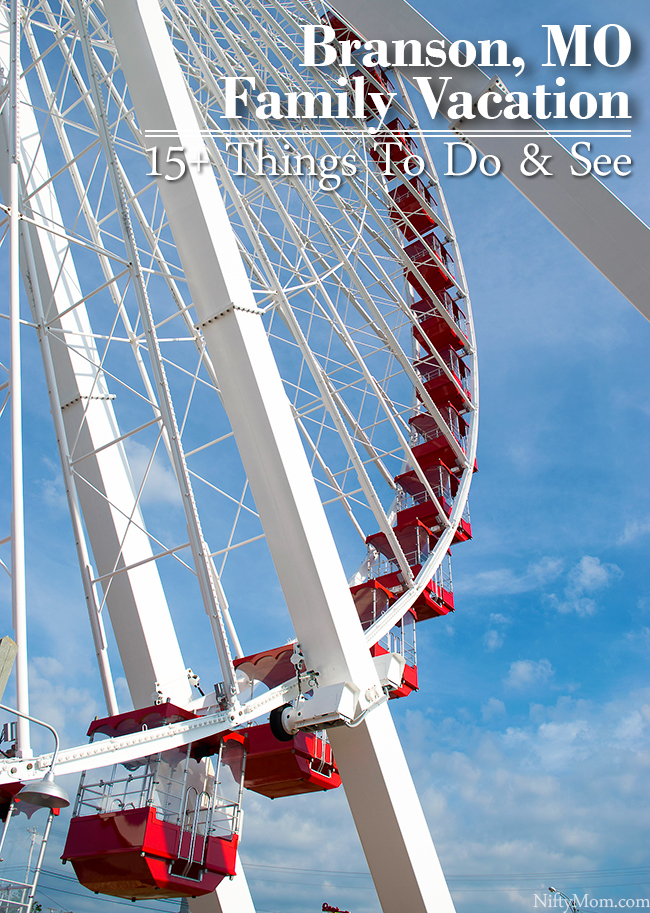 Here are some of our favorite things to see & do in Branson, MO as a family.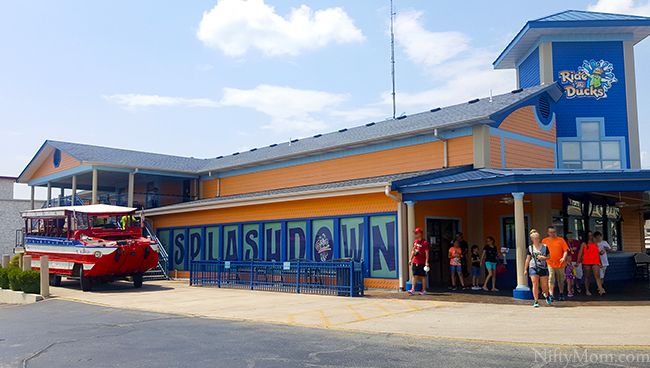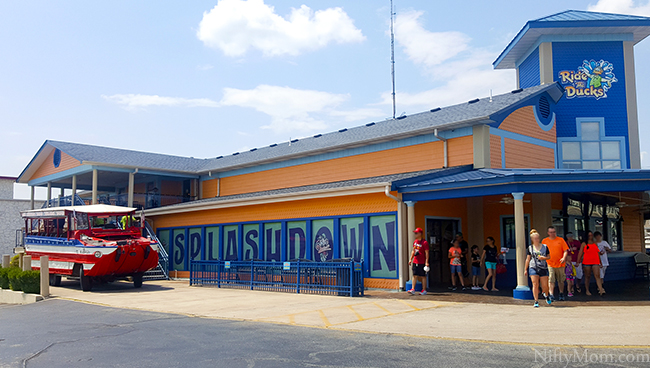 Ride The Ducks – This was one of the things I remember doing as a kid, so it was a must on our list of things to do. Ride The Ducks is a 70 minute scenic land & lake adventure where the vehicle (the Duck), drives to the top of a mountain and then goes into Table Rock Lake.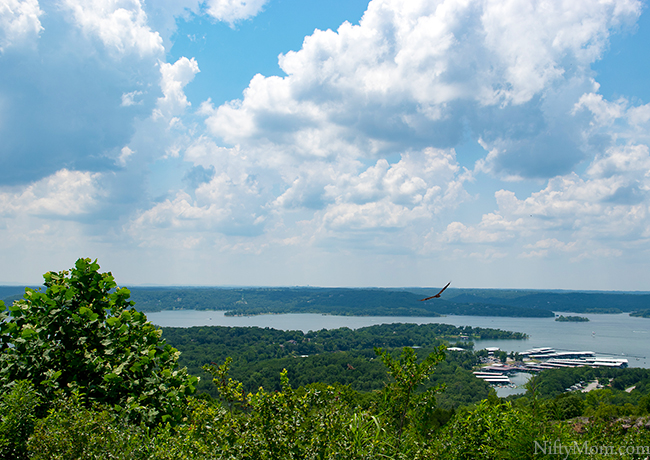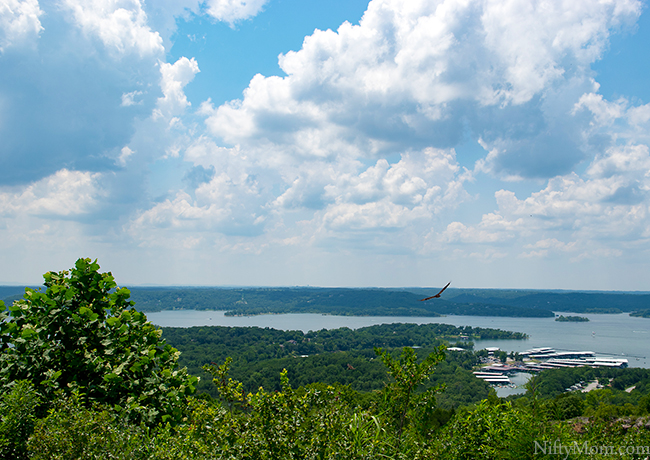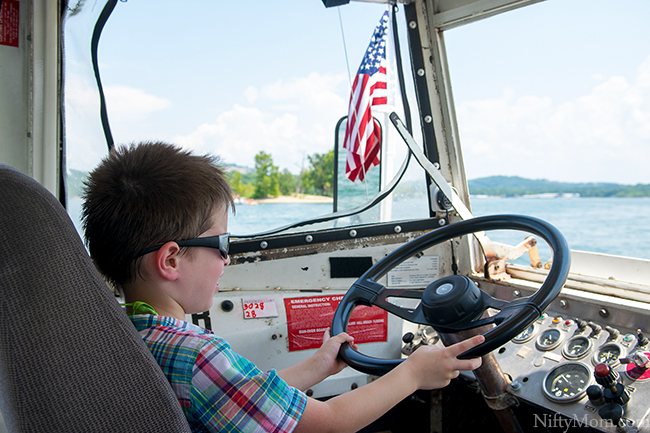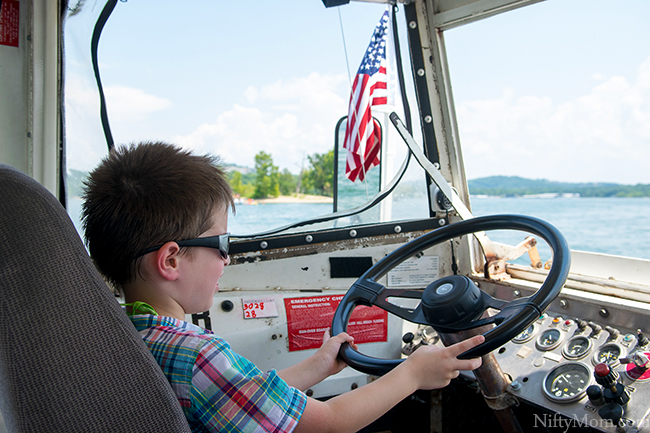 While on the water, all the kids aboard have the opportunity to sit in the drivers seat. At the end of the trip, each kid can then print out their very own 'Honorary Captain License' to keep.
Miniature Golf – Just driving through the main streets of Branson, you are sure to spot numerous Miniature Golf Courses. There are some that are indoor glow ones and most of the outdoor ones have a fun theme such as the Shoot for the Stars Hollywood themed course.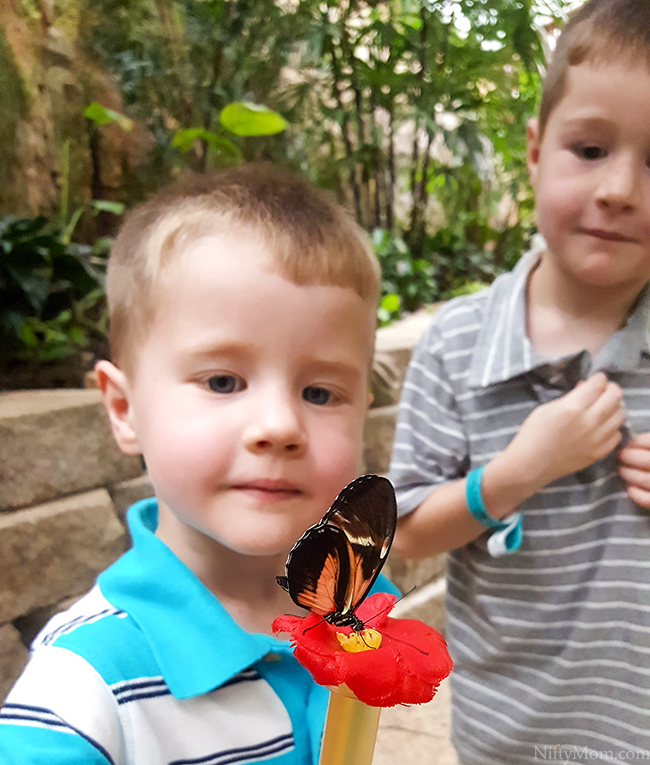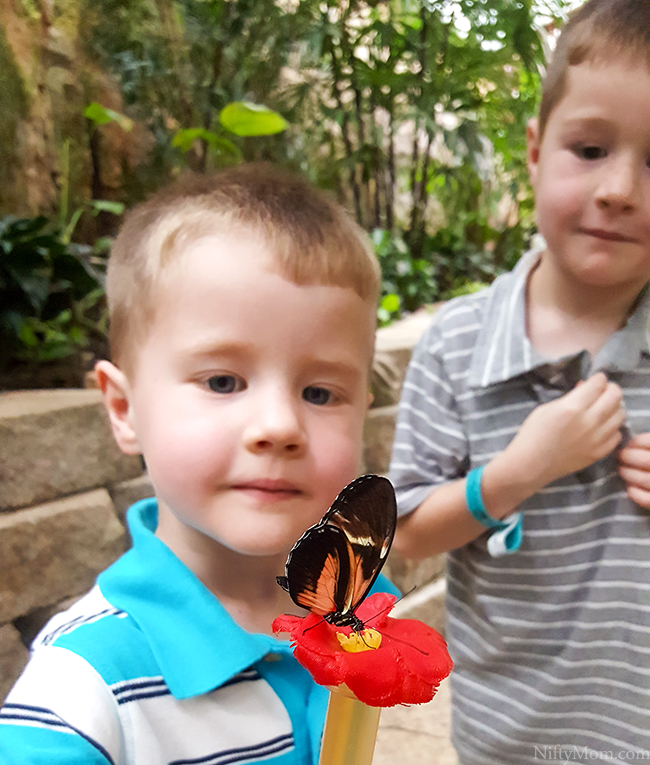 Butterfly Palace – There is a butterfly Aviary with thousands of free flying butterflies and as new butterflies emerge, they release them at approximately 10:30am daily. We got there at 10am to see the release and it was really neat. We also got a little flower to try to get butterflies to land on it. They also have educational videos, a Living Rainforest Science Center, daily Critter Encounters, an Emerald Forest Mirror Maze and the Great Banyan Tree Adventure. There was a lot of things for the kids to interact with and keep them entertained.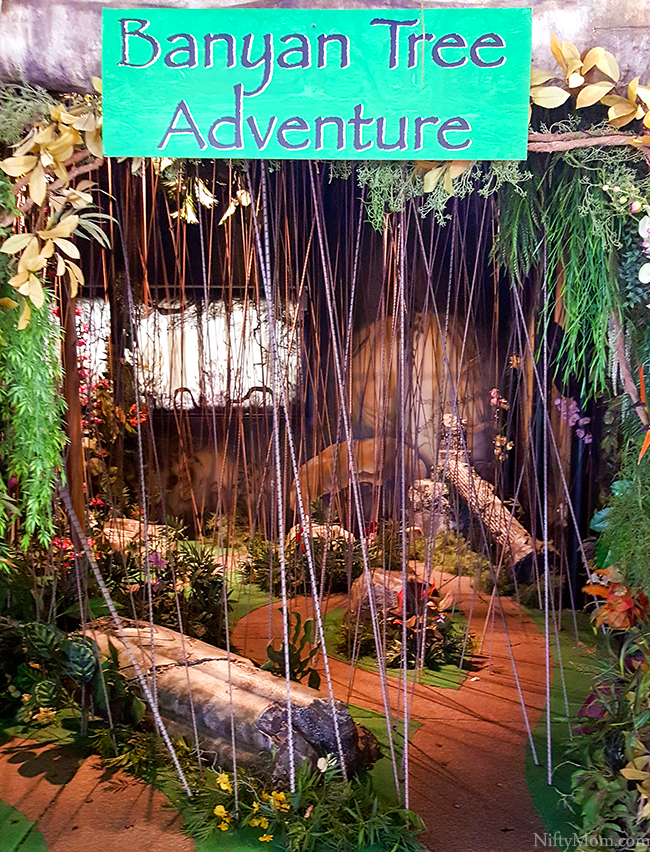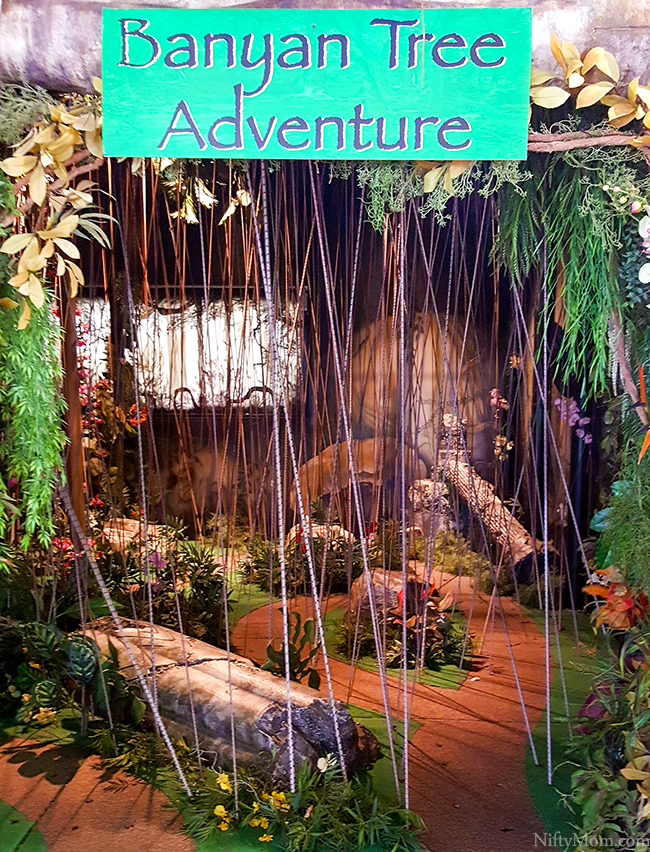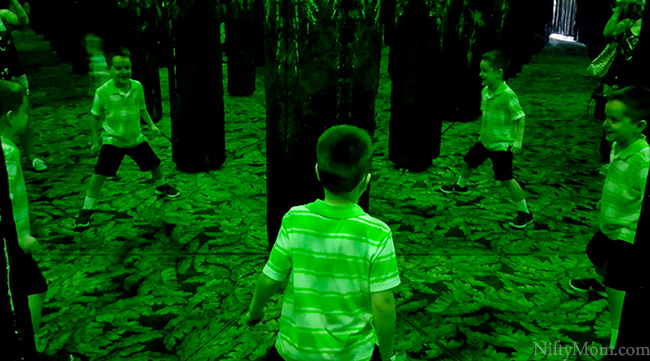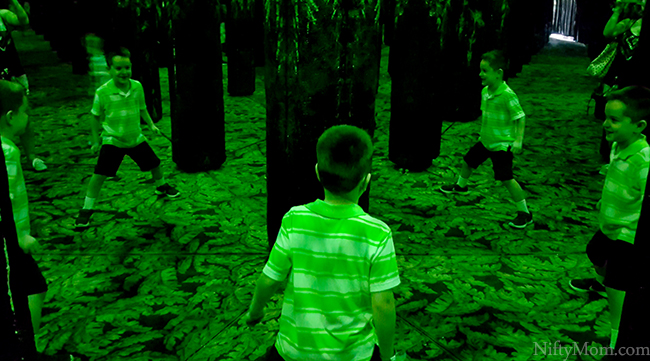 Mirror Maze – There is a mirror maze in the Butterfly Palace as mentioned above and we also went through Hannah's Maze of Mirrors. That one had hundred of mirrored walls and 288 potential turns. It were a lot harder than I though they would be, but we were laughing the entire time.
Silver Dollar City – This is basically a full day outing. The theme park is full of rides, attractions, live shows, restaurants, shops and more.
Ziplining – Branson has a large variety of zipline tours. There are tours through the Wolfe Creek Preserve, Reeds Spring and then there's Parakeet Petes Waterfront Zipline at Branson Landing.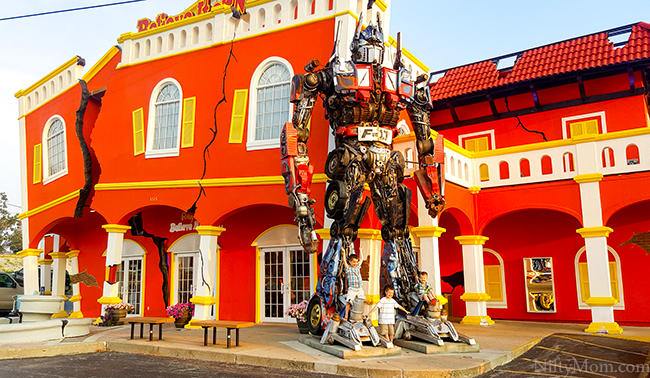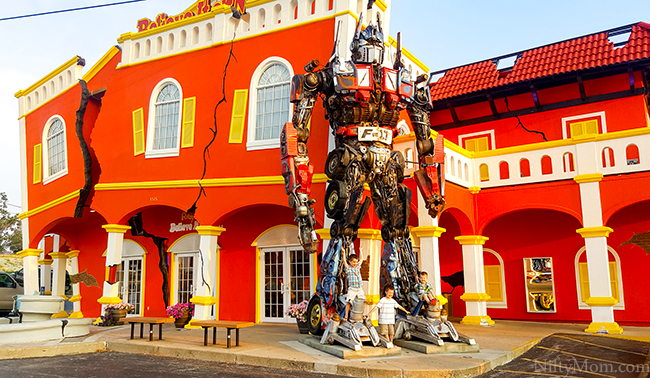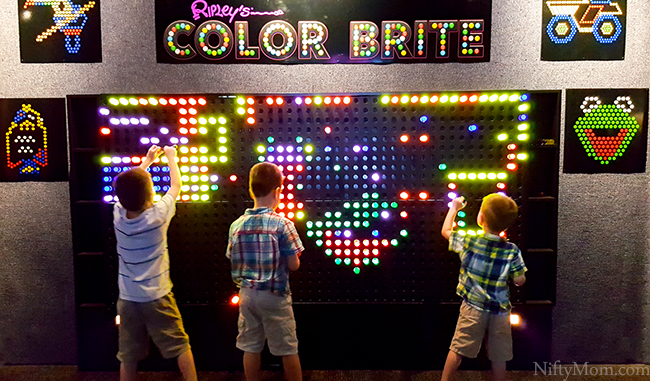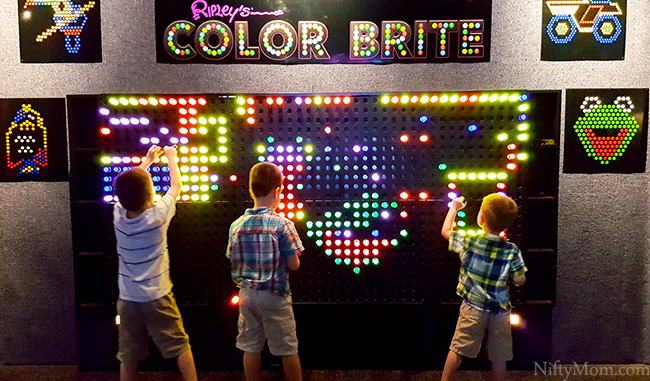 Ripley's Believe it or Not – Right when we pulled up to Ripley's, the kids were anxious to get out of the car to see the huge 22ft Optimus Prime made from scrap car parts. With over 450 exhibits and artifacts, I was impressed with how many were interactive. Inside, the kids' favorites included the large 'Operation' table, the Spinning Vortex Tunnel and the large Color Brite.
Titanic Museum Attraction – The ship-shaped attraction caught the kids' attention every time we drove down the Highway 76 Strip. We didn't have time to visit this trip, but there is a lot of interactive exhibits for kids and adults.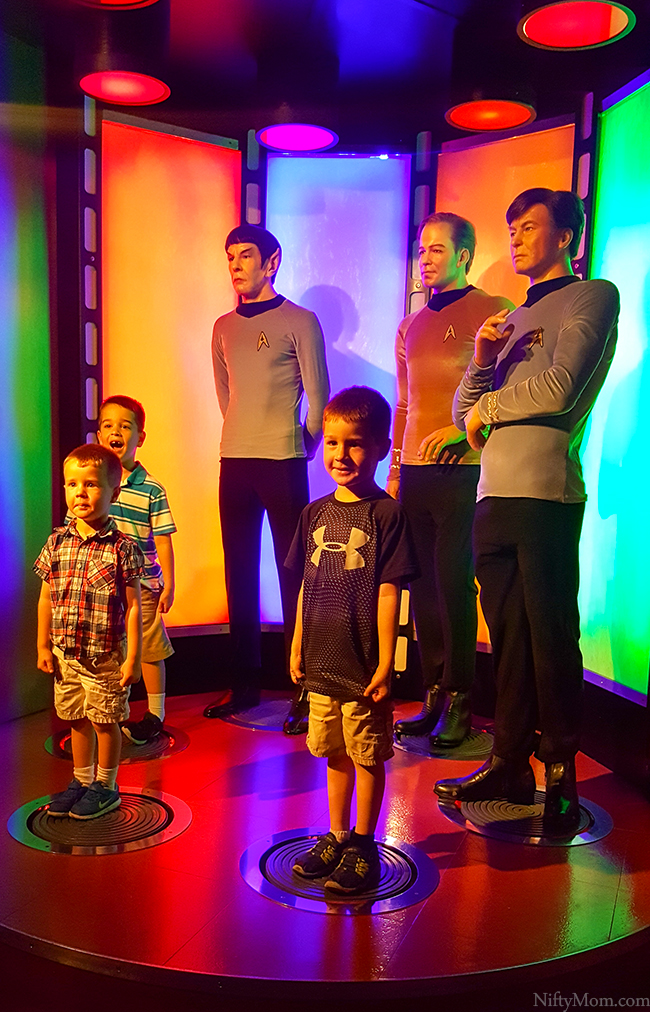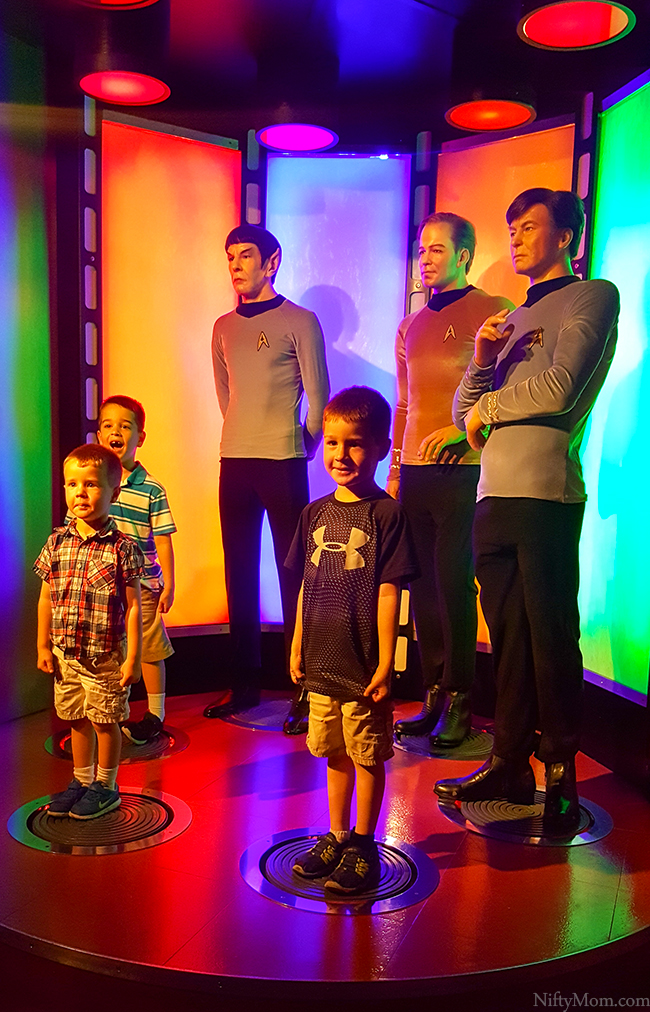 Hollywood Wax Museum – The Wax Museum was filled with famous movie scenes and celebrities. Many of the scenes included fun props along side so you can dress the part for fun pictures.
Moonshine Beach – If you are going during the warmer months, Moonshine Beach is a popular sandy spot along Table Rock Lake. The recreational area allows for picnicking, swimming, scuba diving, boating, fishing, hunting, hiking and wildlife viewing.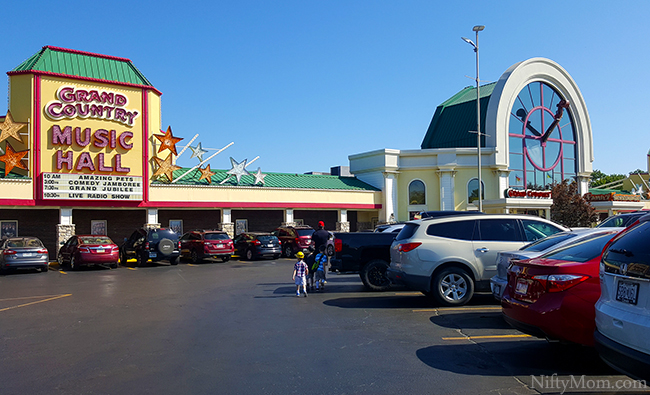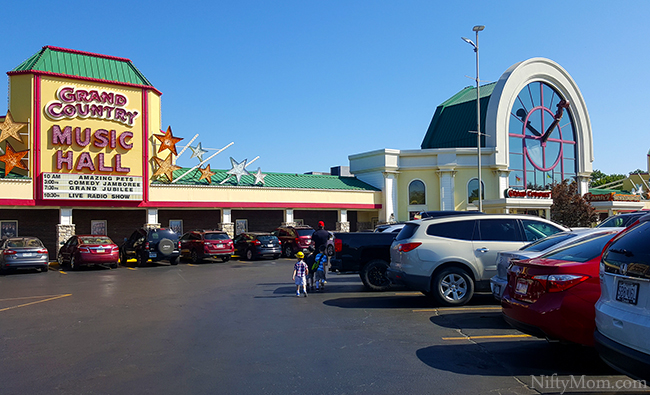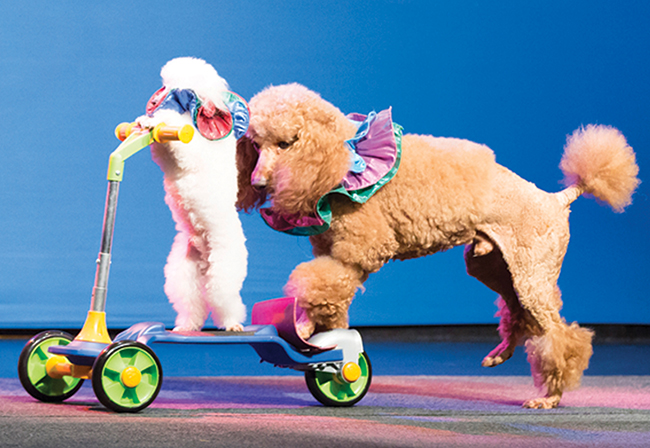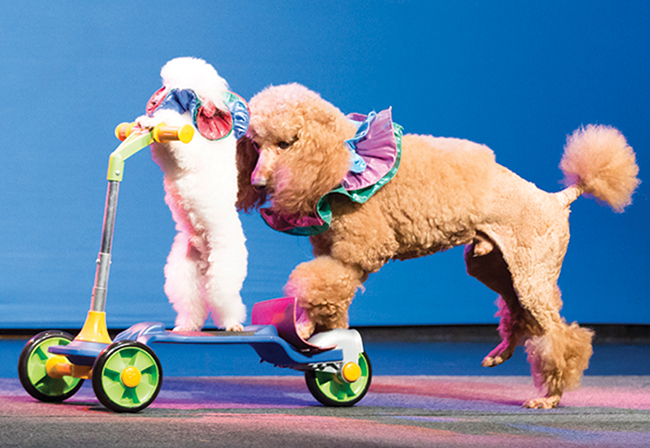 Amazing Pets Show – The Grand Country Music Hall has a variety of shows daily. We went to the Amazing Pets Show, as the kids always loved watching similar acts on television. Many of the furry creatures from the show are rescued from dog pounds and humane societies. Between acts there were a couple times the kids got to go up on stage and participate in a fun act. Everyone was laughing and saying 'awww' throughout the whole show.
Shopping – There are many spots to shop throughout Branson. You can find many unique stores at the Branson Landing, Tanger Outlets, The Shoppes at Branson Meadows and even the Branson Craft Mall.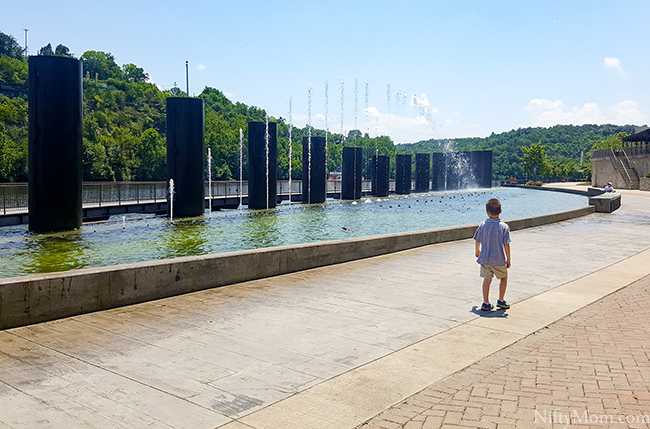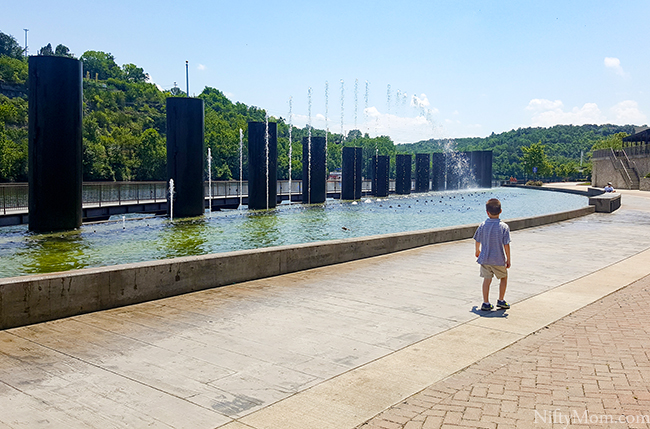 Fountains at Branson Landing – On the Taneycomo lakefront, in the middle of the Branson Landing there is a spectacular water attraction. The fountains are always going, but on the hour from Noon-10pm (or 9pm on Sundays), there is an intricate display of the water Fountains shooting 120-foot geysers and fire cannons blasting, all choreographed to light and music. It is really neat and there are different shows throughout the day.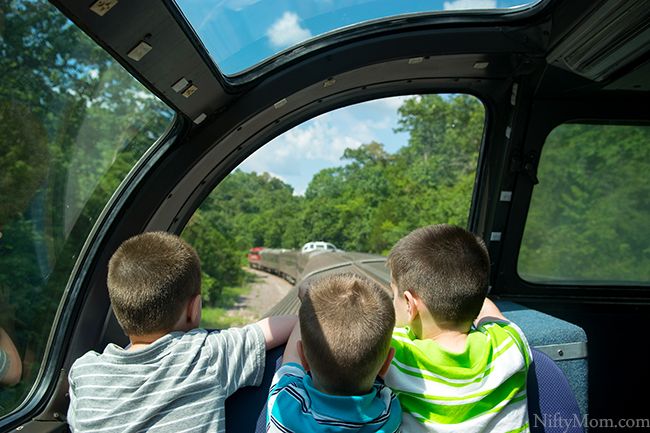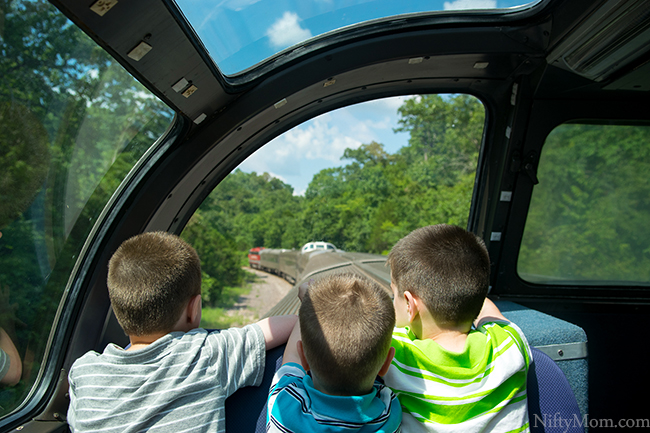 Branson Scenic Railway – My kids have been wanting to go on a real train for as long as I can remember. With the Branson Scenic Railway, we got to ride on a 40-mile roundtrip outing through the Ozark foothills that included two tunnels. Two of the cars have domes on the top for a more 360 view. It was a relaxing trip and they also had a little concession to get drinks and snacks. For the holidays they are doing The Polar Express. How fun would that be?!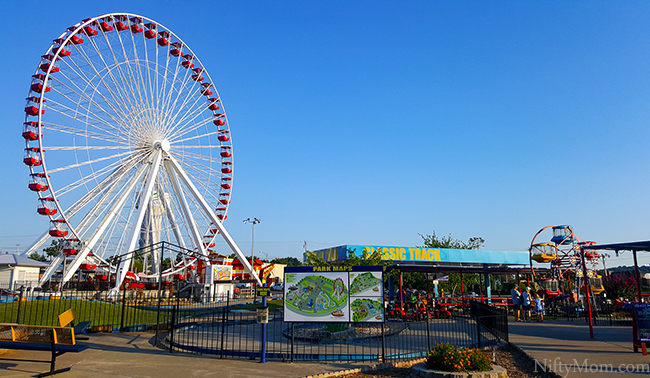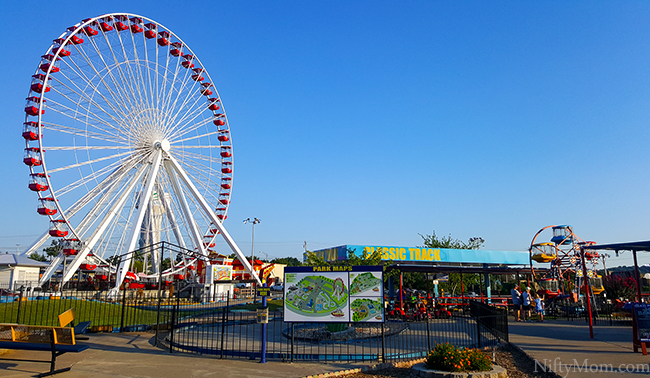 The Track Family Fun Parks – With four locations in Branson, there was plenty of fun to be made at The Track. We actually spent a little bit of time at different locations two of the days we were there. There is so much to do and there is indoor arcades, which was nice to do to cool off from the outdoor activities. There are different Go-Carts and tracks for all different ages.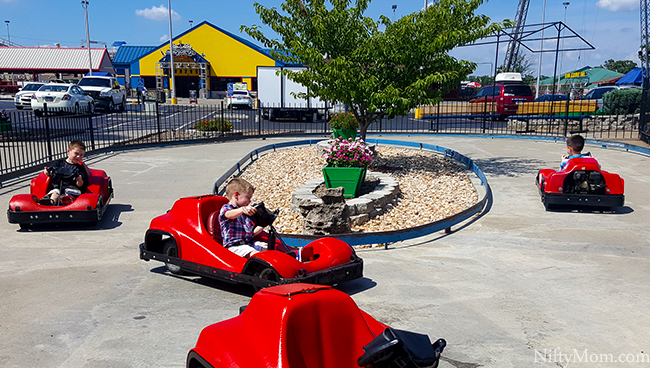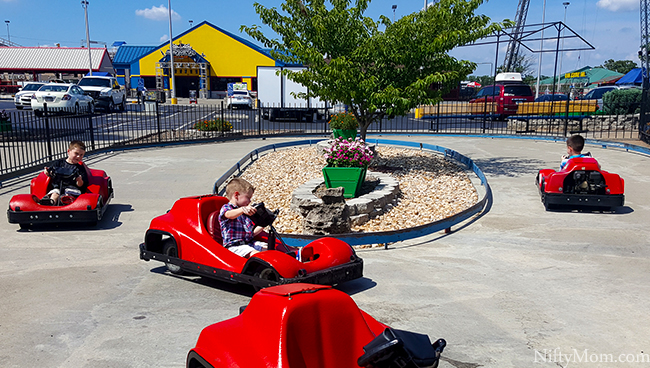 The boys got to ride on Go-Karts, Kiddie Amusement Rides, Bumper Cars and Bumper Boats. We also played Glow Golf indoors at one location. It was such a blast for everyone.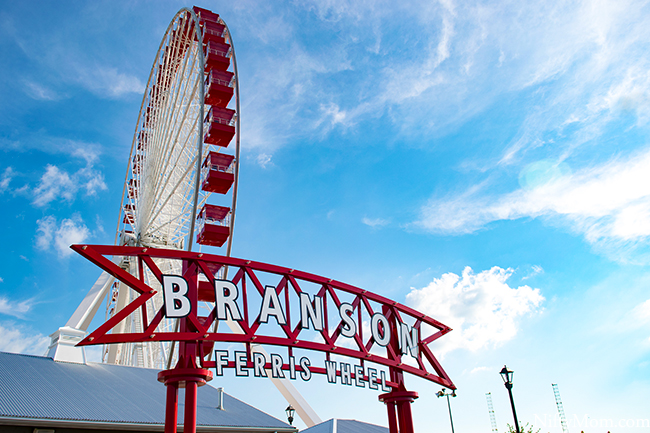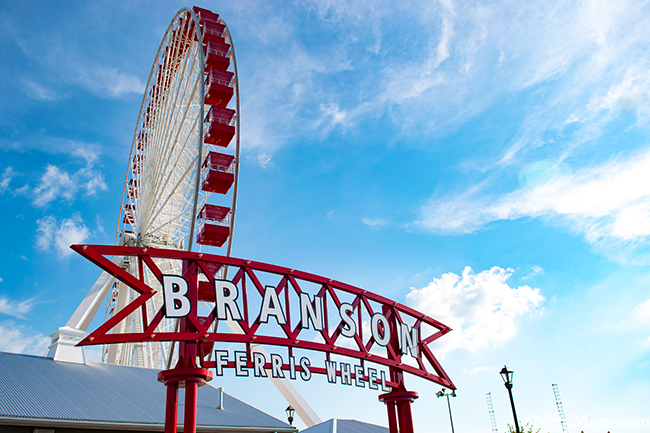 Branson Ferris Wheel – Located at The Track Family Fun Parks Track 4. the Ferris Wheel just opened this year. The ferris wheel comes from the Navy Pier and has 40 goldolas. It is gorgeous.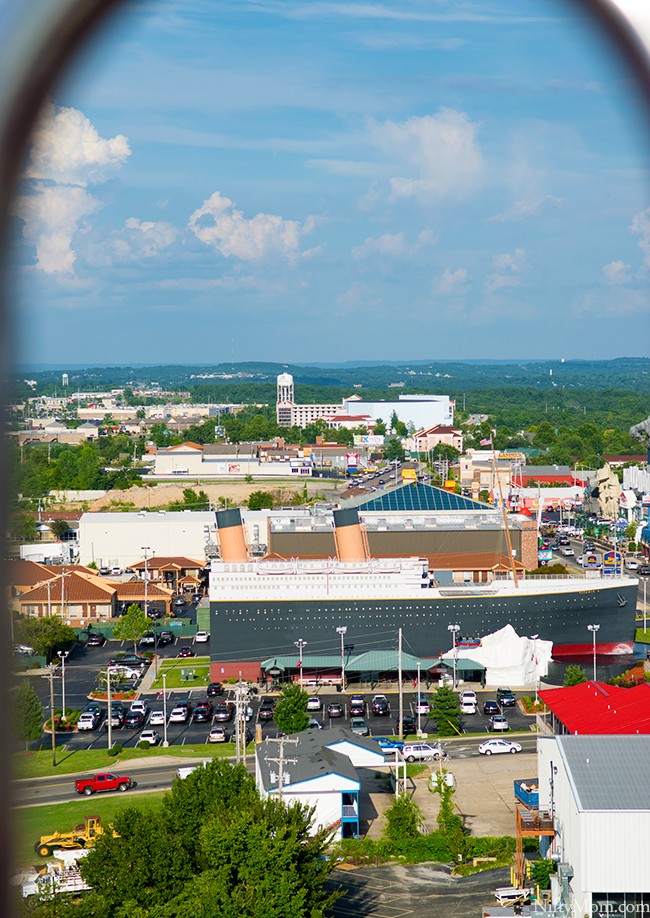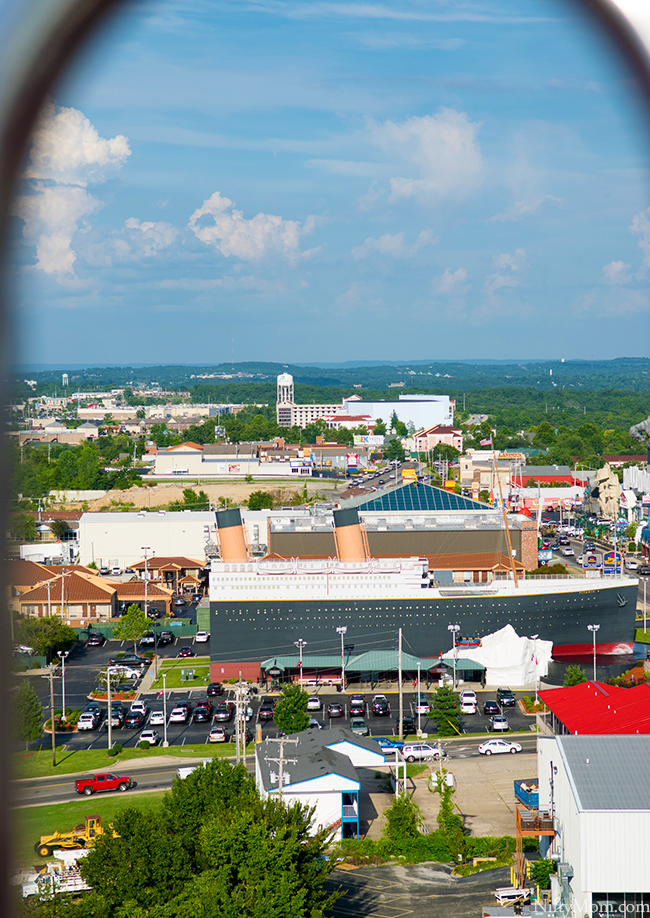 Each gondola holds six passengers. We went up for a ride and it takes 7.5 minutes to go all the way around. It was really neat to see part of Branson from a different view. The above pictures was taken near the top (it's 150ft tall).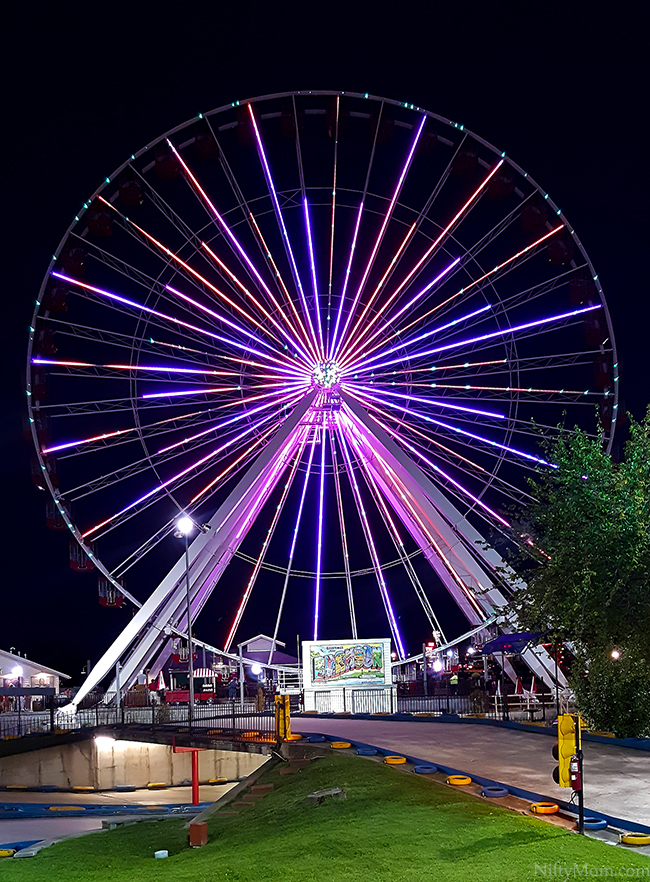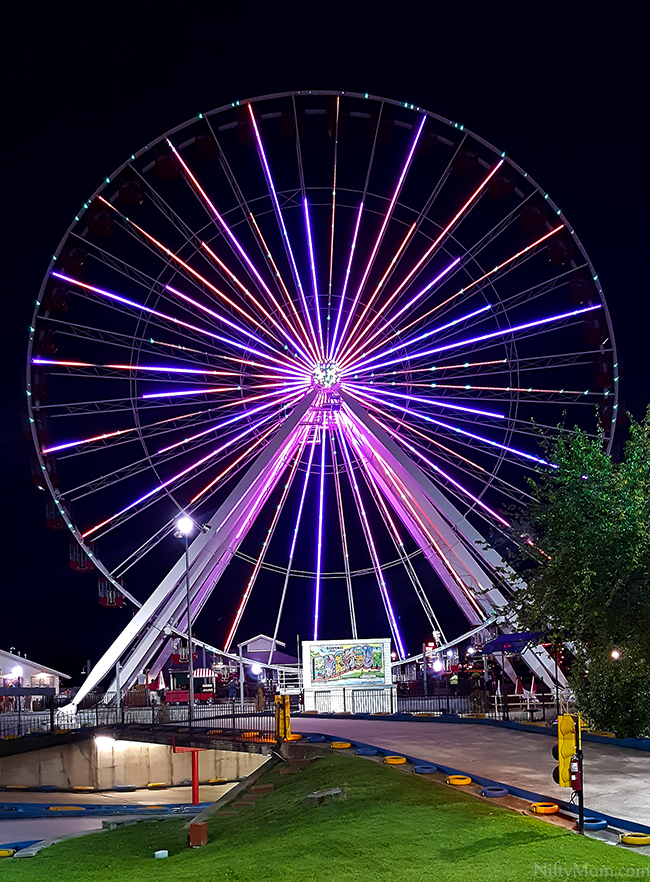 Branson Ferris Wheel at Night – Every night at 9pm, 10pm, and 10:55pm, ELECTRIFY: A Music & Light Spectacular takes place! This free show has 144,000 LED lights on the wheel dancing to music that's played through the Track 4 sound system. It was absolutely stunning and definitely lived up to the spectacular part.
Branson, MO is filled with all kinds of things to do for families, couples and/or friends of all ages. I am hoping to get a few more articles up going into details about some of the attractions we took a lot of pictures at, so be on the look out. The kids have been asking to go back already (at least once a week they bring it up). The good thing is with just a four hour drive, we can make it a quick weekend trip between busy school/work weekdays.
Have you ever been to Branson?