Sometimes, a fun family movie night isn't just for the kids. With the new JUMANJI movie hitting theaters in December, a JUMANJI movie night was due because the first one was a favorite of mine. While you sit and watch the 1995 classic, this mix is the perfect snack, where everyone can make their own.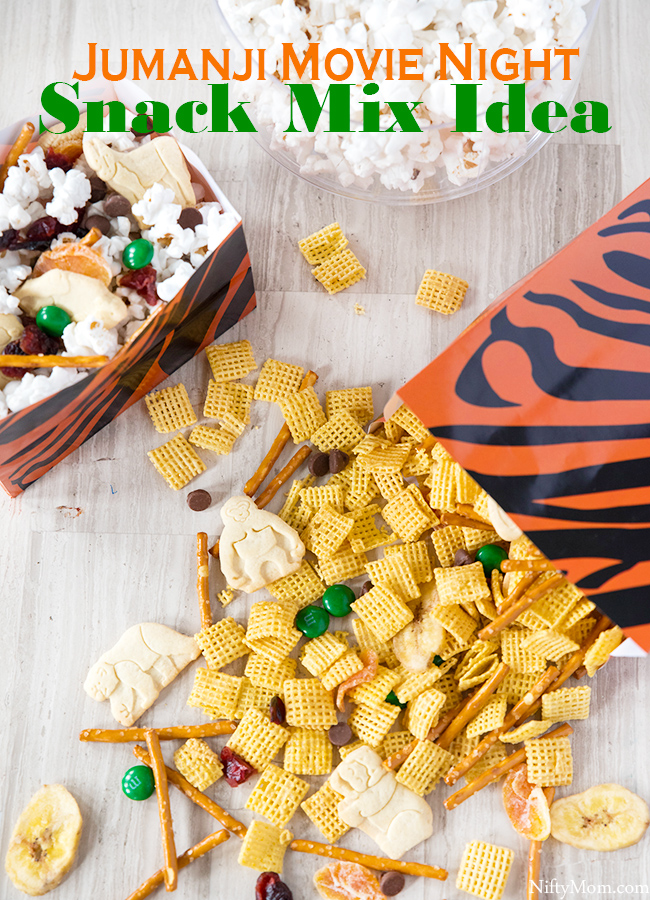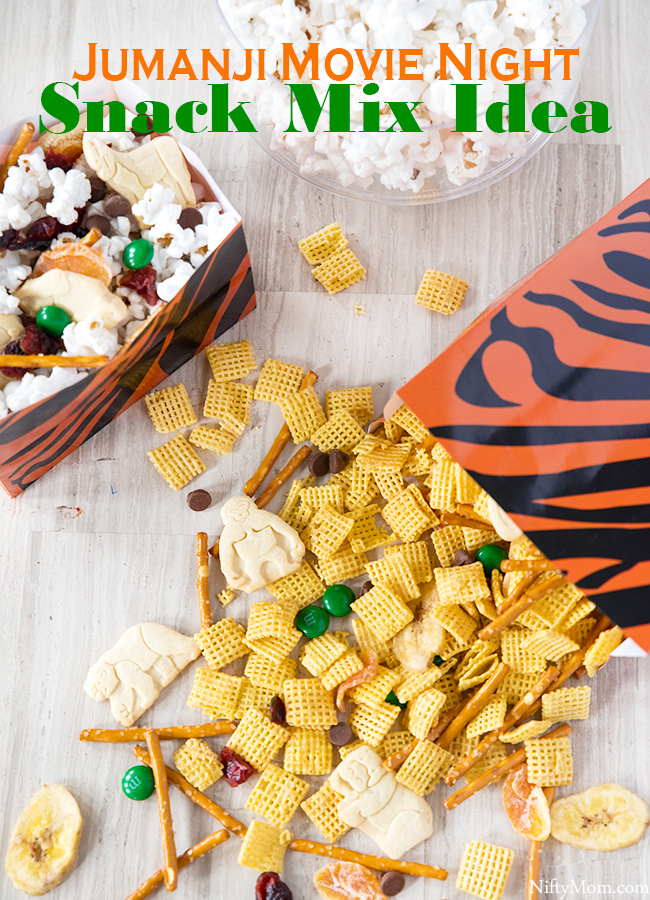 Last month, I saw the latest trailer for the movie and I couldn't stop laughing. It looks hilarious and the casting is brilliant!
In the brand new adventure Jumanji: Welcome to the Jungle, the tables are turned as four teenagers in detention are sucked into the world of Jumanji. When they discover an old video game console with a game they've never heard of, they are immediately thrust into the game's jungle setting, into the bodies of their avatars, played by Dwayne Johnson, Jack Black, Kevin Hart, and Karen Gillan. What they discover is that you don't just play Jumanji –Jumanji plays you. They'll have to go on the most dangerous adventure of their lives, or they'll be stuck in the game forever…
As we await for the movie to hit theaters, re-watching the 1995 JUMANJI is a must. To get that jungle feel, I set up a little snack bar during the movie.
JUMANJI SNACK MIX IDEA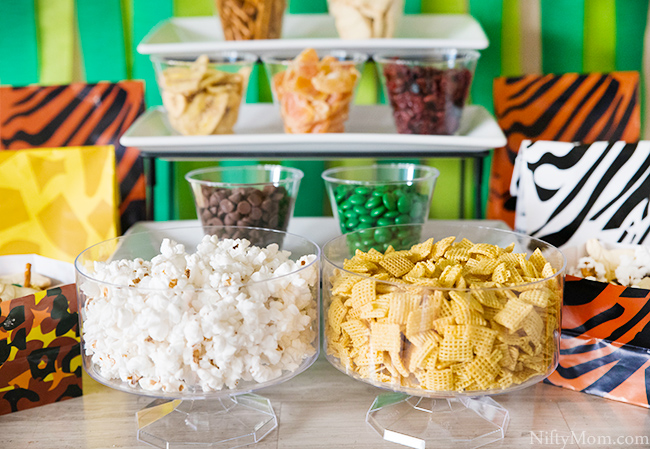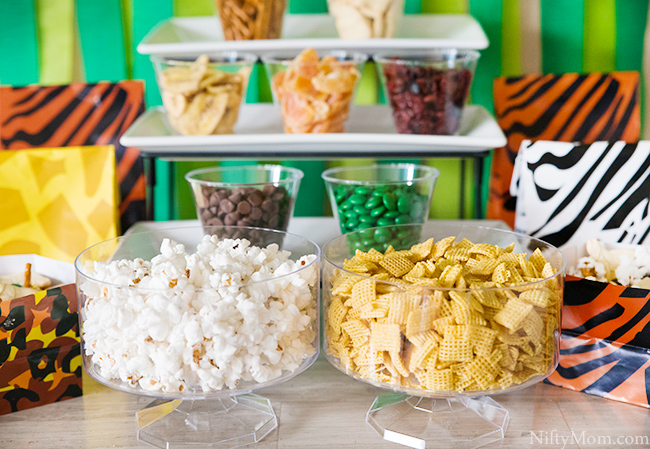 To start the snack mix, I set out two base ingredients:
Plain Popcorn
Honey Nut Cereal Variety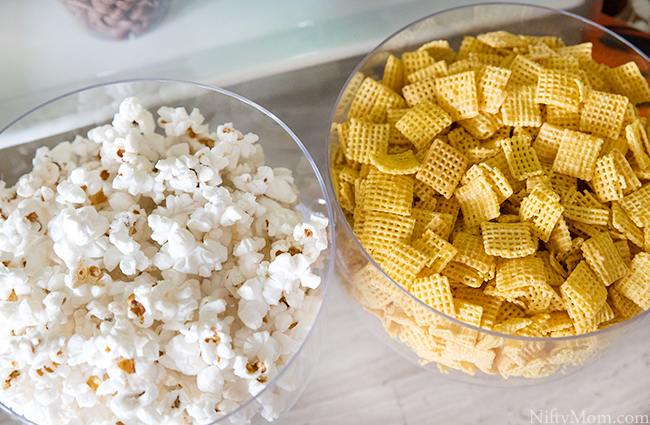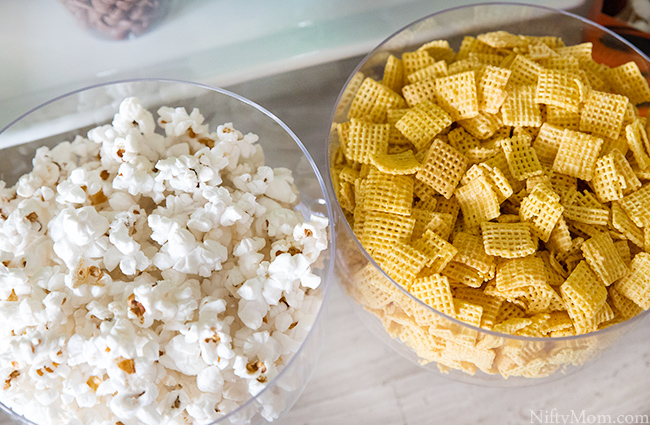 Then it comes the fun part! I set out a variety of mix-ins, such as dried fruit, candies and the must: animal crackers.
Snack Mix Add-Ins:
Dried Bananas
Dried Oranges
Dried Cranberries
Pretzels
Animal Crackers
Chocolate Chips
Green Chocolate Candies
The possibilities are endless, but I tried to stick with the jungle theme.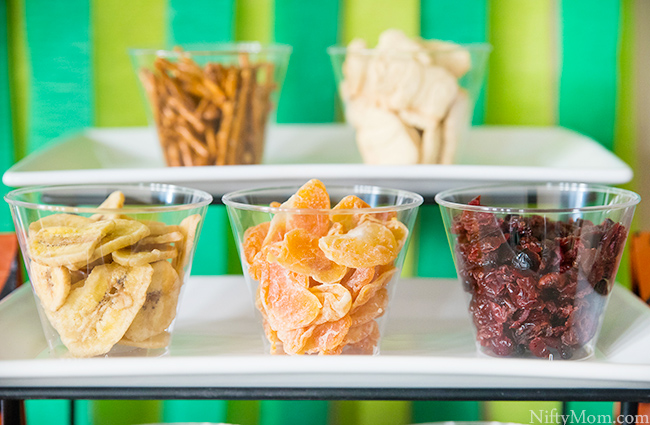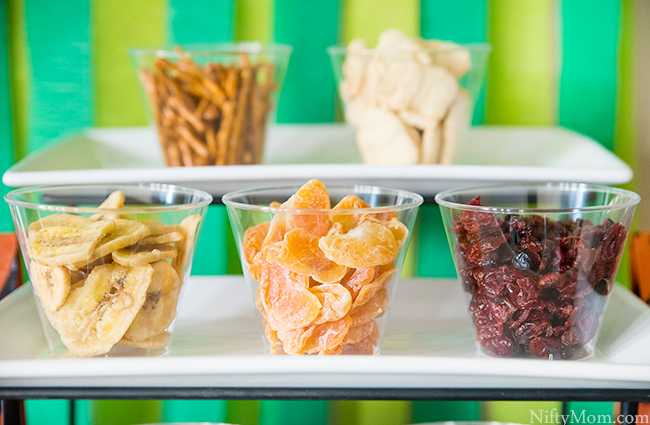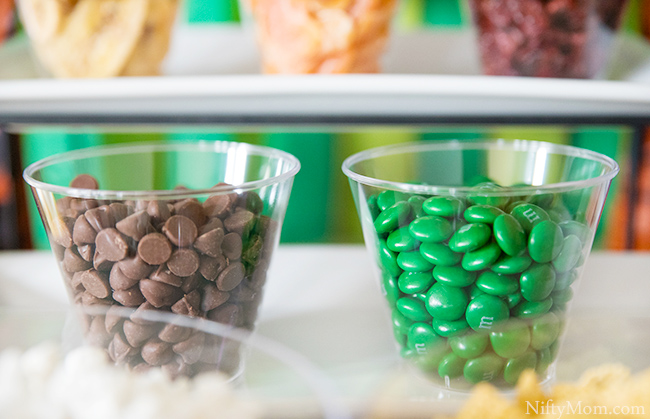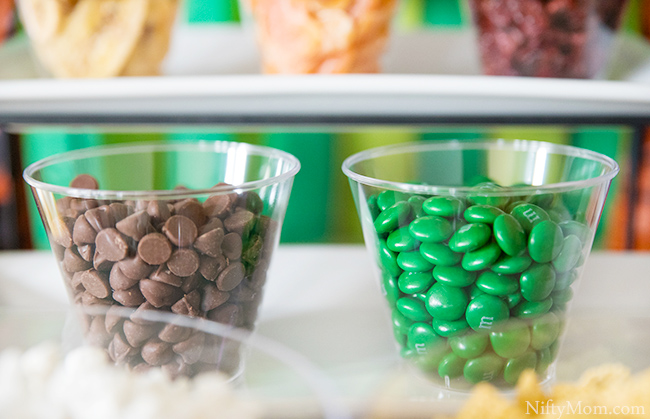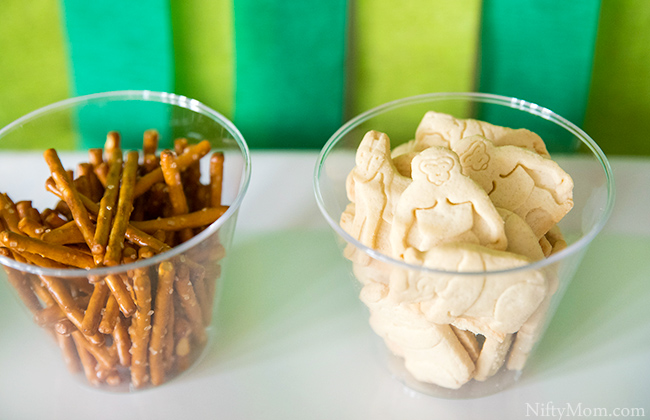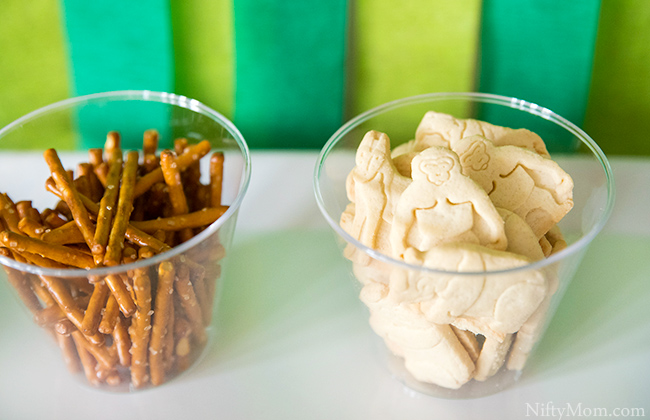 I set up the mix-ins in clear plastic cups for easy selections and everyone could make their mix in animal print bags. It is definitely fun for the kids!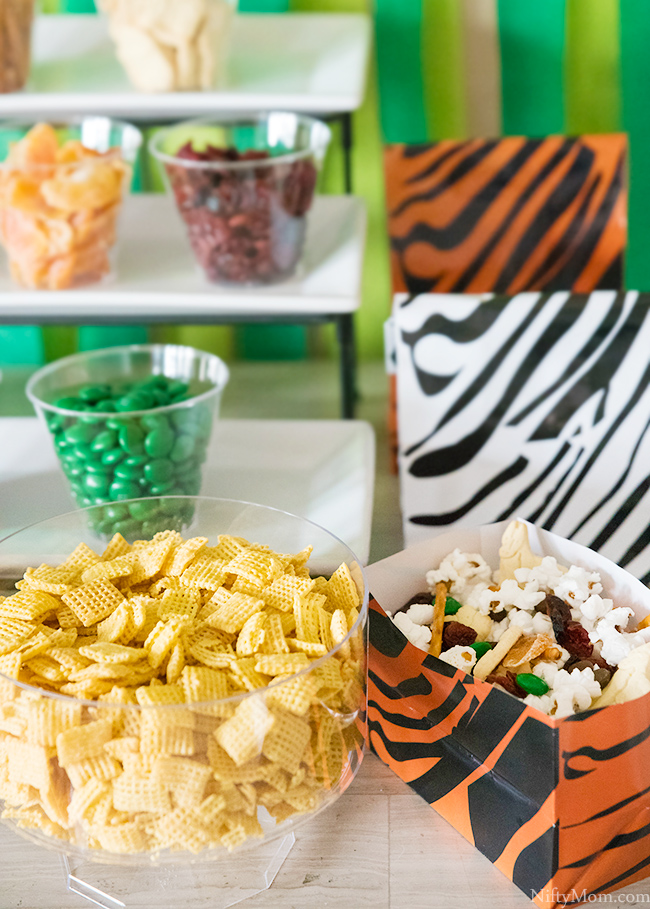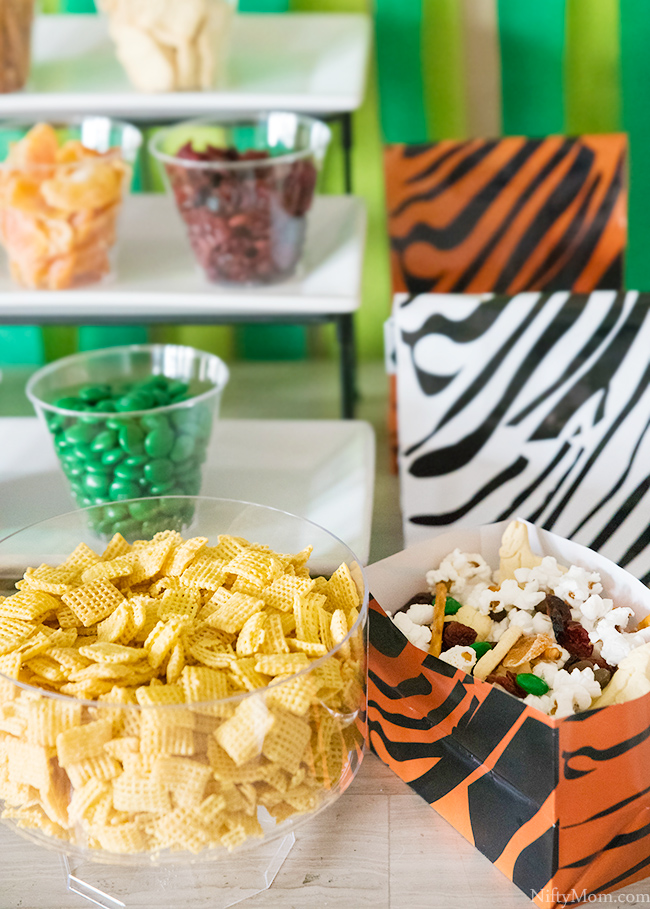 If you missed the first trailer for JUMANJI: WELCOME TO THE JUNGLE, check it out below!

For the latest updates and trailers, be sure to follow JUMANJI: WELCOME TO THE JUNGLE on Facebook, Twitter, and Instagram.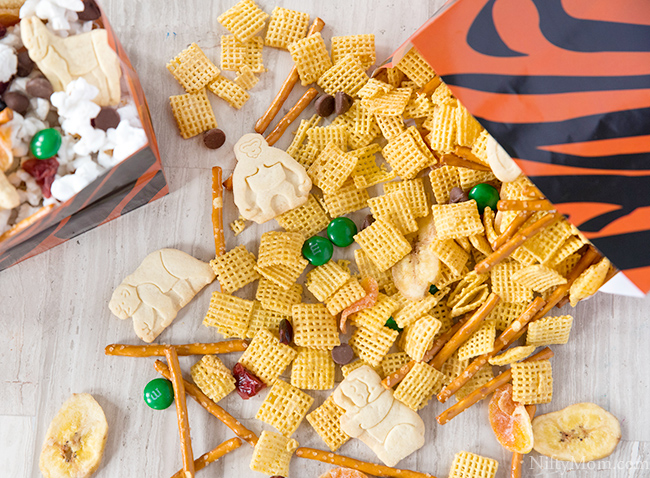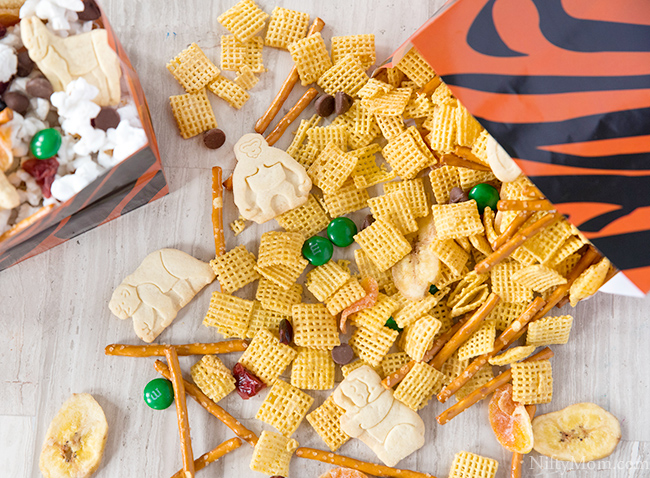 How excited are you for the new JUMANJI movie to hit theaters December 20th, 2017?