I am being provided with complimentary tickets to Supercross, and I can't wait to share the experience with everyone on Instagram! All opinions are my own.
Looking for action-packed family fun this month? Supercross is coming to St. Louis at The Dome at America's Center next Saturday, April 9, 2022. Get ready for a full day of dirt, jumps, and high-flying racing!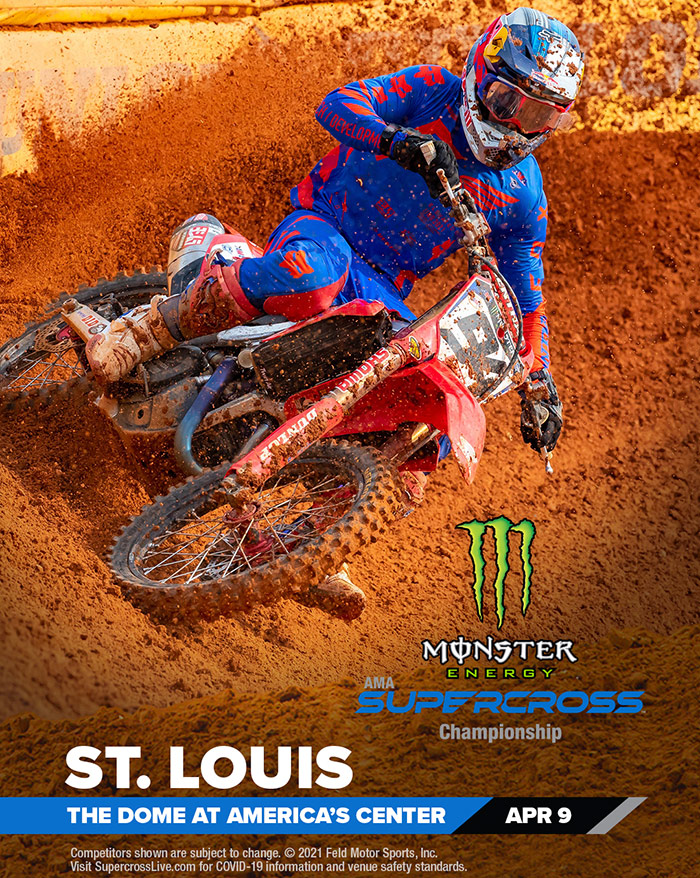 *Get your tickets at Ticketmaster, here.*
What: 2022 Monster Energy AMA Supercross (Round 13)
Where: The Dome at America's Center: 701 Convention Plaza St. Louis, MO 63101
When: Saturday, April 9, 2022

FanFest Open – 12:00 PM CT
Stadium Open for Qualifying – 12:00 PM CT
Opening Ceremonies – 6:30 PM CT
Gate Drop – 7:00 PM CT

Tickets: Starting at $15 on Ticketmaster.
Monster Energy Supercross is an indoor dirt bike racing championship – a newer version of motocross, the sport's original form. Whereas motocross takes place on long courses built primarily on the dirt and terrain offered up by nature, Supercross races are made from dirt hauled into stadiums.
The track takes all the exciting obstacles of outdoor riding—jumps, turns, and bumps—amplifies them, and puts them in easy view of spectators.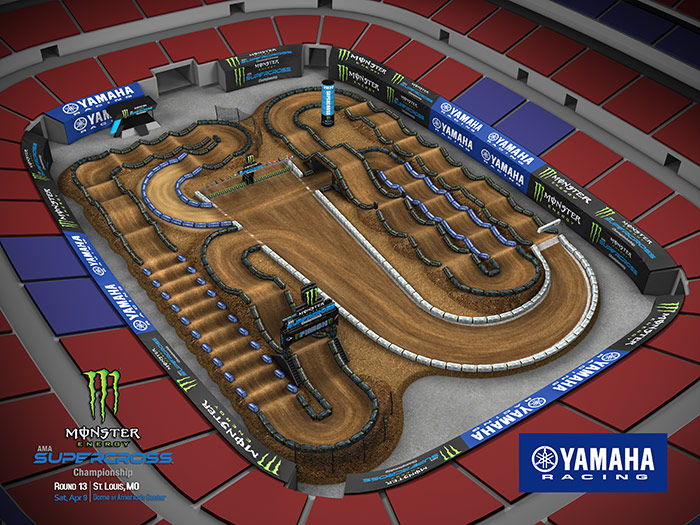 It takes roughly five hundred truckloads of dirt to make up a Supercross track. Soil conditions can be hard-packed, soft, muddy, sandy, rutted, or any combination thereof. Average riders would find it impossible to even do a lap on a Supercross track, let alone race at high speeds.
FUN SUPERCROSS FACTS –
• 5,500 cubic yards – The average amount of dirt used to build a Monster Energy Supercross track.
• 6,800 sheets of plywood used to protect the grass/field underneath. Placed end-to-end, the sheets would stretch for over 10 miles!
• 4 Monster Girls working the floor per event.
• 100+ Fireworks/ Pyro elements used in the opening ceremonies at every event.
• 70 feet –The distance of a Monster Energy Supercross triple jump—the same as two school buses parked end-to-end.
• 3 feet – Height of a typical Supercross whoop. While the riders make skimming across their tops look effortless, the obstacles are about waist-high to an average adult, making them an intimidating section of track for almost any rider.
• 40 riders qualify for the night show, 22 riders line up for the Main Event, and 1 Winner takes home the trophy!
There will also be a FanFest to get an insider's look as the teams prepare, practice, and qualify for the Main Event. You can also take photos, visit sponsor displays and purchase your favorite gear. It's a part of the Supercross experience that you don't want to miss. Learn more here.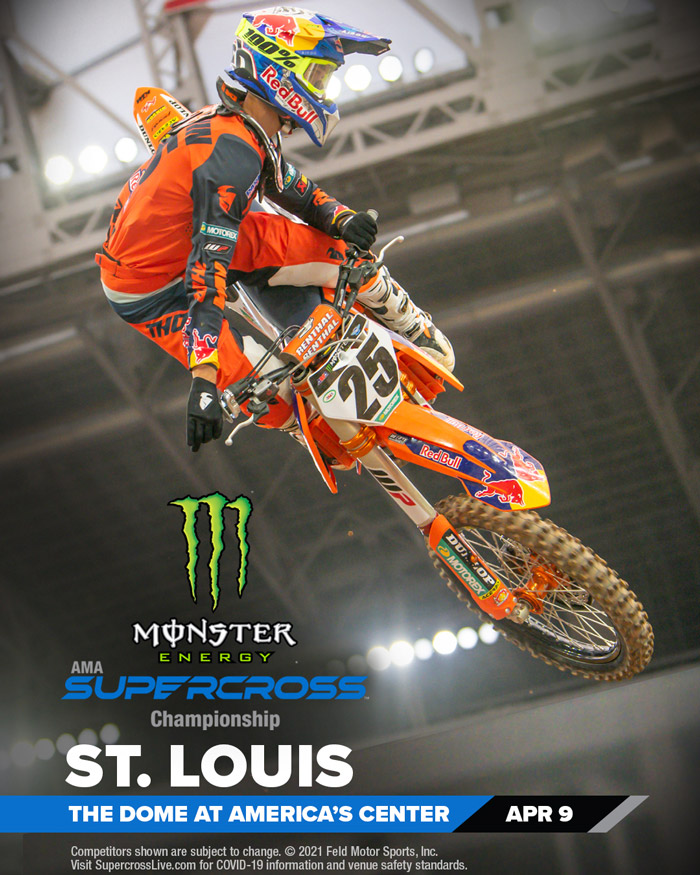 *Get your tickets at Ticketmaster, here.*
I can't wait to take the family for a day of action-packed fun!