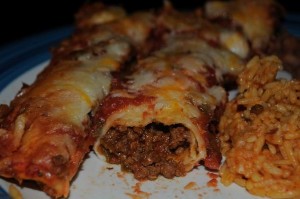 INGREDIENTS:
1lb ground beef
1 packet of taco seasoning
2 cups Mexican Style shredded cheese
1 jar of thick & chucky salsa
8 – 6″ flour tortillas
Preheat oven to 350. Grease bottom of 9″x13″ pan.
Brown ground beef; drain. In a large bowl mix beef, 1/2 the jar of salsa, 1 cup shredded cheese, and taco seasoning.
Spoon in the mixture into the tortillas. Roll them and lay them side-by-side in the pan.
Pour the remaining salsa over the top, then layer the rest of the cheese over the top.
Bake for about 20 minutes or until cheese is melted and browning.
I like to get as much as I can done when my boys are napping. So what I do is prepare the enchiladas in the afternoon, cover with foil, and refrigerate. Then when it is almost dinnertime, all I have to do is put them in the oven. It just takes about 10 more minutes to bake (so 30 minutes).