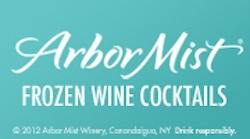 At least once a month our good friends come over and we make dinner or barbecue and sometimes enjoy a nice glass of wine. During our last few get-togethers, we have been eating outside. With the weather being warmer, a nice frozen cocktail would be more refreshing than a glass of wine. We normally don't have time to mix up and make a frozen cocktail, but then I was introduced to the new Frozen Wine Cocktails from Arbor Mist. I got the opportunity to try all the new flavors, so this past weekend when our friends came over to barbecue, we decided to try them out.
The frozen cocktails come in 10fl oz pouches and need to be frozen for about five hours. When ready you are ready to drink them, you just massage the pouch, loosening it up to a nice slush. Then open the top and squeeze to pour into a glass and enjoy. The frozen cocktails contain 6% alcohol, the same as Arbor Mist Wines. They are available in three flavors: Blackberry Merlot, Strawberry White Zinfandel, White Pear Pinot Grigio.
First, we tried the Strawberry White Zinfandel. We split one pouch into two glasses, but it would easy fit nicely in a slightly larger wine glass than the ones we used. The flavor was great and I would compare it a strawberry daiquiri. It was very refreshing, slightly sweet with just the right amount of strawberry flavor. Out of the three, I would say this one has the least wine taste to it. I think even if someone isn't a fan of wines, they would still enjoy it.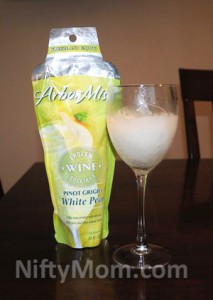 Next up was the White Pear Pinot Grigio. I am a pretty big fan of Pinot Grigio wines so I had high expectations of for this one. I am happy to say that those expectations were met! The taste of wine came through the fruit flavors perfectly.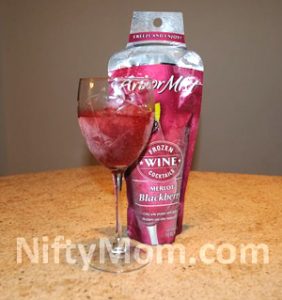 Last was the Blackberry Merlot. Blackberry is one of my favorite fruit flavors so I couldn't wait to try this one either. Again, I was highly impressed. The sweet dark fruit flavor was amazing. For me, it was the sweetest of the three. Picking a favorite would be hard, because I am a huge fan of all three.
Arbor Mist Frozen Wine Cocktails are a great addition to a barbecue, get-together, day by the pool, or just to add a refreshing cocktail to the end of your day. Not only are the flavors great, but they are easy to make (just freeze and pour), and the slushy texture is perfect. I may have to pick up a few more for our next barbecue. When would you enjoy an Arbor Mist Frozen Wine Cocktail?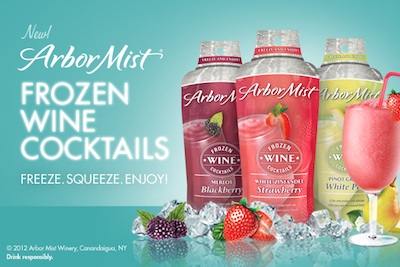 I received samples of the product at no cost to conduct this review through SheSpeaks and was in no other way compensated. All opinions expressed are 100% mine. Please drink responsibly.