Last month, you may remember when I pre-purchased 'The Amazing Spider-Man' at Walmart. The best part about the pre-purchase was having access to a digital copy of the movie over a week before the DVD release date (11/9). Our family is a huge fan of Spider-Man. My sons are always singing the Spider-Man song and asking to watch the cartoons. We didn't get a chance to watch it at the theater, so we were excited to be able to watch it before the release date. Since we gained access to our digital copy on October 30th, we decided to throw a Spider-Man Party to watch the new movie and enjoy time with family and friends. I headed to Walmart to pick up some party supplies, food and a Marketside Pizza.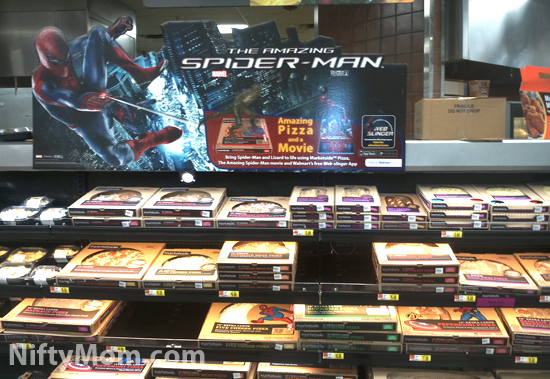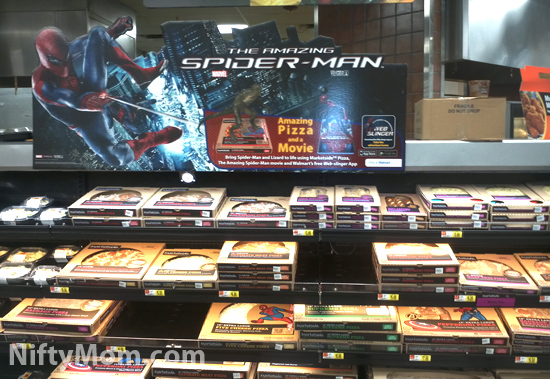 First we need a pizza and we picked out a  Marketside 16″ Ultimate Meat pizza with Spider-Man on the box. Walmart is definitely gearing up for the Spider-Man release. They are releasing The Amazing Spider-Man themed Augmented RealityApp with trigger points that will be on the pizza box &  throughout Walmart on displays.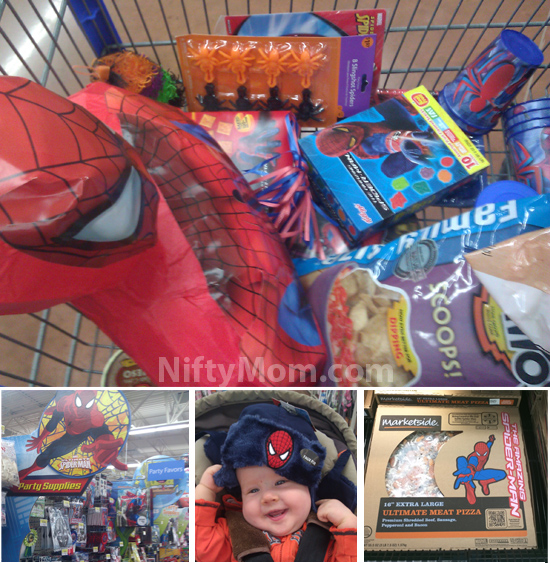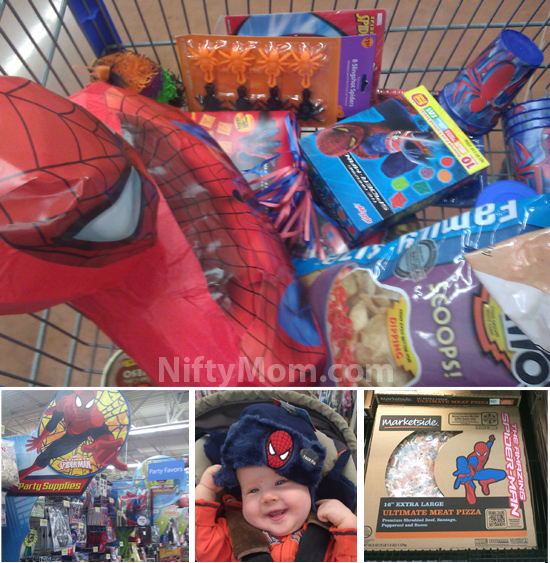 I found a lot of Spider-Man themed party supplies, toys, and apparel throughout the whole store. There was so many different items, I had a hard time picking out just a few.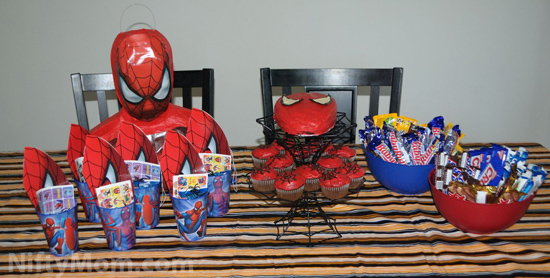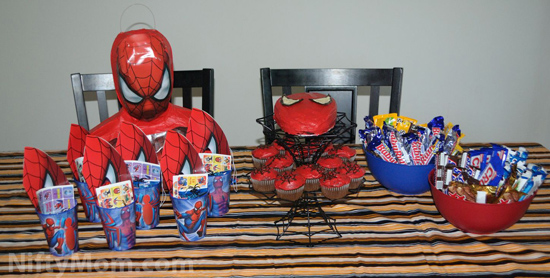 All parties need 'goodie bags' for the little ones and this was no exception. I put Spider-Man masks, stickers, fruit snacks, and candies a cup for each of the kids. Since I love decorating cakes, of course I had to make a Spider-Man cake and cupcakes that I displayed on a spiderweb cake stand.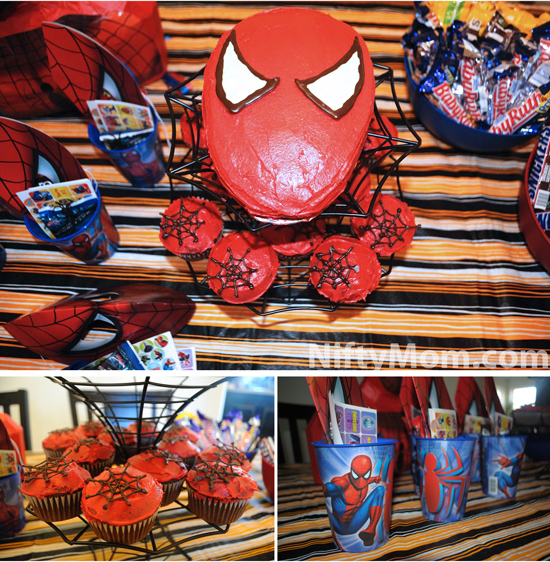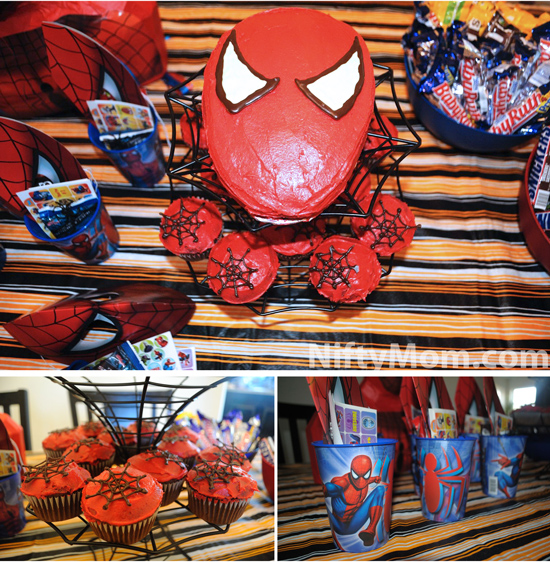 After icing the cakes with red icing, I used melted chocolate to complete it and add the Spider-Man effect. To do this just melt some chocolate and put it in a sandwich bag (my homemade cake decorating bag). Then snip a very small corner off  the bottom and squeeze it out onto wax paper into spiderweb shapes. When they are all done, put it into the freeze to harden for about 20 minutes. They easily peel off to put on top of the cupcakes. For the cake, I also used melted chocolate to create the eyes. Just pipe the dark chocolate first and after it starts to firm up, fill it in with melted white chocolate.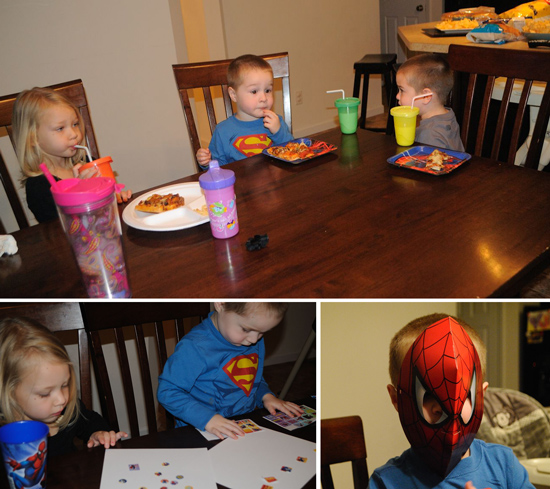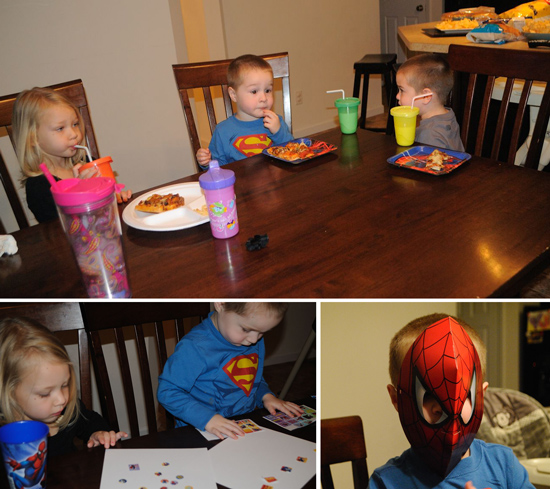 The kids played with stickers, masks, and threw 'spiders' at a spiderweb on the wall. We watched 'The Amazing Spider-Man' on VUDU and it was amazing. It was over 2 hours though, a little long to watch with kids running around.


After the movie, it was a great night to hang out by the fire and enjoy the evening. Spider-Man made a guest appearance ;)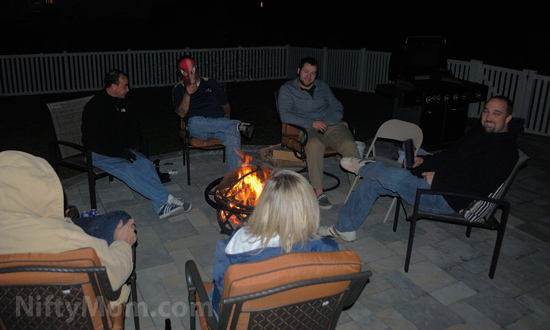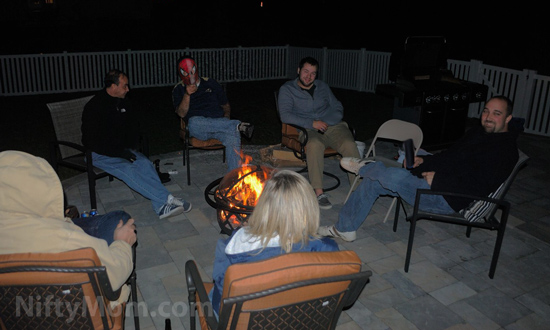 For the latest news and updates for 'The Amazing Spider-Man', make sure to stay connected and follow them on Twitter, become a fan on Facebook, and visit the website.  Did you pre-purchase it yet? You still can to get the access to the digital copy!
"I am a member of the Collective Bias™ Social Fabric® Community.  This shop has been compensated as part of a social shopper insights study for Collective Bias™ and Sony Pictures Home Entertainment #CBias #SocialFabric All opinions expressed are 100% mine."