When it comes to stocking stuffers, I like to include small items that are practical and aren't toys or candy. I pick things that are used year-round, promote good health and not just for kids. This year, I will be including some BAND-AID and Neosporin Lip Health products in my family's stockings.
BAND-AID BRAND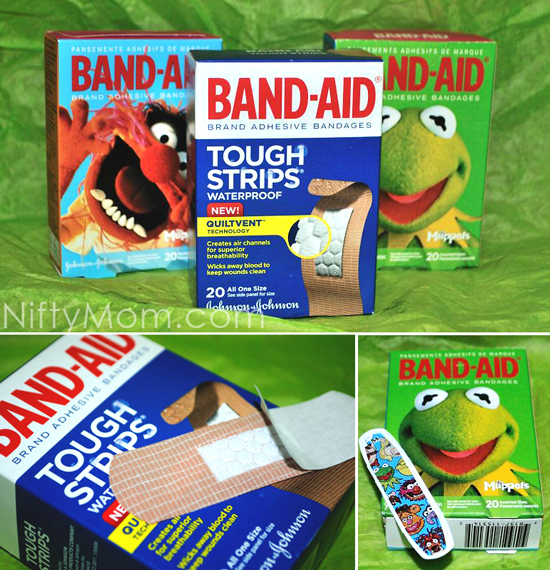 With two boys that think they are indestructible, bumps, bruises and cuts are inevitable. I keep a first-aid kit on hand and it is always stocked with BAND-AID Brand Adhesive Bandages. They have new QUILTVENT technology that creates air channels to allow the wound to breathe. The waterproof tough strips are flexible and stay adhered during all my daily activities. I had to use one on my finger and I was still able to bend it and had no issues working with my hands throughout the day. When it came time to remove the bandage (which I dread doing), it was painless and effortless.
For the kids, we have cute and fun Muppet bandages. The package includes various designs and assorted sizes. The bandages are plastic and flexible allowing them to stay in place when applied. My three year old is not happy when he has to wear a BAND-AID, unless it has a Muppet on it. For more kids fun, download the Band-Aid Magic Vision app (free) and bring the Muppets to life with interactive fun by scanning the bandages.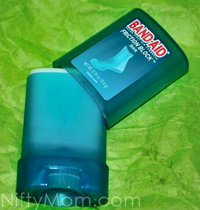 Aside from bandages, BAND-AID offers other great products. I can't count how many times I have worn new or uncomfortable (but cute) shoes and have gotten blisters on my feet. I use to put a BAND-AID on my ankle or foot to prevent blisters, but that normally didn't last long and they would just rub off. Now, I just use the BAND-AID Friction Block Stick to prevent the blisters. It has a lubricating formula that instantly reduces rubbing on the skin. It is easy to apply, invisible and not greasy. The size is perfect to keep in my purse for fast and convenient applications. This is one product I wish I had when I wore heels everyday.
For the latest products, coupons, offers and updates be sure to visit BAND-AID.com.
Neosporin Lip Health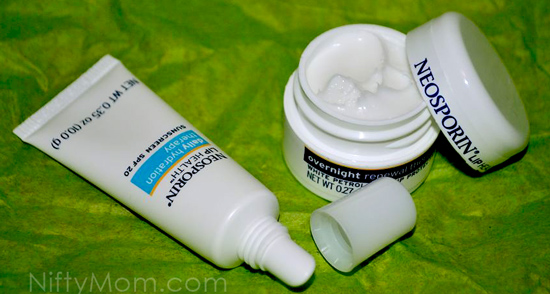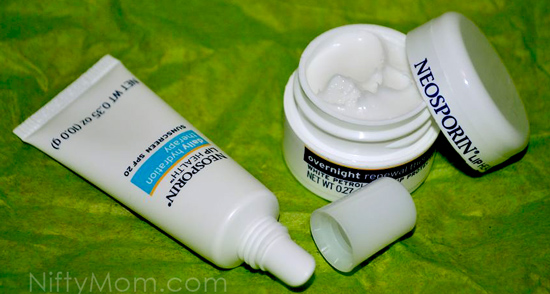 With the cold weather comes dry skin and chapped lips. Neosporin has a few products in their Lip Health line that protects lips from the winter chill and make for great stocking stuffers. The Daily Hydration Therapy is for daytime use and has SPF 20 to protect your lips from the sun as well as the cold. The Overnight Renewal Therapy helps restore your lips and make them softer and healthier as you sleep. The daytime cream is lightweight and brings comfort to dry lips. The overnight cream is a little thicker and really hydrates the lips. Neither are greasy. The pair of products assure visibly healthier lips after 3 days and I can attest to that. They are a new must-have in my house.
For the latest products, coupons, offers and updates be sure to visit NeoLips.com.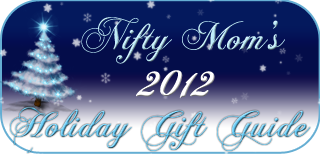 Disclosure – I received the named product at no cost to conduct this review and was in no other way compensated. All opinions expressed are 100% mine.