This patriotic cake push pop recipe was created while trying out Hamilton Beach Stand & Hand Mixers as a Hamilton Beach Ambassador. All opinions are my own.
I love baking. Not only is the taste important, but I like to put a little extra effort into the presentation. Desserts can easily be given a little added touch to go with any occasion, making them extremely fun for everyone. With July 4th tomorrow, I thought some patriotic push pops would be a huge hit with the little ones.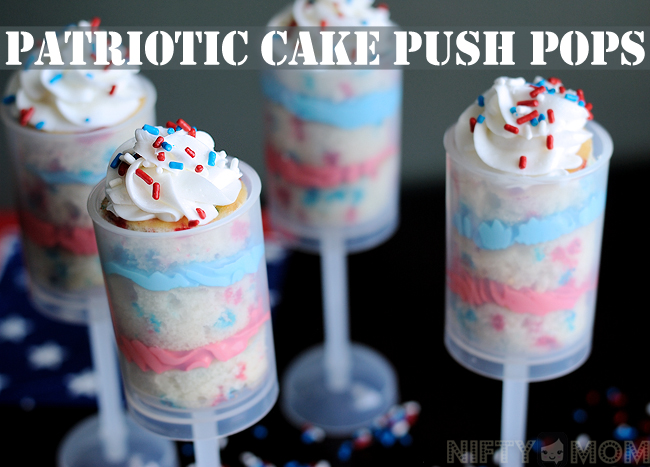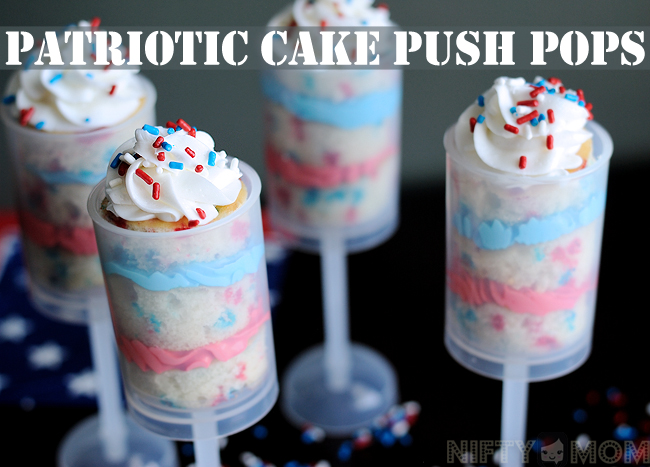 Even though I love baking, I haven't been doing it as often as I would like it. It gets messy. The kitchen, the kids, myself, we are messy bakers. All I had was a small hand mixer with the basic attachment that we have had for 5 years. Right when we would start mixing, the flour or dry ingredients, would start flying all over the place. Extreme mess, instantly. You would think since I have a love for baking, I would have gotten a better, newer one by now. I have had my eye on a stand mixer, but wasn't sure how much it would change my life.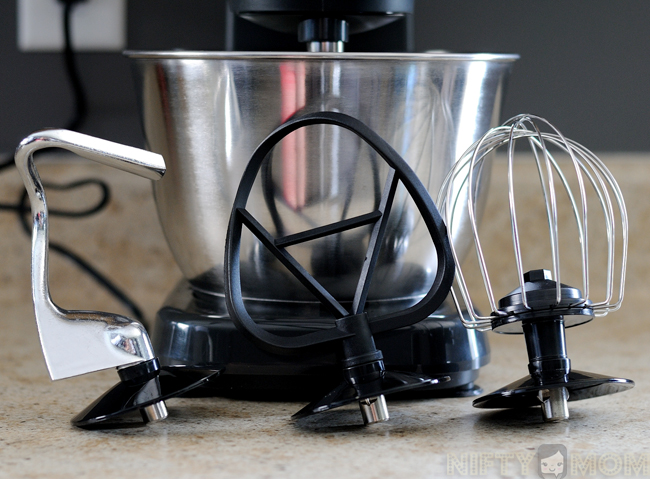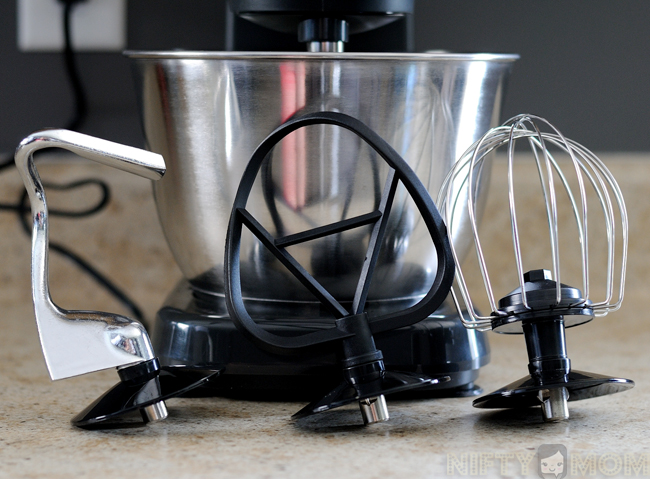 After just using the Hamilton Beach 6 Speed Stand Mixer for the first few minutes, I had an urge to bake non-stop all day long. It was that amazing. There are three attachments (dough hook, flat mixer, and whisk) to handle all types of mixing.
During set up, which was minimal (taking it out of the box and unwrapping it), I was thrilled to see that it has suction cups at the bottom to stay in place during mixing.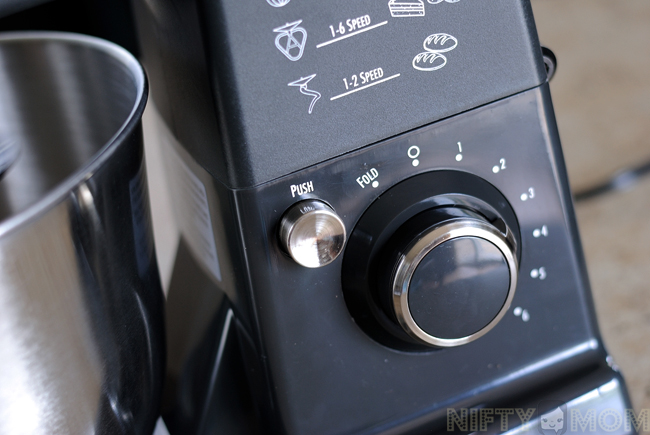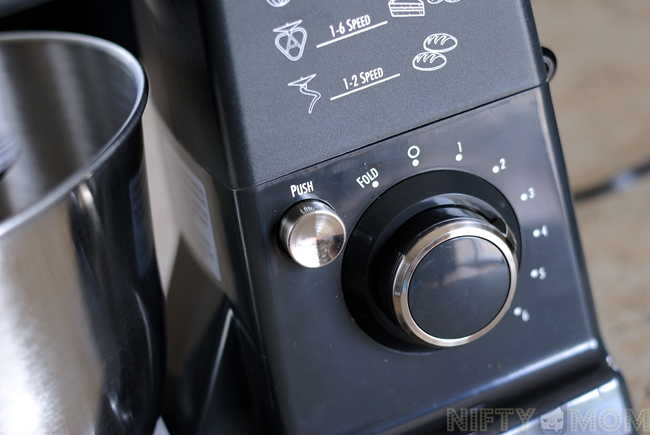 The settings are simple, with a dial for the different speeds and a button to push to raise the top of the mixer.
Since I have been super busy, I wanted a recipe that I could make quickly. So I used a white cake mix and added the required egg, water, and oil to the mixing bowl. The suggested attachment was the flat mixer, according to the user manual & labeled right above the buttons.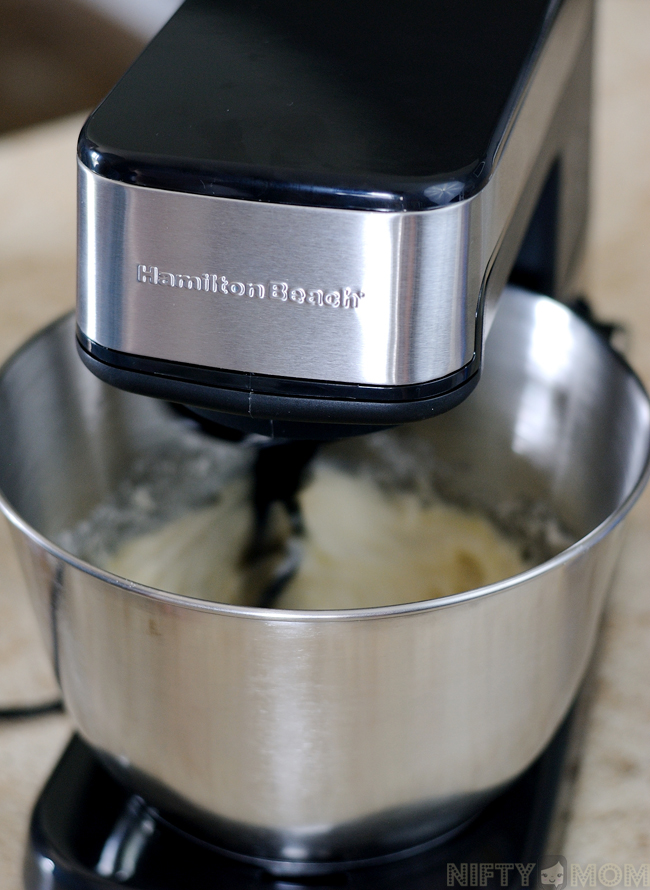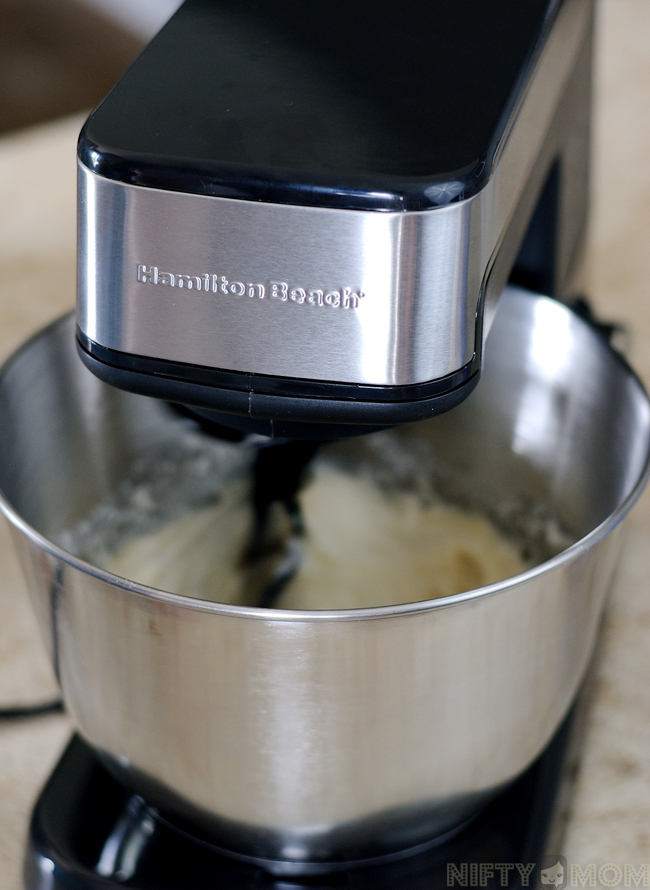 I use to mix the wet ingredients first, then add in the dry ingredients and lightly mix before using my old mixer. I had faith in the new mixer, so I had the kids throw in all the ingredients at once and we turned it on the third speed setting. The mixing head completely spins and rotates to completely mix evenly.
I didn't have to scrap the side of the bowl once and nothing at all flew up. No mess.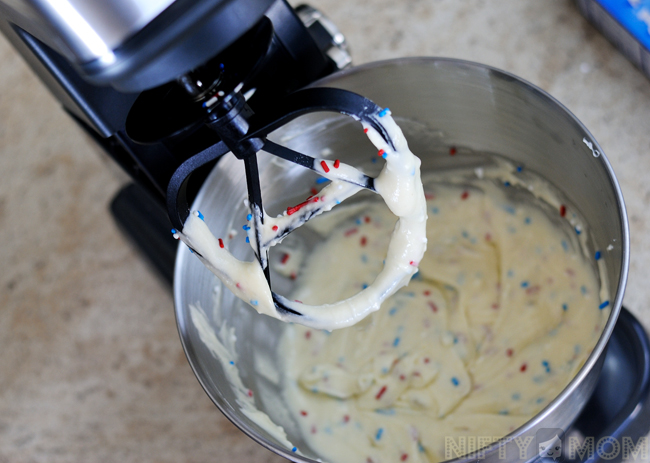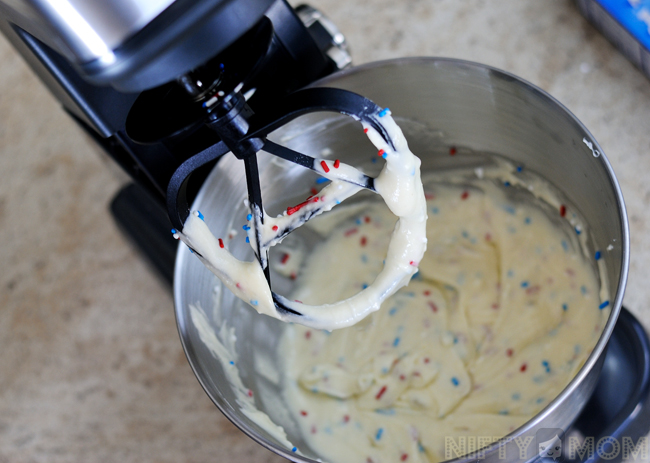 Once it was mixed (in no time at all), I added in a small jar of red, white, and blue sprinkles. The batter on the side of the mixing bowl above is because I removed half the batter to have half without sprinkles. I wasn't sure if I would like how the cake push pops would turn out with the sprinkles, so I wanted a backup.
Next, to make the cake thickness thinner for the cake push pops, I divided the cake batter into two 9×13″ pans and baked accordingly.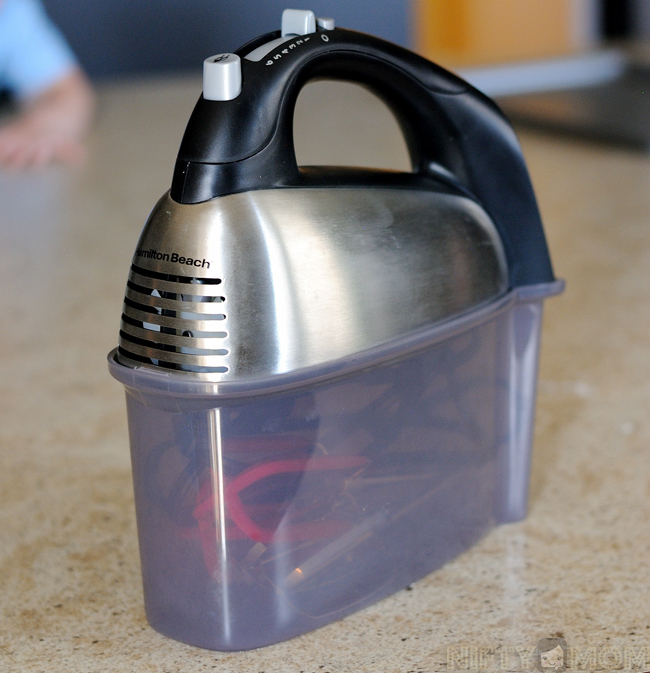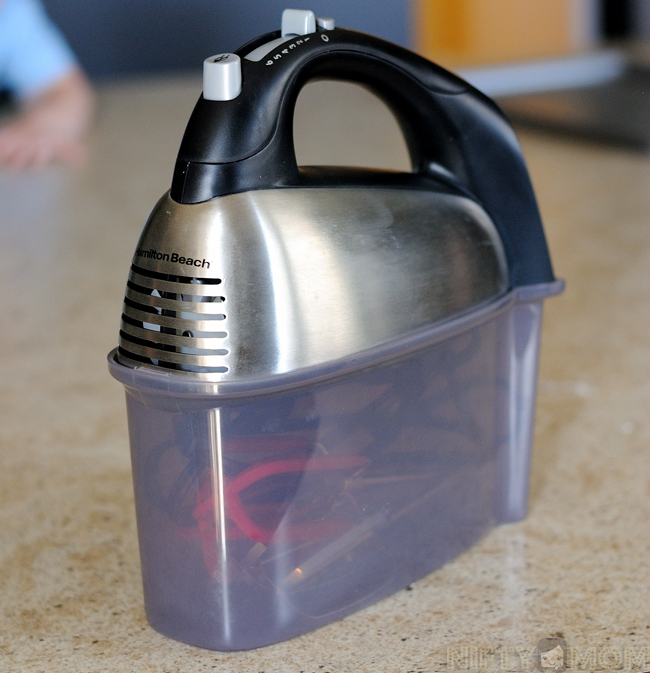 While the cake is baking, it is time to color the icing. I divided up a container of white vanilla frosting into two mixing bowls and added a few drops of blue & red colored icing gel. have found the best way to mix colors into frosting is with a whisk hand mixer. It adds a little body to the frosting and ensures thorough mixing.
The Hamilton Beach SoftScrape 6 Speed Hand Mixer is great for this. It comes with a case for easy storage to hold all the attachments together. That's much better than trying to track down matching attachments in the utensil drawer.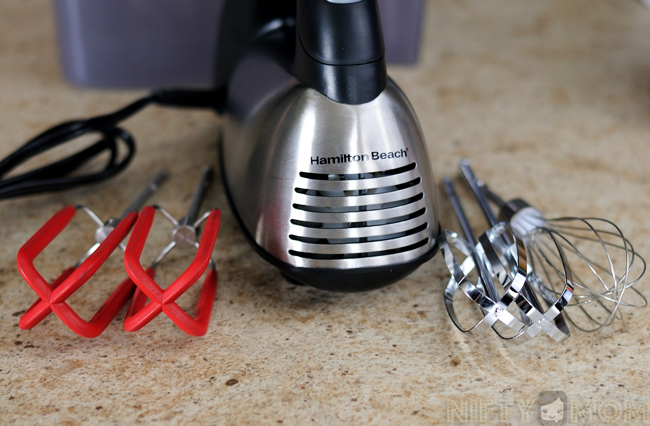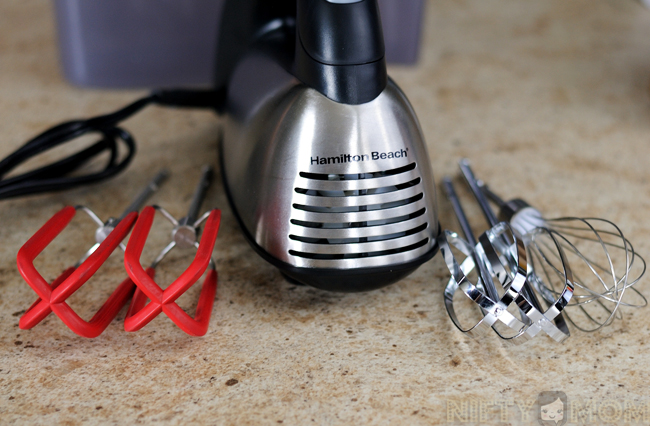 The hand mixer comes with standard metal attachments, a whisk attachment, and stainless steel attachments that are specially coated so they will not scratch bowls and pots. Brilliant! I have many scratched mixing bowls and I am extremely happy that I have eliminated that problem.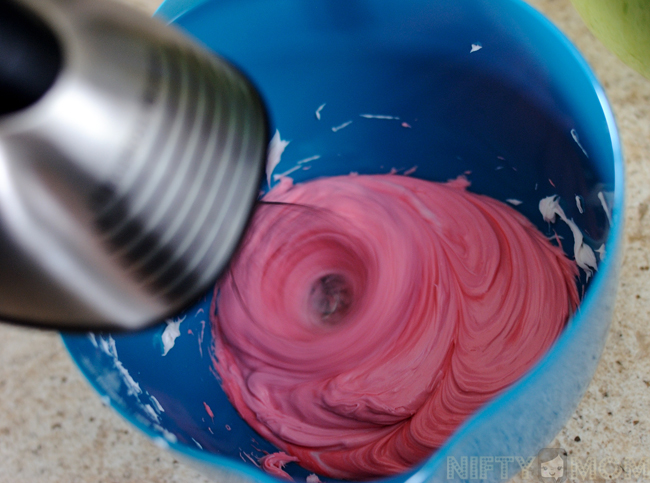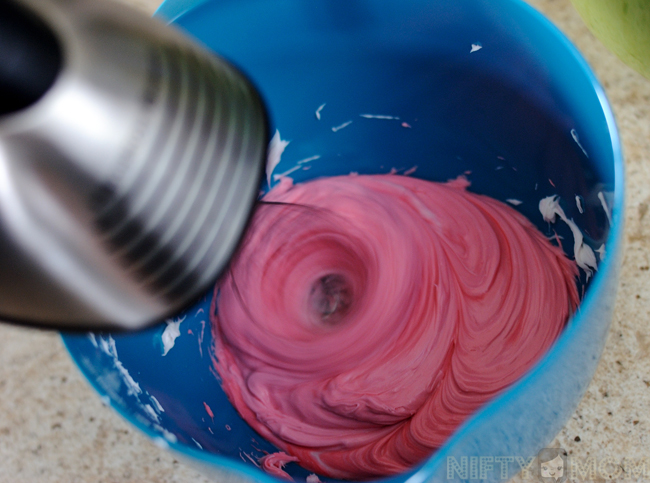 I used the whisk attachment for each frosting color with ease on the low setting and set aside the frosting with another can of white frosting (optional, just red & blue icing would still have a patriotic effect).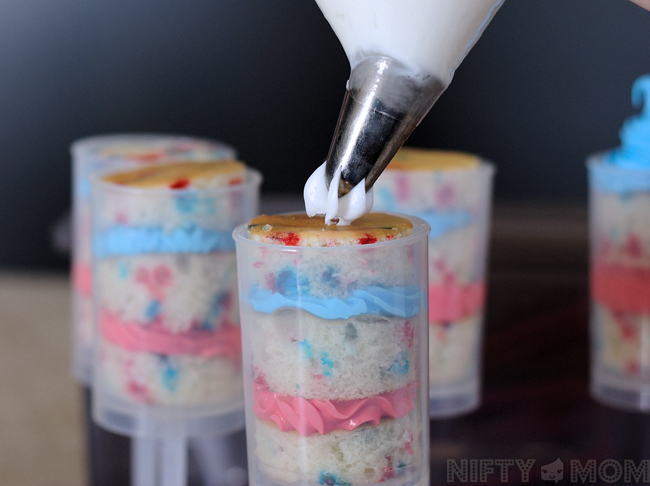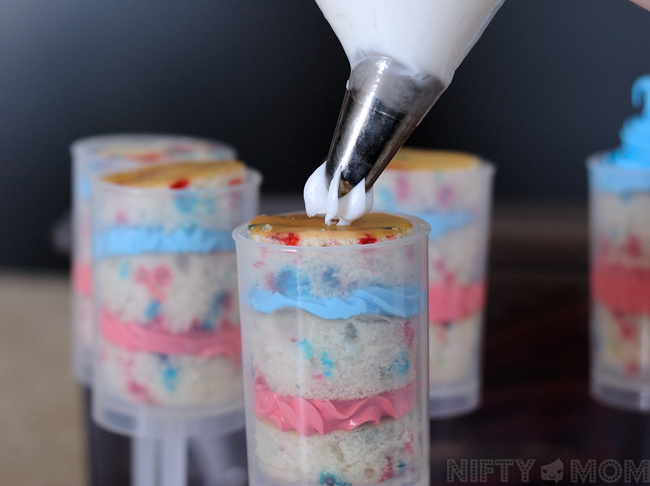 Once the cake is cooled, cut the circles out. Each of my push pops have individual stands that also doubles as the cutter. You can also use a circle cookie cutter that is the same size.
Next, I layered the push pops with cake, frosting, cake, frosting, cake, frosting, sprinkles. It is not necessary to have icing bags and tips. You can also fill a sandwich bag with icing and snip corner slightly. Some of the cake was thicker, so there are a few cake pops that only had two layers of cake, but they still looked patriotic and delicious.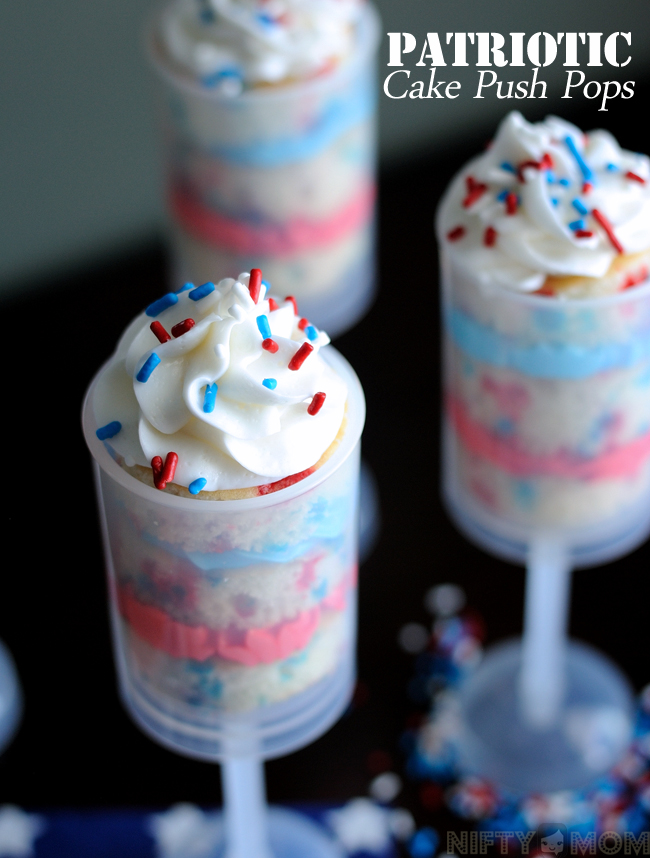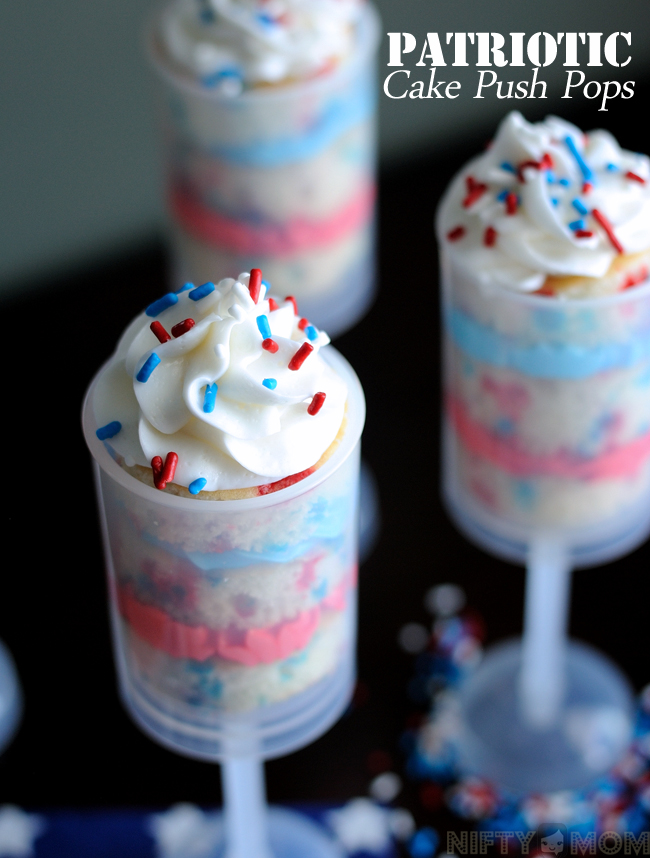 Hamilton Beach Mixers allowed for easy cleanup aftewards. I cannot tell you how much time it saved in the kitchen! I want to bake batches and batches of cookies and cakes this weekend now. I can't wait to try the dough attachment for the stand mixer. My kitchen life just got easier!