During our first family vacation to the beach, we stayed cool with Capri Sun as part of a sponsored post for Socialstars. All opinions are 100% my own. #CapriSunMomFactor
When we decided it was time for a family vacation to the beach, we weren't too sure what we were getting ourselves into. Were we completely insane to drive 14 hours with three kids just so they can experience the sand in their toes and the salty ocean waves? How would they handle all that heat?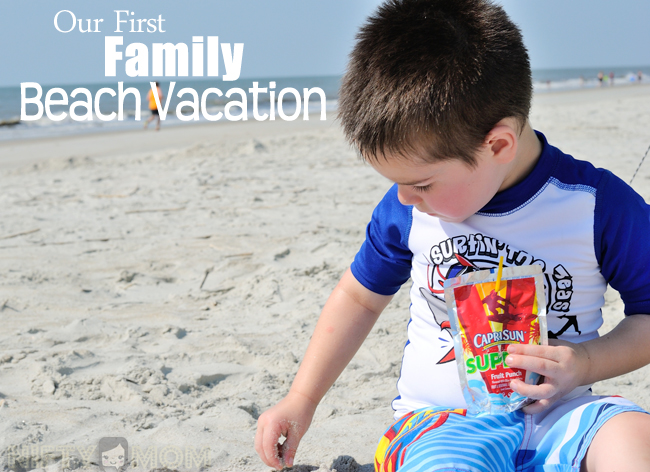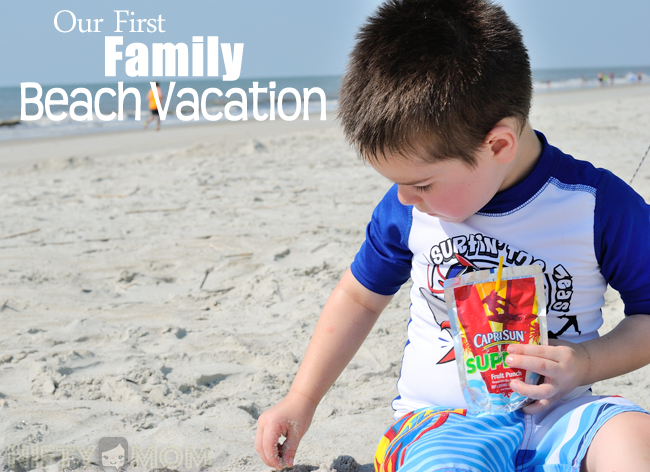 But once I saw their faces as we walked down the boardwalk into the sand, I knew it was worth it. The months of planning, the hours in the car, the crazy countdown they had, completely destroying their daily routine for over a week; it was all worth it.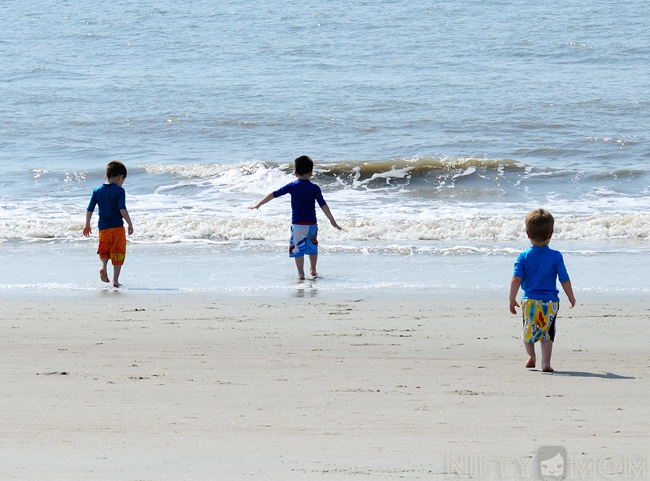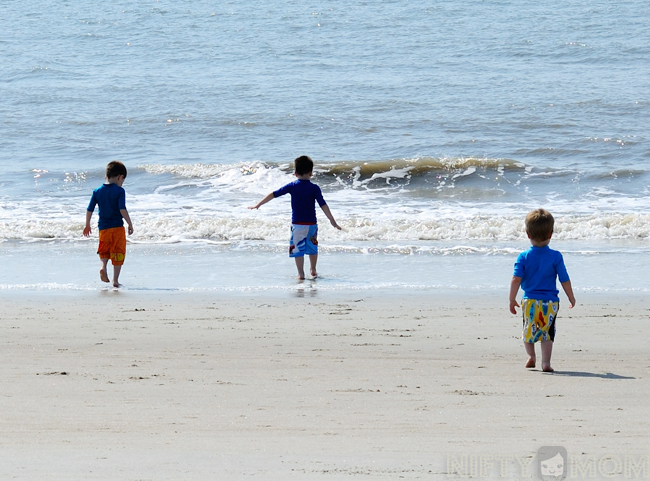 It was hard to hold them back from the ocean as we set up the canopy, laid down the towels, and got situated. When it was time to go to the water, they were more than ready.  We let the three of them go at their own pace as we stayed next to and behind them.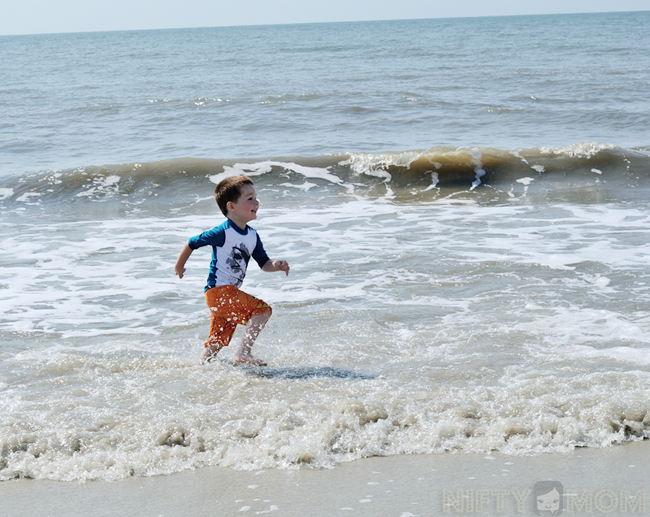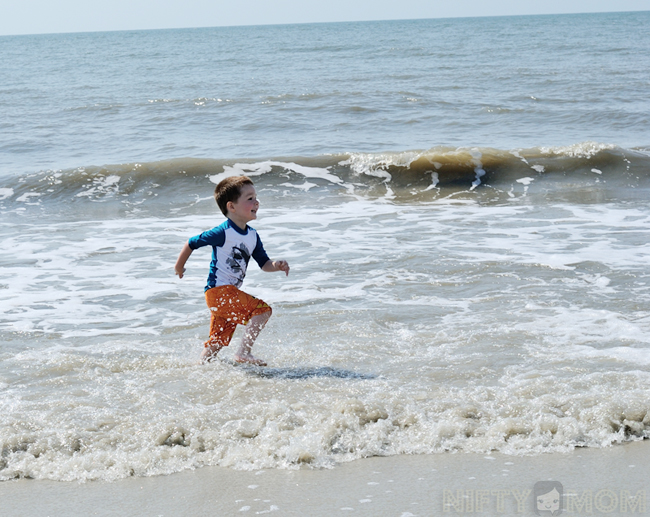 Once they got their feet wet, their excitement really showed. They repeatedly ran in and out of the water, jumping waves, and just laughing the whole time.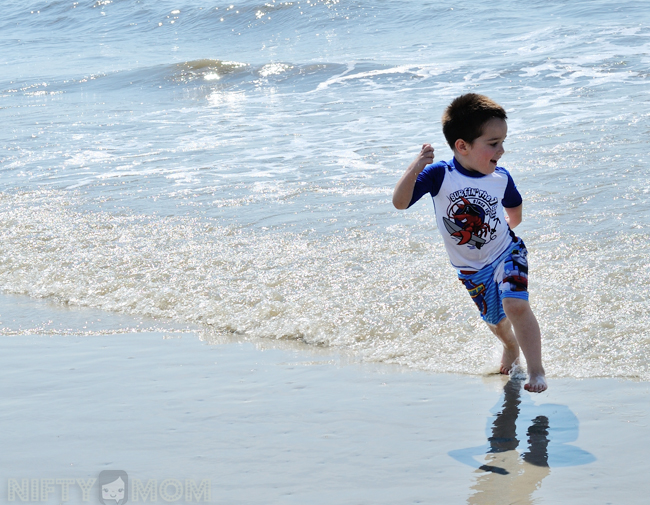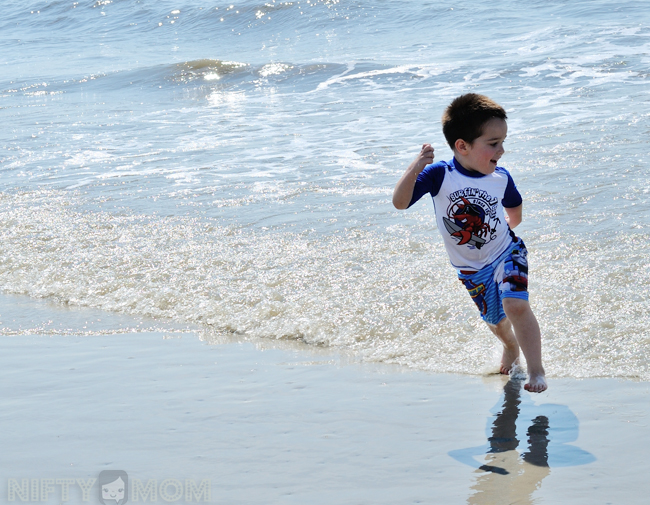 I wish I had just 10% of all the energy they had. Even in the scorching heat, I didn't think they were going to slow down. It was exhausting just watching them run around like that.
As they kept going 100mph up and down the beach, I knew they needed to cool off and get a drink. I definitely needed one. I thought for sure they were going to put up a fight when I asked them to take a break. Instead, they remembered we packed a cooler filled with their favorite drinks.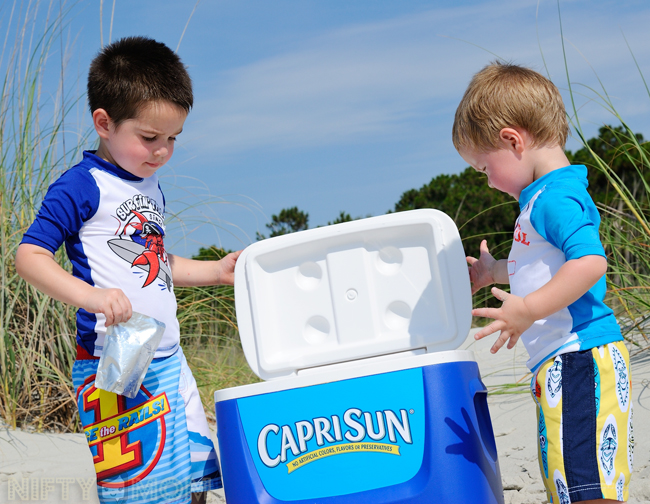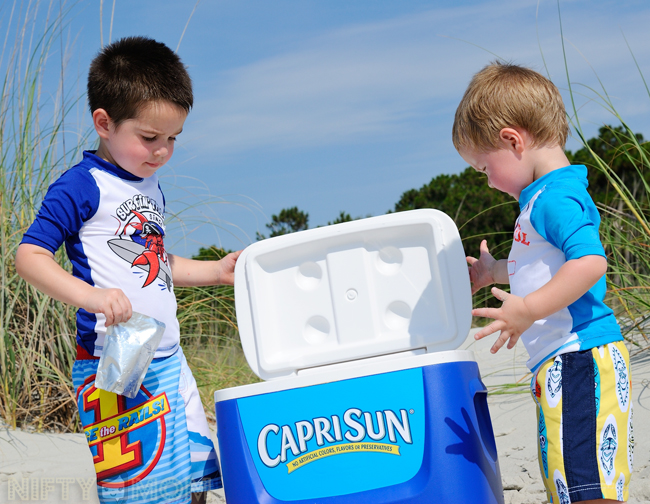 "Yay, I want one the V on it," my 3 year old exclaimed as he ran trying to beat his brothers to the cooler. I knew what he meant. He really loves the Capri Sun Super V Fruit and Vegetable Juice Drink (it's one of my favorites, too). As a picky kid who rarely wants to eat his veggies, I am more than happy that he enjoys a drink that contains vegetable juice along with the fruit juice.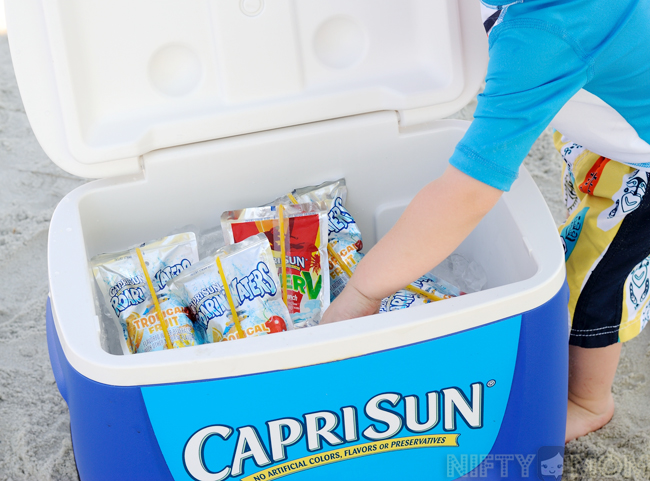 The cooler also contained Capri Sun Roaring Waters Flavored Water Beverages and Capri Sun Juice Drinks. I like to keep different varieties on hand so they can be a little independent and pick their own. There hasn't been a variety or flavor I've given them that they don't like.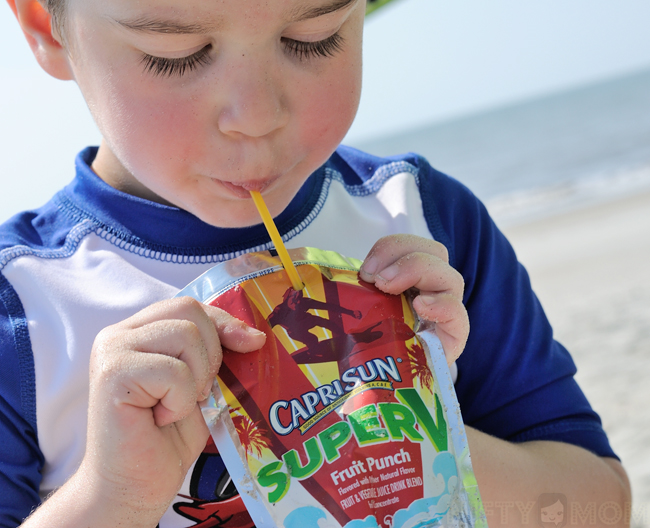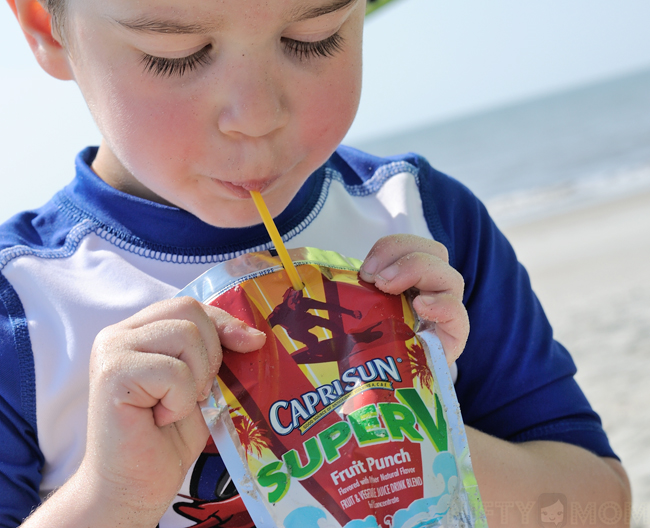 As soon as they got done cooling off, they were ready for another round of running up and down the beach. For me, it was more of another round of exercise. Keeping up with these little ones is more of a fun workout routine, no matter where we are.
With the summer months upon us, we will be on-the-go more than usual. Capri Sun pouches are great for the beach, pool, trips to the zoo, park, or anywhere else we will be. The little ones have no trouble handling them and they are easy to take with us. The best part is the whole family enjoys them and it's a great way to cool off no matter where we are.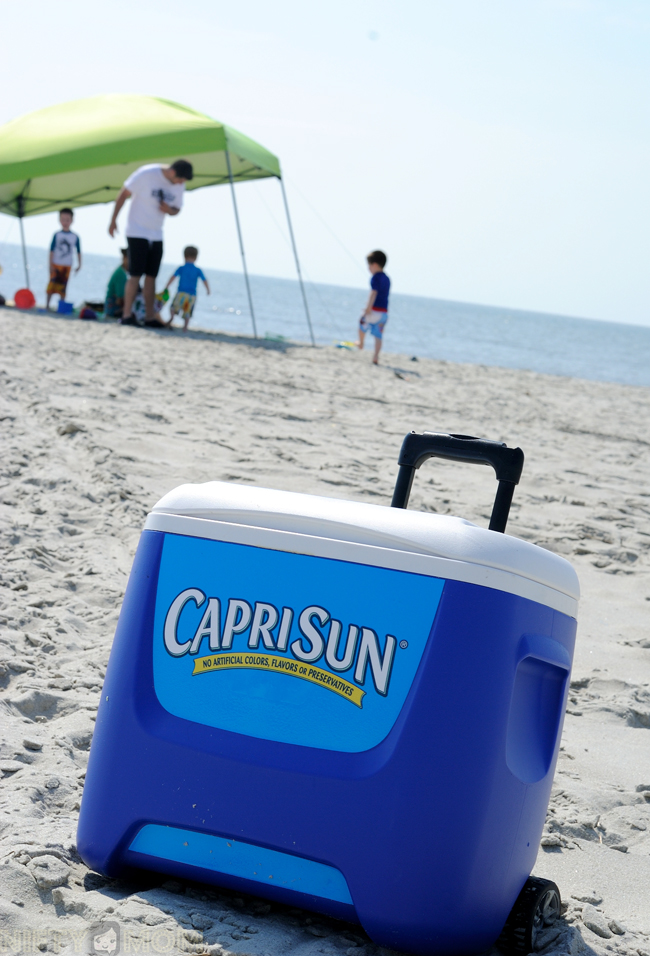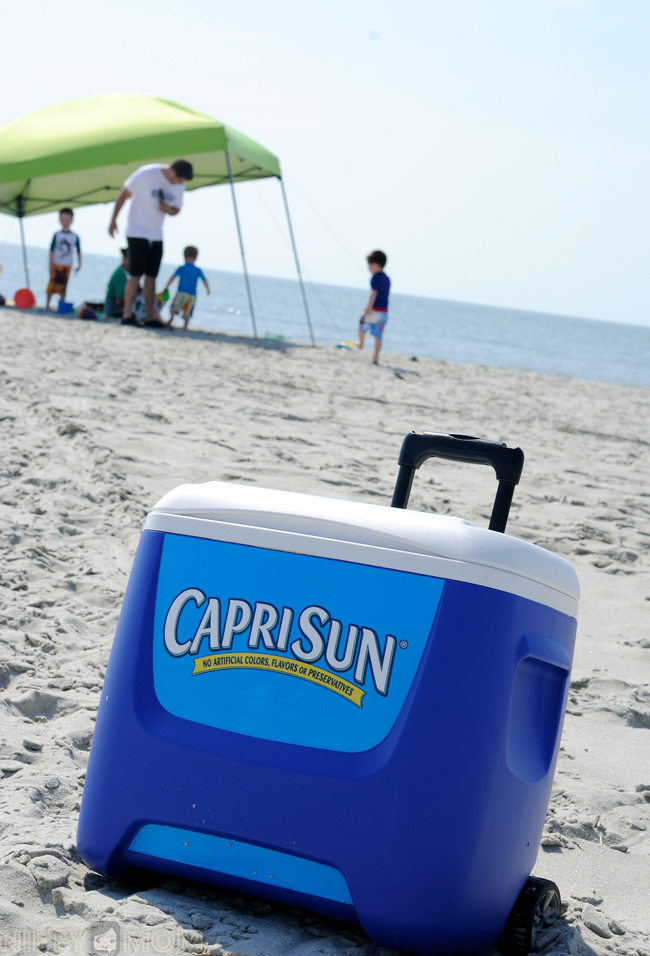 If you'd like to get involved with Capri Sun, you can learn more here.